It's noir-ish. Compelling. Riveting. It is Chasing Shadows, the ITV crime drama/mystery that will grip stateside viewers when it makes its US premiere.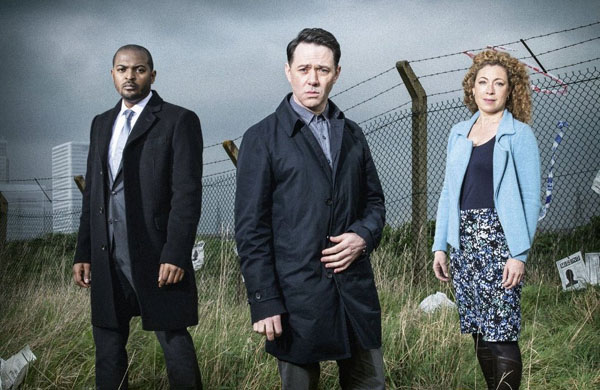 I'm thrilled about this, and not just because Chasing Shadows is a terrific show. It is also the fourth program from my list of ten favorite 2014 UK premieres that is or will be screening in the US this year. (The other three are Detectorists, The Driver, and The Widower.)
Chasing Shadows stars Reece Shearsmith (The Widower, Inside No. 9) as DS Sean Stone, a brilliant detective utterly lacking in social/interpersonal skills (he's on the high-functioning end of the autism spectrum) — like Saga Norén (of the the Swedish/Danish version of The Bridge) meets Adrian Monk meets Sherlock Holmes.
Stone's public criticism of the police, combined with the fact that nearly no one on the force wants to work with him, gets him seconded to the Met's Missing Persons Bureau. Once there, it's a case of "Oil, meet water," when Sean is partnered unofficially with Ruth Hattersley, a socially-astute and empathetic civilian analyst at the Met, as well as a divorced mum, played by Alex Kingston (Doctor Who, Upstairs Downstairs).
Ruth is interested in people, missing or not, whereas Sean can't be bothered with people. All he cares about is data. Now that he's been demoted to the Missing Person's Bureau, there are plenty of data for him to wrap his brain around. And this is where he makes connections that others don't — in the patterns of human behavior — and becomes obsessed with two cases.
The story of "Only Connect" centers on a teen girl, a known runaway, who's gone missing, and "Off Radar" revolves around the disappearance of a middle-aged single father and solicitor. In each case, Sean's piecing together of details and seeing patterns lead him to conclude that the missing person is actually the victim of a serial killer. He just needs to find the evidence. For that, he also needs Ruth's help.
With each missing person case becoming one of a suspected homicide, it is up to DCI Carl Pryor (Noel Clarke, Star Trek Into Darkness, Doctor Who) to ensure that Sean's maverick ways don't derail the investigation, but do lead to the killer.
Acorn TV premieres the four-part Chasing Shadows starting in two weeks. The schedule is as follows:
Monday, 27 July 2015 – "Only Connect, Part 1"
Monday, 3 August 2015 – "Only Connect, Part 2"
Monday, 10 August 2015 – "Off Radar, Part 1"
Monday, 17 August 2015 – "Off Radar, Part 2"
Acorn will also release Chasing Shadows on DVD on 20 October 2015.
__________________
Add your comments on our Facebook, Google+, and Twitter pages.
Share this post/page.

Chasing Shadows: Reece Shearsmith, Alex Kingston Star in Taut Crime Drama Coming to the US