The PBS announcement regarding the dramas Arthur & George and Home Fires being added to the 2015 Masterpiece schedule left one burning question: Which other new shows might screen in the US? Today we look at programs from ITV.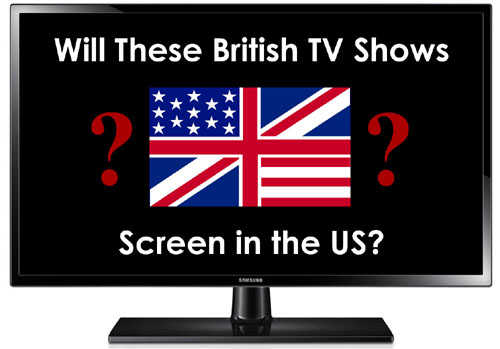 While I've been wondering if some of my favorite 2014 UK premieres will screen in the US, ITV has been busy commissioning and scheduling new shows (plus bringing Broadchurch, Foyle's War, and Mr. Selfridge back to telly, all of which begin screening in the US soon). Which titles will make it to this side of the pond? We'll have to wait and see…
Black Work
I am a big fan of Sheridan Smith, whose brilliant acting in the biopic Cilla just won her the 2015 NTA Best Drama Performance award. So it's no surprise that I'm crossing my fingers for Black Work, a three-part thriller from Mammoth Screen (Endeavour, Poldark reboot), to screen in the US. (Acorn TV? Netflix? Bueller? Just kidding on the last one.)
Smith plays Jo Gillespie, a cop who must confront difficult truths about her family life and marriage to undercover officer Ryan (Kenny Doughty, Vera), after he is shot dead in mysterious circumstances and she sets out to discover who murdered him.
Now a widow and single mum to two children, Jo is understandably distraught with grief. She is also wracked with guilt, given her attachment to Ryan's colleague, DC Jack Clark (Matthew McNulty, The Paradise). And she's confused and conflicted, plagued by doubts about herself, her family, and her friends, while risking everything to unravel the final months of Ryan's life and find his killer.
Black Work, which costars Douglas Henshall (Shetland), Geraldine James (Utopia), and Phil Davis (Whitechapel), is expected to debut on ITV in March.
Cockroaches
This isn't included in ITV's drama reel, because it's a comedy from Big Talk Productions (Black Books, Rev.), but still. It's quite funny, and I think a perfect addition to Hulu's library of dark British comedies and shows for millennials (not that I am one). ITV even debuted all six episodes of Cockroaches on ITV Player a week before it broadcast the post-apocalyptic rom-com series on ITV2 on January 13th. (So there.)
Cockroaches opens with a TV news bulletin declaring that nuclear war strikes are about to hit. So Tom (Daniel Lawrence Taylor, Hunderby) and Suze (Esther Smith, Skins) do what plenty of other nineteen-year-olds would do in the minutes before certain death: have sex. Except they survive. And have a daughter from their here-comes-the-apocalypse romp.
Nine years later, while wandering through the wasteland of what used to be England, the family runs into another group of survivors, one of whom is Suze's ex-boyfriend, Oscar (Jack Whitehall, Fresh Meat). Since the two last saw each other, the ever-insufferable Oscar has become mad as a hatter, yet he is still the head honcho of the survivors' camp (where they have chocolate!). That is, until things get out of hand, Tom is made the new leader, and problems beyond the lack of food and water arise.
Cockroaches features appearances by several actors you'll probably recognize in very funny roles, including Alexander Armstrong (Hunderby) as The Doctor (no, not that one, but a crazed pervert), Robert Bathurst (Downton Abbey) as the now-insane Prime Minister, Tom Davis (Plebs) as bumbling giant Felix, Nigel Planer (Episodes) as racist cannibal Stevie, Caroline Quentin (Jonathan Creek) as Suze's divorced-turned-swinger mum Cathy, and Jaime Winstone (Dead Set) as the sexually-conniving Ash.
Code of a Killer
This true-crime thriller from World Productions (Line of Duty, The Bletchley Circle) is about the single biggest leap in the history of criminal investigation. Sounds like must-see Brit TV to me, made more so by its stars, David Threlfall (Shameless) and John Simm (Life on Mars).
Code of a Killer revolves around the true story of the first UK case solved using DNA profiling: Between 1983 and 1987, Detective Chief Superintendent David Baker (Threlfall) led the investigation into the brutal murders of two Leicestershire schoolgirls. On the 10th of September 1984, Dr. Alec Jeffreys (Simm), a scientist at Leicester University, invented the technique to read DNA fingerprints. Following Jeffreys' analysis of DNA evidence left at the crime scene, which revealed that a local teenager's confession to one of the murders was false, Baker launches the world's first-ever DNA manhunt, testing over five thousand local men to track down the killer.
Also appearing in the miniseries are Dorothy Atkinson (Call The Midwife), Lydia Rose Bewley (Plebs), Lorcan Cranitch (Penny Dreadful), Jaz Deol (Restless Dust), Robert Glenister (Hustle), Anna Madeley (Mr. Selfridge), Siobhan Redmond (Taggart), Ged Simmons (Downton Abbey), Andrew Tiernan (The Driver), and Hannah Walters (Whitechapel). ITV has not yet announced the debut date for Code of a Killer.
Safe House
Another drama inspired by real people and another sounds-like-a-must-watch show, Safe House is a psychological thriller from Eleventh Hour Films (Foyle's War, Vexed). It stars Christopher Eccleston (The Leftovers) and Marsha Thomason (White Collar) as former detective Robert and teacher Katy, a married couple who agree to turn their guest house in the Lake District into a safe house, after being asked by their police officer friend, Mark (Paterson Joseph, Law & Order: UK).
Their first charges are a family fearing for their lives after a violent attack, and protecting the family reawakens in Robert fears and anxieties tied to a terrifying night eighteen months ago: While Robert was protecting a key witness who was set to testify against her gangster husband, he got shot and she got killed. Now that he is running a safe house, Robert questions anew the past incident and ends up uncovering a web of lies. (Oooh.)
Peter Ferdinando (Injustice), Jason Merrells (Lark Rise to Candleford), and Nicola Stephenson (Northern Lights) also costar in the four-part Safe House, a "potentially a returnable series for ITV and Eleventh Hour Films" whose debut date is not yet set.
The Trials of Jimmy Rose
And lastly (for now), we come to The Trials of Jimmy Rose, a drama whose cast alone merits a "gotta check it out," notably Ray Winstone (The Sweeney, Hugo, Vincent) and Amanda Redman (New Tricks, Little Dorrit, At Home with the Braithwaites).
Winstone stars as the eponymous Jimmy Rose, a career criminal whose beautiful home and luxury goods were gotten at the expense of his victims, his own freedom, and his cherished family, including wife Jackie (Redman), their adult children Joe (Tom Cullen, Downton Abbey) and Julie (Charlotte Randle, Silent Witness), and their grandchildren.
Jimmy's stretches in prison have taken their toll: Jackie doesn't know if she loves him anymore, and Joe has disowned Jimmy as his father, cutting him out of his life completely. With Jimmy's latest release from prison come the questions of whether he will put his life of crime behind him, and if it's too late for him to regain the love and respect of his family.
Additional cast members include John Lynch (The Fall), Marion Bailey (Mr Turner), and Paul Jesson (Coriolanus). ITV has not yet announced the premiere date for the three-part The Trials of Jimmy Rose, produced by ITV Studios (Agatha Christie's Poirot) in association with GroupM Entertainment.
Stay tuned for updates about screenings of these shows in the US.
__________________
Add your comments on our Facebook, Google+, and Twitter pages.
Will These 2015 Brit TV Shows Screen in the US, Part 1: ITV