Crikey. It looks like things are not all peaches and cream in the world of Harry Selfridge. Take a peek for yourself with ITV's trailer for the upcoming third series of the hit period drama, Mr. Selfridge.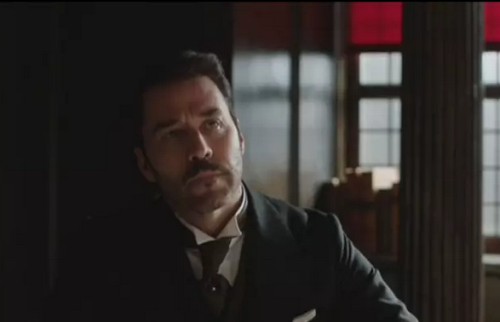 Well, we knew the news that Rose delivered to hubby Harry (Jeremy Piven, Entourage) in the Season 2
finale would affect the family, and it does. So, too, does its impact on Harry and his management of his eponymous department store, at least as far as Mr. Crabb (Ron Cook, Little Dorrit) and Mr. Thackeray (Cal Macaninch, Wild at Heart) are concerned.
But Harry does find solace, first in eldest daughter Rosalie's (Kara Tointon, EastEnders) marriage to the handsome Serge (Leon Ockenden (Waterloo Road), and then in the arms of new love interest Nancy Webb (Kelly Adams, Hustle).
Speaking of amour, Henri Leclair (Grégory Fitoussi, Spiral) has kept his promise to Agnes Towler (Aisling Loftus, Case Histories), but whether they move forward with their relationship remains to be seen. As for Lord Loxley (Aidan McArdle, Garrow's Law), there is no love loss between him and Harry, not after the humiliations they both suffered.
Zoë Wanamaker (My Family, Agatha Christie's Poirot) joins the cast as Serge's mother, the trouble-making Russian Princess, Marie de Bolotoff.
Other new cast members include Kara's real-life sister, Hannah Tointon (The Hour), as Rosalie's rebellious sister, Violet, and Sacha Parkinson (Coronation Street) as Kitty Hawkins' (Amy Beth Hayes, The Syndicate) ambitious younger sister.
The ten-episode third season of Mr. Selfridge debuts in the US on Sunday, 29 March 2015, at 9 PM ET on PBS Masterpiece, and on ITV in the UK in January 2015 (date TBA).
__________________
Add your comments on our Facebook, Google+, and Twitter pages.
Watch: Juicy Trailer for Mr. Selfridge: Series 3