The mystery of who killed Danny Latimer has been solved, so now the question is: Will there be another murder in Broadchurch: Series 2?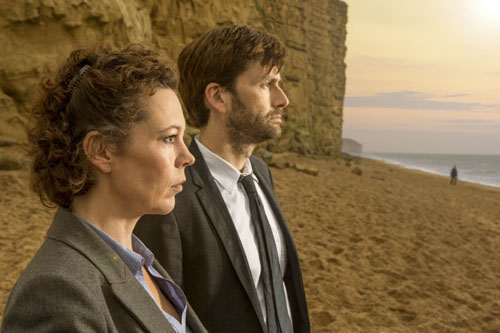 Maybe. Maybe not. Only series creator Chris Chibnall and the cast and crew know for sure, and they're not saying. Well, not much more aside from Chibnall's statement to The Daily Mirror that "the focus of the next series will be on how the shattered community rebuilds itself after the grisly events [of Series 1]."
What we do know is that most of the cast of the BAFTA-winning Series 1
 returned to the show, including David Tennant as DI Alec Hardy, Olivia Colman as DS Ellie Miller, Jodie Whittaker as Beth Latimer, Andrew Buchan as Mark Latimer, and Arthur Darvill as Rev. Paul Coates.
New cast members include James D'Arcy (Those Who Kill), Marianne Jean-Baptiste (Without a Trace), Eve Myles (Torchwood), Charlotte Rampling (Swimming Pool), Meera Syal (The Kumars), and Phoebe Waller-Bridge (The Café).
Here's a look at what's coming up:
Broadchurch: Series 2 begins Monday, 5 January 2015, ay 9 PM GMT on ITV. BBC America will air the series starting Wednesday, 4 March 2015, at 10 PM ET in early 2015, so stay tuned for the transmission date.
P.S. Viewers in the US can catch up on Series 1 at Netflix starting tomorrow.
__________________
Add your comments on our Facebook, Google+, and Twitter pages.
Broadchurch: Series 2: Debut Date and New Trailer [UPDATED]