Can you believe it? Mr. Bean is twenty-five years old! Congratulations, Rowan Atkinson!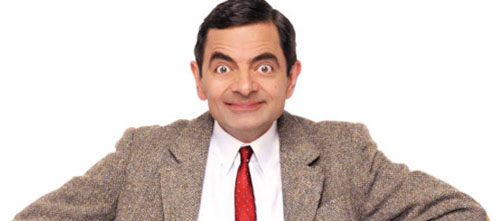 Rowan Atkinson's beloved zany character, Mr. Bean, turned 25 on the 1st of January. Has he really been cracking us up for a quarter-century?
I still remember when Mr. Bean
 first landed on my local public TV station. I was like, "Wait, what?" As someone who fell out laughing at the often loud antics on Monty Python's Flying Circus and Fawlty Towers, I was little prepared for Mr. Bean.
The man-child with the little brown teddy bear (Teddy!), green Mini, red tie, and, well, interesting ways of handling things, rarely spoke. Instead, he expressed his glee, frustrations, and the like through physical comedy and by sounding them out. (Snort.)

Mr. Bean Getting ready for bed by MrBeanTV
When the spin-off, Mr. Bean: The Animated Series,
came out twelve years later, I thought, "Of course!" The character of Mr. Bean is rather cartoony, so it was only fitting that he appear in one on screen.

Mr. Bean Animated Series – A Grand Invitation by MrBeanTV
Ten years after that, Mr. Bean, in white tie and tails (but sans Teddy, tie, and car), hit the stage and performed at the London 2012 Olympics. That was grand.
If you've never had the pleasure of seeing Rowan Atkinson as Mr. Bean (and even if you have), head over to the official Mr. Bean channel on Dailymotion, where you can stream the entire Mr. Bean series, most of Mr. Bean: The Animated Series, and the rest of the (current) 231 Mr. Bean videos. For the Bean
and Mr. Bean's Holiday
 films, head to Amazon Instant Video or Google Play. (Netflix also has Mr. Bean's Holiday for streaming.)
And guess what. Mr. Bean is returning this year! Rowan Atkinson is reprising his alter-ego character for the BBC's Red Nose Day on Friday, 13 March, and Tiger Aspect Productions' animation team has created a new series of Mr. Bean: The Animated Series, which debuts on ITV in February. No word yet about this screening in the US, so stay tuned.
__________________
Add your comments on our Facebook, Google+, and Twitter pages.
Happy 25th Anniversary, Mr. Bean!