Now that British TV screening stateside in 2015 has been kicked off in high style with PBS' second-highest-rated Downton debut, it's time to look at what's coming, cable-wise.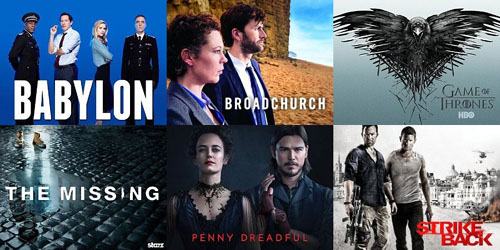 Many fan favorites from the UK are returning to US telly on cable channels (some already have), while several new programs are making their debuts (ditto). For those whose premiere dates have been announced, they are provided below; for the rest, stay tuned.
AMC
Humans
As covered in this post, Humans, the remake of the Swedish sci-fi thriller Real Humans, is set to screen this year. If you've seen the original,
then you already know that it is seriously creepy and one heckuva binge-watch. Hopes are high that Humans will be, too.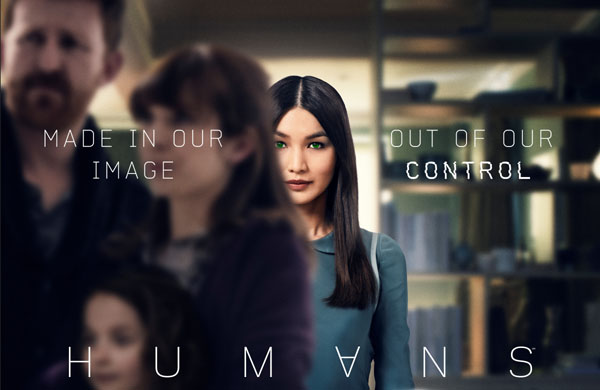 BBC AMERICA
Returning Series
The The Musketeers: Season 2
 premiered on the 17th of January (if you missed it, the first episode is currently streaming for free), the second season of Broadchurch
debuts on the 4th of March, both the third season of Ripper Street
and the two-part Luther
special are coming soon, and Doctor Who
returns with its ninth season this fall.
As for new Brit TV series, BBC America has four to date: Jonathan Strange & Mr Norrell, The Last Kingdom, The Living and the Dead, and London Spy.
The Living and the Dead
A ghost-hunter drama from the creators of Life on Mars and Ashes to Ashes? Yes, please! The six-part drama, penned by Ashley Pharoah and Matthew Graham, is set in 1888 in a land of ghosts and myths, poltergeists and demons: Somerset, England. It is here that the reluctant gentleman farmer, Nathan Appleby, is obsessed with proving the existence of the afterlife. Buoyed up by the Society for Psychical Research, Nathan conducts terrifying investigations into paranormal goings-on, ghostly visitations, and hauntings. But as his probings become increasingly frequent and scary, he starts to see and hear disturbing things that he can't have imagined. Will Nathan's interest in the occult threaten his family, livelihood, and sanity? We'll have to watch The Living and the Dead to find out.
London Spy
Created by author Tom Rob Smith (Child 44), London Spy is a five-part drama that follows the chance romance between the gregarious, hedonistic, and adrift Danny (Ben Whishaw, The Hour), and the anti-social, enigmatic, and brilliant Alex (Edward Holcroft, Wolf Hall) of the Secret Intelligence Service. When they realize they're perfect for each other, the thrill of their ah-ha moment becomes a "What the…!" when Alex disappears, and Danny, ill-equipped though he may be, must decide if he's prepared to take on the world of British espionage in order to discover the truth. Sounds good, yes? Even better: Academy Award winner Jim Broadbent (Iris) and César Award winner Charlotte Rampling, OBE, costar in London Spy.
CINEMAX
Strike Back
Based on Chris Ryan's novel, Strike Back,
 this British-American military action series starring Philip Winchester (Camelot) and Sullivan Stapleton (300: Rise of an Empire) is expected to return this summer for its fifth and final season.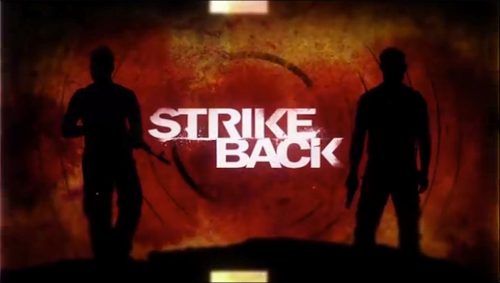 E! ENTERTAINMENT
The Royals
The House of Windsor has nothing on the Royal family in The Royals, E!'s first-ever scripted series. Love, hate, lust, revenge, plus sex and drugs and (here's a new one) hung-over helicopter rides, not to mention keeping up appearances, are all in a day's, well, not work for the members of this fictional monarchy, where power is everything, limits don't exist, and trust is a luxury the family can't afford. Can you say decadent, guilty pleasure?
The hour-long drama series boasts an impressive cast led by Elizabeth Hurley (Gossip Girl) and Vincent Regan (Strike Back) as Queen Helena and King Simon, with William Moseley (The Chronicles of Narnia) as Prince Liam and Alexandra Park (Home and Away) as Princess Eleanor. Adding "anarchy in the monarchy" are Merritt Patterson (Ravenswood), Jake Maskall (EastEnders), Ukweli Roach (Starlings), Tom Austen (Grantchester), Sophie Colquhoun (Plebs), and Oliver Milburn (Mistresses). And the legendary Joan Collins (Dynasty) also guest stars as the Grand Duchess of Oxford.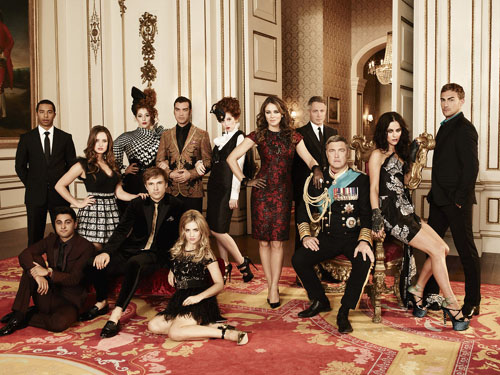 Living in the lap of luxury can breed all manner of scandals, and the polished, poised, and powerful Queen Helena (Hurley) knows it. Her poses to the public that her family is one of class and grace belie the truth behind the palace gates (and in front of the cameras): Rebellious daughter Eleanor (Park) is headline fodder for the tabloids with her decidedly un-princess-like behavior, and twin brother, Liam (Moseley), is a playboy prince with literally the keys to the kingdom after his older brother dies. Meanwhile, King Simon (Reagan) works to keep his family afloat, but tainted politics and dangerous relationships wreak havoc, and the turmoil threatens to uproot the family tree.
Elsewhere in the palace, Simon's brother, Cyrus (Maskall), tries to steal the throne by doing anything to take down the heirs, one by one. While his power is restricted, his lack of a moral compass is not, even when it comes to his sexuality, jealousy, and enlisting his dimwitted daughters, Maribel (newcomer Hatty Preston) and Penelope (Lydia Rose Bewley, Plebs), to do his bidding.
Produced by Lionsgate Television (Orange Is the New Black), The Royals premieres on Sunday, 15 March, at 10 PM ET.
Continued on Page 2
__________________
Add your comments on our Facebook, Google+, and Twitter pages.
Brit TV Coming to US Cable Channels in 2015