One of the most highly-anticipated new crime dramas finally made its debut, a long-running panel show bows on the Beeb's US channel, a hit UK comedy is headed for the US, and more American remakes of British TV series are in the works.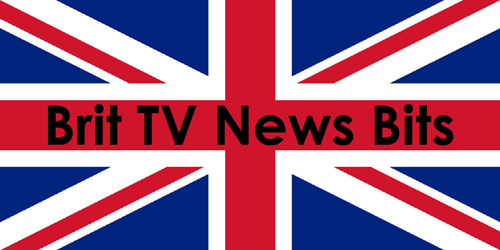 The long-awaited premiere of Fortitude
 did not disappoint, even if one of its stars didn't make it through the feature-length opener, and another didn't show up until the last 15 minutes or so. Visually, it was a feast for the eyes, with Iceland's stunning snow-covered scenery providing the backdrop for the British-Nordic chiller-thriller.
Plot-wise, the multiple storylines will probably all intersect at some point (last episode?), from the philandering husband whose son might be dying from more than frostbite, and the frosty mayor who's hell-bent on having her ice hotel hewed into a glacier, to the two blokes who are trying to pawn what could be a scientifically-valuable carcass, and the American detective with the British Metropolitan Police whose departure from London to investigate the first murder in Fortitude had to have occurred when victim was still alive.
Then there's Fortitude's sheriff. As the main lawman for a town where self-sufficiency is required, crime is (usually) a non-event, and dying within its borders is disallowed (that's what the mainland is for), he has a knack for appearing from out of nowhere, right when something grisly has happened. This guy is no Andy Taylor. He's more unnerving than the polar bears that outnumber Fortitude's human population by about four to one, and you get the sense that there is something sinister simmering beneath his steely stare and that chip on his shoulder.
(More about Fortitude here.)
With the murder investigation just beginning, an innocent sitting in custody, and the sheriff getting uglier by the second toward the detective, the next episode should be a doozy. Stateside viewers who don't have access to the Pivot channel can catch up on Fortitude at Amazon Instant Video,
Google Play, iTunes, and Vudu.
Speaking of catching up, folks who haven't already discovered the hilarious panel/quiz show, QI
(which stands for Quite Interesting), will soon be able to watch the Rose d'Or- winning and BAFTA-nominated series on BBC America.
Hosted by Stephen Fry (Gosford Park, Bones), QI is like Jeopardy meets Whose Line Is It Anyway, where the questions are based on quirky facts and the points don't matter. For the questions posed, permanent panelist Alan Davies (Jonathan Creek, The Brief) and three guest panelists must provide the correct, or at least quite-interesting, answers to rack up points, lest they get the klaxon and have points deducted for giving incorrect (read: boring) answers, usually based on common misconceptions and urban myths.
Each QI season is themed around a letter of the alphabet, and features celebrity guest panelists, including comedians Bill Bailey (Black Books), Rob Brydon (Gavin & Stacey), and Jimmy Carr (8 Out of 10 Cats), Top Gear host Jeremy Clarkson, and Professor Brian Cox (Wonders of the Universe).
BBC America launches QI with Season J, whose episodes feature fun facts about J-Places, Jargon, and Jobs, amongst other J topics, and begins screening the series with three back-to-back episodes on Thursday, 19 February 2015, at 8 PM ET.
(You can also watch Series A and B at Acorn TV, and Series I, J, and K at Hulu.)
Coming to the US this spring is the hilarious comedy, Catastrophe, which Channel 4 just recommissioned for a second season. Written by and starring comedian and bestselling author Rob Delaney (Rob Delaney: Mother. Wife. Sister. Human. Warrior. Falcon. Yardstick. Turban. Cabbage.),
and British Comedy Awards winner Sharon Horgan (Pulling), Catastrophe follows an Irish woman and American man who struggle to start a relationship in London after their lust-filled week together leads to pregnancy.
The sitcom also features Mark Bonnar (Shetland), Carrie Fisher (Star Wars films), Ashley Jensen (Ugly Betty), and Sam Spruell (The Runaway), amongst others.
Catastrophe is a part of Amazon Studios' line-up of Amazon Original Series, available exclusively on Prime Instant Video.
 Stay tuned for updates about the debut date.
Meanwhile, as fans of the brilliant British sci-fi series, Black Mirror,
 (im)patiently await the arrival of the third season, the powers that be at Endemol Shine North America are planning a US adaptation of Charlie Brooker's cult show. Yes, folks, we're talking yet another remake, and no, there are no more details about it right now. (I cringe at the thought of a Black Mirror remake, because, seriously, it is so unnecessary.)
Haven't seen Black Mirror? (Really???) Then get thee now to Netflix, where it has been one of the 50 most popular titles on the SVoD service since it landed there in December. (More about Black Mirror here.)
Also coming is NBC's remake of the hit BBC Three comedy, Cuckoo, whose first season starred Andy Samberg (Saturday Night Live) as the eponymous Cuckoo, a drug-using, unemployed, happy-go-lucky American who marries the British Rachel (Tamla Kari, The Musketeers) during her post-uni gap year, to the horror of her parents Ken (Greg Davies, The Inbetweeners) and Lorna (Helen Baxendale, Cold Feet). With Samberg's departure from the show (to star in Brooklyn Nine-Nine), Taylor Lautner (The Twilight Saga) stepped in as Cuckoo's son, Dale, in Series 2.
And if Tony Jordan's (Hustle, Life On Mars) script gets picked up, we'll see a new Lovejoy on telly (as if anyone could ever replace Ian McShane in the role — harrumph). Even McShane said, "If you're serious about it, why not make it about Lovejoy's daughter this time?" Why not indeed? But with Jordan apparently using the original Lovejoy books by Jonathan Gash
as his source material, a sequel of sorts seems unlikely.
Until a Lovejoy remake appears on screen (if it does), you can catch the first four seasons of the original series at Acorn TV and Amazon Instant Video.
__________________
Add your comments on our Facebook, Google+, and Twitter pages.
News Bits: Fortitude, QI, Catastrophe, and More Remakes