Many a British crime drama can be described as noir, but few (if any) actually take viewers to Arctic climes. The chilling new series, Fortitude — starring Academy Award® nominee Stanley Tucci, Christopher Eccleston, Michael Gambon, and Jessica Raine — does.

Fortitude, a peaceful, close-knit Arctic town, in which violent crimes are the stuff of crime novels and TV series, has its first. A murder.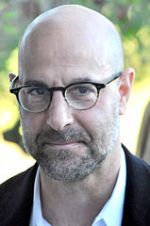 Investigating the horrific killing are local Chief of Police, Sheriff Dan Anderssen (Richard Dormer, Game of Thrones, Hidden), and Brit detective DCI Morton (Stanley Tucci — The Hunger Games, Big Night — in his first British role), who arrived in Fortitude so quickly that folks are questioning how much he knew, and when. In probing the mystery, the coppers find compelling reasons to mistrust and suspect each other.
For town Governor Hildur Odegard (Sofie Gråbøl, The Killing, Aftermath), the murder is a disaster. Not only is it unsettling Fortitude's denizens, it is threatening her ambitious plans to transform the mining town into a high-end tourist destination. And for wildlife photographer Henry Tyson (Michael Gambon, Harry Potter, Page Eight), the killing is the catalyst to unearthing Fortitude's darkest secret. But with only weeks left to live, will he discover it?
As the cold Arctic darkness gives way to endless summer nights, members of this seemingly idyllic community struggle to make sense of the horror that has shattered their once-peaceful existence, including Charlie Stoddart (Christopher Eccleston, Doctor Who, The Shadow Line), an English scientist who heads up the Fortitude Arctic Research Centre's Arctic Biology department; talented young scientist Vincent Rattrey (Luke Treadaway, Clash of the Titans, Cheeful Weather for the Wedding); and chief search and rescue pilot Frank Sutter (Nicholas Pinnock, Captain America, Top Boy) and his wife Jules (Jessica Raine, Call the Midwife, An Adventure in Space and Time).
Also featuring in Fortitude are Darren Boyd (Spy), Sienna Guillory (Luther), Johnny Harris (The Fades), Aaron McCusker (Shameless), Alexandra Moen (Hotel Babylon), and Phoebe Nicholls (The Scapegoat).

Fortitude is a co-production of Sky Atlantic and Pivot, a new stateside television network available on digital cable and satellite. The series creator and writer is Simon Donald (Low Winter Sun, Wallander).
Fortitude's twelve hour-long episodes will be filmed on location in Iceland and the UK, and will screen exclusively on Sky Atlantic HD in the UK and on Pivot in the US in late 2014.
—————————
British TV Goes Nordic Noir with "Fortitude" Starring Stanley Tucci, Michael Gambon