Continued from Page 1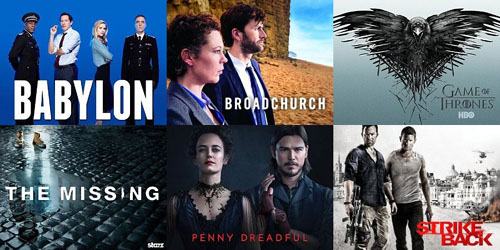 HBO
Game of Thrones
The wait for Season 5 of the most-pirated program on the planet, Game of Thrones,
will soon be over, as it bows on the 12th of April. As with each season, we can look forward to scads of violence, treachery, and sex. And new cast members, too, including…
Before then, though, the behind-the-scenes Game of Thrones: A Day in the Life screens on the 8th of February. Here's a quick look:
The Casual Vacancy
JK Rowling's first novel for adults, The Casual Vacancy,
 received mixed reviews, but that didn't stop the BBC and HBO from picking up the rights to it. Read more about the three-part television adaptation's storyline and cast here.
PIVOT
Fortitude
This noir thriller is one of the most highly-anticipated new dramas of 2015, and for good reason: It is set in the Arctic (where polar bears can make mincemeat of Fortitude's residents), has a deep, dark mystery of a story, and features an all-star, international cast. Get details about Fortitude, premiering on Pivot on the 29th of January, here.
SHOWTIME
Penny Dreadful
Lord, have mercy! The hunters, including Vanessa Ives (Eva Green, Quantum of Solace), Sir Malcolm Murray (Timothy Dalton, License to Kill), and Ethan Chandler (Josh Hartnett, Lucky Number Slevin), become the hunted when the hit horror series, Penny Dreadful,
returns for its second season on Sunday, 26 April, at 10 PM ET.
Harry Treadaway (Truckers) reprises his role as Victor Frankenstein, as do Rory Kinnear (Southcliffe) as Frankenstein's creature, Reeve Carney (The Tempest) as Dorian Gray, Simon Russell Beale (The Hollow Crown) as Ferdinand Lyle, and Danny Sapani (Misfits) as Sembene. And then there's Helen McCrory (Peaky Blinders) as Madame Kali, whose bloody singing is spine-tingling-ly spooky.
STARZ
Da Vinci's Demons
If fantasy dramas are your thing, and you haven't watched Da Vinci's Demons
yet, I urge you to check it out before its third season's ten episodes screen later this year. The series loosely follows the early life of Leonardo da Vinci (Tom Riley, Monroe), and features intrigues and treacheries within and without the Vatican, House of Medici, and Leonardo's studio in 15th-century Florence, Italy. It goes without saying that the polymath's creations (a few historically accurate, most not) are played up as well, as is his (utterly fictional) quest to locate the mythical Book of Leaves. Still, the series is pure, escapist fun!
The Missing
The Missing
 is on my list of 2014 favorites for a lot of reasons, not the least of which are an utterly engrossing and heart-wrenching tale of love, loss, and hope, and the brilliant acting of James Nesbitt (Murphy's Law), Tchéky Karyo (La Femme Nikita), and Frances O'Connor (Mr. Selfridge). While the second series isn't confirmed for 2015, it could be. What is certain: It will have a completely different story and cast.
Outlander
Scottish accents just slay this Sassenach, so the 4th of April can't get here soon enough. That's when the hit sci-fi/fantasy drama, Outlander,
returns with the second part of its first season. What's new? When the story picks up from that Part 1 cliffhanger, it is from Jamie Fraser's (Sam Heughan, Island at War) point of view instead of Claire Randall's (Caitriona Balfe, Now You See Me).
Then the **** hits the fan for the 18th-century husband and wife, when Jamie's kilted kinsmen begin turning on Claire, and the Red-Coated ancestor of her 20th-century husband puts the screws to both of them.
The Dresser
Ronald Harwood's classic play, The Dresser,
which had been adapted for the silver screen in 1983, is getting the telly screen treatment this year. And what a treatment it is, as the made-for-TV movie brings veteran actors of stage and screen, Sir Anthony Hopkins, CBE (Thor, The Silence of the Lambs, Howard's End), and Sir Ian McKellen, CH, CBE (The Hobbit, X-Men, and Lord of the Rings franchises), together for the first time.
Set against the backdrop of World War II, and inspired by Harwood's own experiences as a dresser for the distinguished British actor/manager Sir Donald Wolfit, The Dresser tells the story of the relationship between "Sir" (Hopkins) and his dresser, Norman (McKellen). The Dresser is being produced this year in London, and with any luck (or leg-breaking, as it were), the drama will screen on both sides of the pond in 2015.
SUNDANCE
Babylon
Okay, yes, Babylon
premiered on the 8th of January, but still. Just keeping it fair, since I mentioned The Musketeers earlier. Just sayin'.
As updates and new announcements are made about Brit TV shows coming to American cable channels, check 'em out here.
__________________
Add your comments on our Facebook, Google+, and Twitter pages.
Brit TV Coming to US Cable Channels in 2015