The eagerly-awaited debut of the crime-thriller, Fortitude, is happening in a few weeks. With the temperatures plunging to freezing and sub-zero in many places, the timing for this crime drama set in the Arctic couldn't be more spot on.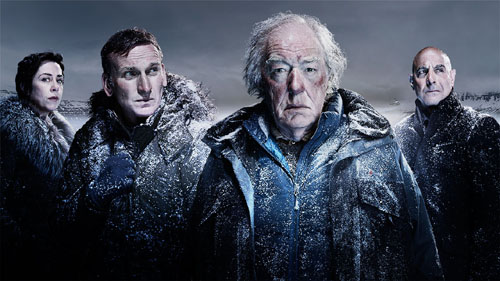 Starring Academy Awards® nominee and Golden Globes winner Stanley Tucci (The Hunger Games films), BAFTA Awards winner Michael Gambon (Harry Potter films), and International Emmy® Awards winner Christopher Eccleston (The Leftovers), Fortitude centers on the investigation of the first murder to occur in the quiet and peaceful arctic town of Fortitude.
The residents of the idyllic community are understandably rocked by the killing in "the safest place on Earth," but for the town's governor, Hildur Odegard, played by International Emmy Awards nominee and Danish TV and film star, Sofie Gråbøl (The Killing), the murder is a tragedy and a catastrophe: It threatens to destroy her plans of turning the mining town with the Northern Lights into a high-end tourist destination.
Fortitude's chief of police, Sheriff Dan Anderssen, played by IFTA Awards nominee Richard Dormer (Game of Thrones), co-leads the investigation with DCI Morton (Tucci, in his first British role), a detective from the UK who might know more about the case than he lets on. The two don't get on as well as they could, since each distrusts and has suspicions about the other. And the tight-knit residents, well, neighborly niceties start turning into ice-ities.
The cast features many familiar faces from Brit TV, including Darren Boyd (Spy), Sienna Guillory (Luther), Jessica Gunning (Law & Order: UK), Johnny Harris (The Fades), Lee Nicholas Harris (Silent Witness), Aaron McCusker (Shameless), Alexandra Moen (Strike Back), Phoebe Nicholls (Downton Abbey), Jonjo O'Neill (The Fall), Michael Obiora (Hotel Babylon), Nicholas Pinnock (Top Boy), Jessica Raine (Call the Midwife), and Luke Treadaway (Clash of the Titans).
Fortitude, written by Simon Donald (Low Winter Sun) and filmed in Iceland and the UK, is a Fifty Fathoms and Tiger Aspect production that debuts Thursday, 29 January, 2015, on both Sky Atlantic in the UK and Pivot in the US.
More at "British TV Goes Nordic Noir with Fortitude"
__________________
Add your comments on our Facebook, Google+, and Twitter pages.
Fortitude: Noir Thriller Premieres This Month