Daniel Mays and Stephen Graham, two of today's top talent on British telly and beyond, team up in the police comedy Code 404, which debuts this week in the US.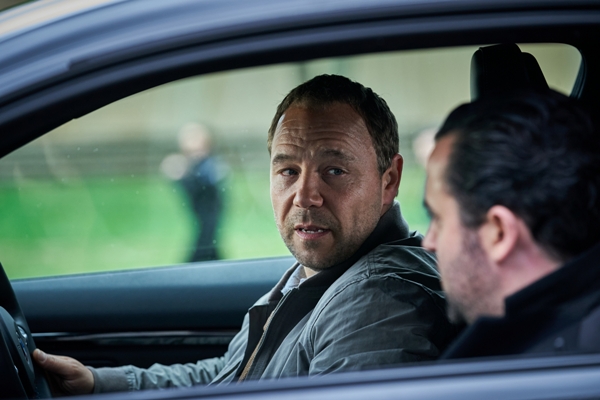 BAFTA nominees and former Line of Duty guest stars Daniel Mays (White Lines, Good Omens) and Stephen Graham (The Murders at White House Farm, The Virtues) put on their comedy hats in the new series Code 404, in which they play partners on an elite undercover police team, but with a twist.
During a sting operation, top cop DI John Major (Mays) is killed in the line of duty, leaving his partner and friend, DI Roy Carver (Graham), grieving and then some. Roy's guilt is the reason he hasn't visited John's grave (complete with a GIF on the headstone) since the latter's death a year ago, but now he's here… and so is John!
What the what?!?
Unbeknownst to Roy, John was brought back to life through the power of AI technology. But the software had glitches, thus he does, too — a fact that Dr. Parfit, the American who built John Major v2.0, intends to fix with future upgrades to the current "prototype." Until she does, though, John isn't the best version of himself, whether he's contaminating a crime scene, using American English (much to Roy's irritation), or being even more arrogant than when he was alive alive.
John's raring to get back to the life he had — being the best cop in the elite SIU, working alongside his mate Roy, and being married to Kelly (Anna Maxwell Martin, Motherland), his now-former widow. But she's not having it, at least not in the near future, which both is and isn't related to her (ahem) relationship with Roy.
What's a disappointed cyberman to do? Find someplace else to bed down and go looking for the person who killed him.
The case of his own murder is just one crime that the reunited John and Roy investigate together, all while Roy frets over his situation with Kelly and the AI Ethics Committee looks for reasons to shut down the program and to switch John off. Forever.
Reminiscent of the detective drama spoof A Touch of Cloth, Code 404 has both laughs and some proper dramatic moments, the latter of which you wouldn't necessarily expect but that work nonetheless.
And while the cast connections aren't a "six degrees of Kevin Bacon" kind of thing, it's still cool to note that, in addition to Daniel Mays and Stephen Graham both having played cops in AC-12's sights in Line of Duty, Mays portrayed the husband of Anna Maxwell Martin's character in Mother's Day, and the lover of Code 404 costar Richard Gadd's character in Against the Law. (There might be others, but these were the ones that jumped out at me.)
With a second season in the works, the series' first season costars Rosie Cavaliero (Hold the Sunset) as John and Roy's boss, DCS Dennett, and Amanda Payton (Trial & Error) as Dr. Parfit, and features Michelle Greenidge (After Life), Emily Lloyd-Saini (Catastrophe), Steve Oram (The End of the F***ing World), and Tracy Ann Oberman (Friday Night Dinner).
Code 404: Season 1, a Peacock Original series, premieres in the US with all six episodes on Thursday, October 1, exclusively on Peacock.
__________________

Share this post/page.

Outbound links on this page include non-affiliate links and affiliate links; the latter allows us to earn income from qualifying actions.
Code 404: Stephen Graham-Daniel Mays Police Comedy Series Set for US Premiere