Hundreds of titles from the UK, Ireland, and Canada were added to streaming and linear TV channels in 2019. Here are the 20 that made my list of favorites.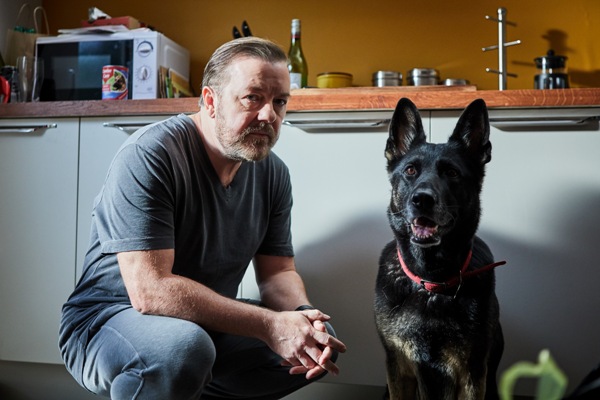 The number of TV titles from across Britain, Canada, and Ireland that were released for the very first time in the United States in 2019 — regardless of when they originally launched in their respective territories (even if it was in the 1990s) — was roughly 360, give or take.
This figure, which includes new shows and new seasons, breaks down to 30 shows per month, one show per day. That's a lot of TV, and it doesn't include the programs I cover for The Down Under TV Place and The Euro TV Place. So, as I'd done with previous years' favorites lists, I only considered new-to-the-US shows for this year's list, and didn't include new seasons, no matter how much I adored them. (Here's looking at you, Line of Duty.)
And as with years prior, I found a number of highly-touted new shows to be meh, while some that barely got a mention turned out to be among my favorites, including ones in a category that I seldom watch.
Herewith, then, are my favorite British and Irish TV premieres in the US in 2019. (Sorry, Canada.) (Note that all "where to watch" listings are current as of this writing.)
15 Days (UK/Wales)
Let's start with what is likely a controversial pick. I get why this English-language remake of Season 3 of Welsh series 35 Diwrnod turned off many viewers. It's filled with truly unlikable characters and the pacing moves like molasses. But the story is engrossing. It opens with a murder, then flashes back 15 days and shows the events leading up to the killing. I binged the whole thing in one sitting, and was like "oh wow!" when the killer was revealed. Where to watch: BritBox, BritBox on Amazon
After Life (UK)
Like him or not, Ricky Gervais has a gift for creating and writing excellent TV shows, The Office and Derek amongst them. Add After Life — one of the most honest (and still humorous) shows I have ever seen — to the list. In it Gervais plays Tony, a widower whose bleep-you attitude toward life and everything and everyone in it belies his unrelenting grief at losing his beloved wife. Arguably Gervais's best series yet. Where to watch: Netflix
Billy Connolly: Made in Scotland (UK/Scotland)
Fans of Glaswegian comedian Billy Connolly (which I am) should watch this autobiographical two-parter. If you aren't, watch it anyway, cos it's really good. It's a poignant and humorous self-portrait of Sir William Connolly CBE — his "love letter to Scotland" — in which he uses personal anecdotes and his gift of language to take viewers on a journey through his life. The show, like Connolly himself, is fascinating. Where to watch: Amazon Video, iTunes
Chernobyl (UK-US)
This historical drama deserves every award it's won. It opens with the explosion at the Chernobyl nuclear power plant, and then follows the investigation into how the calamity happened. The visual effects of the heavily-damaged plant and makeup for the human casualties are chilling, and the entire cast does an amazing job, not the least of whom is Jared Harris as the real-life chemist who led the inquiry. It's powerful from start to finish. Where to watch: Amazon Video, HBO Go, HBO Now, HBO on Amazon, iTunes
With all the yuck in the world today, we all could use some fantasy and romance to get away from it for a while. Adapted from Book 1 in Deborah Harkness's "All Souls" trilogy, this tale blends the forbidden inter-species love affair between witch Diana (Teresa Palmer) and vampire Matthew (Matthew Goode) with the mystery of a long-lost magical manuscript and the nail-biting thrills of the pursuit of the couple by a cadre of unholy creatures. Watch it and get your escape on. Where to watch: Amazon Video, iTunes, Shudder, Shudder on Amazon, Sundance Now, Sundance Now on Amazon
Dublin Murders (Ireland)
We haven't had a good Irish noir TV series since the last season of Jack Taylor in 2017, so it was great when this crime thriller, based on Books 1 and 2 of Tana French's "Dublin Murder Squad" series, arrived on telly. It begins (relatively) simple enough, with two detectives (played by Killian Scott and Sarah Greene) investigating the murder of a girl. But little by little, we go down not one but two rabbit holes in the forms of the cops' respective pasts and the deep, dark secrets the two share. Where to watch: Amazon Video, iTunes, Starz, Starz on Amazon
Gentleman Jack (UK)
Lead characters who are bad-ass women can make for fabulous television, and so it is with this historical drama series. It follows the life of Anne Lister (Suranne Jones), who marches to the beat of her own drummer as a woman, a land owner, and a lesbian in 19th century England. Clever and full of moxie, Lister takes charge and manages well what is considered man's work, and in the process falls head over her suited-and-booted heels for an heiress (Sophie Rundle). It's as enlightening as it is entertaining. Where to watch: Amazon Video, HBO Go, HBO Now, HBO on Amazon, iTunes
Les Misérables (UK-US)
This stunning miniseries wowed me from the off. Adapted from Victor Hugo's classic novel, it relates the themes of justice and injustice, love and forgiveness, compassion and redemption, as the narrative follows the post-prison journey of Jean Valjean (Dominic West). His interactions with single mother Fantine (Lily Collins), nemesis Inspector Javert (David Oyelowo), and others will hurt your heart but ultimately feed your soul. Where to watch: Amazon Video, iTunes, PBS Masterpiece on Amazon, PBS Passport
Manhunt (UK)
Another series that kept me glued to the telly was this true-crime miniseries. Gripping from start to finish, it follows the painstaking police work done in the 2004 case of a murdered French woman. Martin Clunes delivers a forceful performance as DCI Colin Sutton, the (real-life) lead detective who inspires his team to leave no stone unturned and ultimately catches serial killer Levi Bellfield. Where to watch: Acorn TV, Acorn TV on Amazon, Amazon Video, iTunes
Marvellous (UK)
One of my favorite UK shows of 2014, which I hailed as the feel-good program of that year, this BAFTA winner finally became available in the US last year. (So I watched it again.) Touching and humorous, this delightful TV movie tells the story of real-life national treasure Neil Baldwin (Toby Jones), who despite being diagnosed as having learning difficulties as a child, lives life believing he can be, do, and have whatever he wants. And so he does. Where to watch: Acorn TV, Acorn TV on Amazon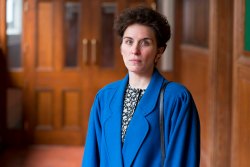 Mother's Day (UK)
This historical drama TV movie touched me deeply. Anna Maxwell Martin plays English woman Wendy Parry, whose son is killed by an IRA bomb attack in their hometown of Warrington the day before Mother's Day 1993. Vicky McClure plays Susan McHugh, an Irish mother in Dublin who rallies fellow citizens to protest the killings, an action that ultimately catalyzes the Northern Ireland peace process. Moving and inspiring, it's a must-watch. Where to watch: BritBox, BritBox on Amazon
Mount Pleasant (UK)
It had me at "mwah." This down-to-earth, feel-good comedy-drama series revolves around Mancunian married couple Lisa (Sally Lindsay) and Dan (Daniel Ryan) and their intimates, and touches on everyday life stuff that plenty of folks can relate to, from money woes and neighborhood gossip, to marriage and other relationship problems. Where to watch: Acorn TV, Acorn TV on Amazon
The Posh Frock Shop (UK)
As with "don't judge a book by its cover," don't judge a show by its genre. While I rarely watch full seasons of structured reality series, I did this one, as it became my guilty pleasure. It's about the women who shop for their wedding and special occasion gowns at the London boutique of Ian Stuart, an award-winning designer, and his team's efforts to find the perfect dresses for their customers. It's fly-on-the-wall, Say Yes to the Dress-type fun! Where to watch: Hulu
Press (UK)
This drama series about the workings of rival UK newspapers and their staff is upsetting on several levels. It's also totally addictive. The good guy-bad guy dynamic gets played out through Holly Evans (Charlotte Riley), a journalist with a sense of integrity, and Duncan Allen (Ben Chaplin), a skeevy editor willing to ruin anyone and anything for an exclusive and more power at the paper. Wicked good. Where to watch: Amazon Video, iTunes, PBS Masterpiece on Amazon, PBS Passport
Queens of Mystery (UK)
A sort-of mashup of Pushing Daisies and Agatha Raisin, this clever and fun cozy mystery series follows DS Matilda Stone (Olivia Vinall) as she investigates murders with help from her crime novelist aunts (played by Julie Graham, Siobhan Redmond, and Sarah Woodward). The plot thickens with the mysteries about Matilda's mother and the meaning of the raven (or is it a crow)? It's whimsical and delightful, and the 3D-like opening-credit sequence is really cool. Where to watch: Acorn TV, Acorn TV on Amazon, Amazon Video, iTunes
The Repair Shop (UK)
This reality show is the feel-good series of 2019. It centers on a group of expert artisans who repair and restore beloved treasures brought to them by people from across the UK. It's fascinating to watch them work, but the real clincher of the show are the stories — from how the objects were acquired and how they came to be in disrepair, to how much it means to the owners (and repairers) to have them back in as mint a condition as can be. Quite simply, it's lovely. Do watch it if you haven't already. Where to watch: Netflix
Shakespeare & Hathaway: Private Investigators (UK)
As cozy mystery series go, this BBC Daytime drama set in Stratford-upon-Avon is like comfort food for folks who need a bit of respite from dark crime dramas. The whodunits are in the mid-range between complex and simplistic, the humor keeps things light, and the pairing of Jo Joyner and Mark Benton as the eponymous private detective duo is spot on. Where to watch: Amazon Video, BritBox, BritBox on Amazon, iTunes, public TV stations
State of the Union (UK)
This was the first, and so far only, short-form show that I've seen, and I'm glad I did cos it's brilliant. In it Tom (Chris O'Dowd) and Louise (Rosamund Pike) meet at the pub across from their marriage counselor's office before they go for their sessions. For 10 minutes each week, they have a drink and chat that usually involves blame and bickering. It's real without being reality. Where to watch: AMC.com, Sundance Now, Sundance Now on Amazon, SundanceTV.com
There She Goes (UK)
With many heartfelt and laugh-out-loud moments, this must-see dramedy is based on the real-life experiences of series creator Shaun Pye and his family. Told through parallel timelines, it revolves around Rosie, the learning-disabled daughter of Simon (David Tennant) and Emily (Jessica Hynes), and the parenting challenges they deal with. It's raw and authentic and refreshing, and totally worthy of your time. Where to watch: BritBox, BritBox on Amazon
The Victim (UK/Scotland)
You don't need to have gone through what Anna (Kelly Macdonald) did to get where she's coming from. After 14 years, she still grieves the loss of her son and still rages at being denied justice for his murder at the killer's trial. With her anger having festered for so long, she takes matters into her own hands — and ends up in the dock herself, while her victim maintains his innocence while trying to protect his family and salvage his ruined reputation. It's gripping stuff, this. Where to watch: BritBox, BritBox on Amazon, public TV stations
__________________

Add your comments on our Facebook and Twitter pages.
Share this post/page.




Outbound links on this page include non-affiliate links and affiliate links; the latter allows us to earn income for qualifying purchases and actions made through the links.
British TV in the US in 2019: Year in Review + Favorites