AMC released today its official trailer for The Salisbury Poisonings, a dramatization of the real-life assassination attempt using the nerve agent Novichok in the UK in 2018.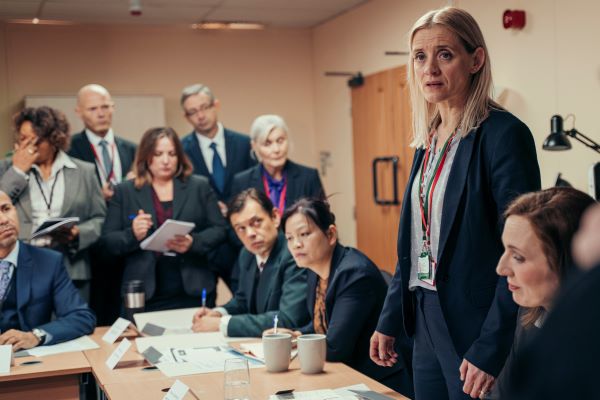 The Salisbury Poisonings tells the remarkable story of how ordinary people and public services reacted to a crisis on their doorstep, displaying extraordinary heroism as their city became the focus of an unprecedented national emergency.
In March 2018, the eyes of the world turned to the British city of Salisbury when it became the epicenter of what has been described as one of the biggest political events of the 21st century: Within three days of the assassination attempt on double agent and spy Sergei Skripal and his daughter Yulia, key agencies discovered that the lethal nerve agent Novichok was used, just half a teaspoon of which could kill 20,000 people.
Within four days, hundreds of traces of Novichok were found across the city, and just when things were finally thought to be under control, a perfume bottle containing the nerve agent was discovered, throwing the investigation into renewed chaos.
The four-part drama stars Anne-Marie Duff (Sex Education, His Dark Materials), Rafe Spall (Trying, The War of the Worlds), MyAnna Buring (The Witcher, Ripper Street), Johnny Harris (Medici, Fortitude), and Annabel Scholey (The Split, Britannia).
The central characters affected by the attack — including Tracy Daszkiewicz (Marie-Anne Duff), who was the Director of Public Health of Wiltshire Council; the Sturgess family, who lost their daughter Dawn (MyAnna Buring); Charlie Rowley (Johnny Harris), Dawn's boyfriend; and Detective Sergeant Nick Bailey (Rafe Spall), who was contaminated during the course of his work — worked closely with the producers to tell their stories amidst the ongoing investigation.
The Salisbury Poisonings premieres in the US in its entirety on Thursday, October 1, on SVOD streaming service AMC+. The limited series will air on AMC linear in early 2021.
__________________

Share this post/page.

Outbound links on this page include non-affiliate links and affiliate links; the latter allows us to earn income for qualifying actions.
The Salisbury Poisonings: AMC Releases Official Trailer for True-Story Drama