Mystery Mondays in April on KCET bring the latest seasons of hit Brit series Death in Paradise and Father Brown to viewers in Southern and Central California.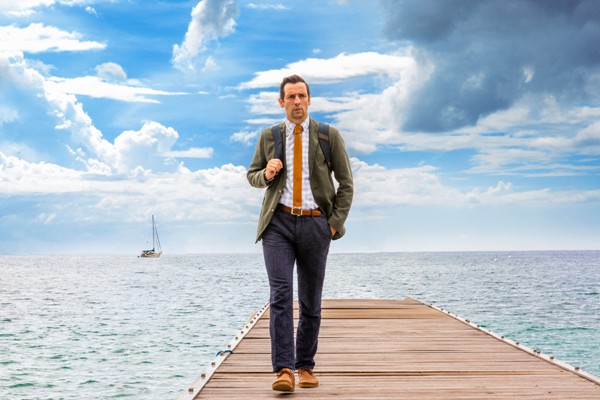 With California's stay-at-home order still in effect, KCET is making it a bit easier to bear, at least for fans of British mystery series, as the public TV station is bringing Season 9 of Death in Paradise and Season 8 of Father Brown to folks in its viewing area.
The new season finds the team at the Honoré Police — DI Jack Mooney (Ardal O'Hanlon, My Hero), DS Madeleine Dumas (Aude Legastelois, Nox), Officer J.P. Hooper (Tobi Bakare, The Tunnel), and Officer Ruby Patterson (Shyko Amos, A Very English Scandal) — investigating more murders amidst the sun, sand, and sea on the (fictional) Caribbean island of Saint Marie.
Their cases include the stabbing death of a woman in her own home, the poisoning of a renowned artist in her studio, the mysterious death of a cyclist during a race, and the murder of a man found dead in a boat off the Saint Marie coast.
As fate would have it, Jack's work on the stabbing case has him crossing paths with Anna (Nina Wadia, EastEnders), a newly-minted divorcée who is on Saint Marie as part of her year-long bucket list travels. Their romance blossoms, and Jack soon finds himself at a crossroads — ultimately making a life-changing decision that has him bidding adieu to his colleagues and to the island.
This is Saint Marie we're talking about, so it isn't long after Jack's departure that there's another death. A Mancunian woman is found dead in her hotel room, and Commissioner Selwyn Patterson (Don Warrington, The Five) determines it was a suicide; now all he needs is confirmation from Manchester CID for his ruling to be official.
Enter DI Neville Parker (Ralf Little, The Café).
This guy is a hot mess. Neville has multiple allergies and, since his arrival on Saint Marie, various of his body parts are covered in rashes. He also doesn't care for the sun or sand or the ocean view from his beachfront bungalow. (If he can't handle the mosquitoes, just wait til he gets a load of Harry the lizard.)
Despite his ailments, Neville is a brilliant detective. All it takes is one clue for him to declare the supposed suicide a murder. Now that he's done his bit, he's off to catch the next flight back to the comfort of the cooler and cloudier Manchester. Except he is stopped in his tracks by the police powers that be so he can finish the investigation and catch the killer.
Elizabeth Bourgine (Murder in… Rochefort) returns as Mayor (and bar owner) Catherine Bordey, and guest stars in the new season include Samuel West (Mr. Selfridge), Louise Brealey (Sherlock), Adrian Bower (Mount Pleasant), Clare-Hope Ashitey (Suspects), Samantha Bond (Downton Abbey), Alexandra Roach (Sanditon), Kadiff Kirwan (The Stranger), and Frances Tomelty (Unforgotten).
Death in Paradise: Season 9 premieres today, Monday, April 6, at 8 PM PT, on KCET. New episodes of the eight-episode season will air on Mondays at the same time. (Schedule is subject to change without prior notice.)
Based on the character created by G.K. Chesterton and set in the 1950s, the new season of this hit BBC Daytime drama series sees the eponymous Roman Catholic priest and crime-solving amateur sleuth (played by Harry Potter's Mark Williams) delving into more mysteries in the (fictional) Cotswold village of Kembleford.
With help from parish secretary Mrs. McCarthy (Sorcha Cusack, River) and young socialite Bunty Windermere (Emer Kenny, Pramface), along with Inspector Mallory (Jack Deam, DCI Banks) and Sergeant Goodfellow (John Burton, Coronation Street), the good padre searches for the saboteur who's trying to stop Kembleford from winning the Three Counties choir competition in the Season 9 opener.
Later Father Brown investigates the murder of an eccentric beekeeper, uncovers the hidden motivations behind a deadly art exhibition, and races against the clock to save Bunty from the hangman's noose after she is tried for murder. There's more besides — including an unexpected visit from Mrs. McCarthy's sister, who owes money to loan sharks.
Returning to the series in guest roles in Season 9 are Nancy Carroll (Prime Suspect Tennison) as socialite Lady Felicia, Alex Price (Penny Dreadful) as her former driver Sid Carter, John Light (WPC 56) as the dastardly thief Hercule Flambeau, Hugo Speer (London Kills) as Chief Inspector Valentine, and Tom Chambers (Casualty) as Chief Inspector Sullivan.
Also guest-starring in the new season are Pippa Haywood (Scott & Bailey), Paul Copley (Downton Abbey), Niamh Cusack (The Virtues), Ian Puleston-Davies (Pennyworth), Amanda Lawrence (Above Suspicion), and Cal MacAninch (The Victim).
Father Brown: Season 8 premieres this evening at 9 PM PT on KCET, directly after Death in Paradise. New episodes will air thusly for the remainder of the ten-episode season. (Schedule is subject to change without prior notice.)
__________________

Add your comments on our Facebook and Twitter pages.
Share this post/page.

Outbound links on this page include non-affiliate links and affiliate links; the latter allows us to earn income for qualifying actions.
New Seasons of Death in Paradise & Father Brown Premiere Tonight on KCET