The wait for the highly-anticipated debut of British mystery drama Deadwater Fell on this side of the pond will be over in a matter of hours.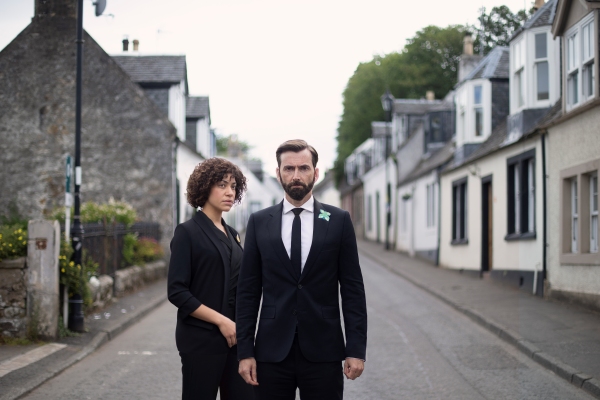 Say the name David Tennant, and as long as I can access the TV show or film that he's in, I'll watch it. Broadchurch, Doctor Who, you name it. (That goes for his theatre performances, too. He was brilliant in Richard II.) His legions of fans do the same, I'm sure.
Tennant's latest series to come to North America is Deadwater Fell, a taut, intricately-layered murder mystery that costars Cush Jumbo (The Good Fight, Vera), Matthew McNulty (The Bay, The Terror), and Anna Madeley (Patrick Melrose, The Crown).
As the camera pans across the charred remains of what had been a home in the opening montage, you just know a tragedy, something more terrible than the fire itself, has happened.
The tragedy is fourfold. The family of local doctor Tom Kendrick (Tennant) — his wife Kate (Madeley) and their three young daughters — died in the fire. Victims of the blaze and of the person who murdered them. Tom survived, but just barely, pulled out to safety by police officer and family friend Steve Campbell (McNulty).
Just hours earlier, the Kendricks clan, Steve and Jess Milner (Jumbo), Steve's life partner and Kate's best friend and fellow primary school teacher, were having a grand time at the ceilidh. Who could possibly have wanted the family dead? A few of the villagers speculate that a stranger was the killer, while others start giving the side-eye to the person(s) they suspect.
As the story unfolds, we learn there were issues within the seemingly perfect family — some more problematic than others. Meanwhile, for Jess and Steve, the only problems they seem to have are his ex wanting to take their kids more often and her pregnancy tests showing negative results. That is, until the investigation into the Kendricks' deaths stirs things up…
Created and written by Daisy Coulam (Grantchester), the four-part drama features Maureen Beattie (Outlander), Stuart Bowman (Versailles), Laurie Brett (EastEnders), Gordon Brown (Frontier), Seline Hizli (Grantchester), Lorn Macdonald (Shetland), Lisa McGrillis (Mum), and Jamie Michie (Back to Life).
Deadwater Fell, an Acorn TV Original series, premieres in North America tomorrow, April 6, with its first episode, exclusively on Acorn TV and its digital channels, including Acorn TV on Amazon. New episodes will debut on Mondays through April 26.
__________________

Add your comments on our Facebook and Twitter pages.
Share this post/page.

Outbound links on this page include non-affiliate links and affiliate links; the latter allows us to earn income for qualifying actions.
Deadwater Fell: Complex Murder Mystery Premieres in the US