Mount Pleasant is a fabulous, feel-good comedy-drama series — an easy pick for one of my favorite Brit TV premieres in the US this year — and it debuts stateside tomorrow.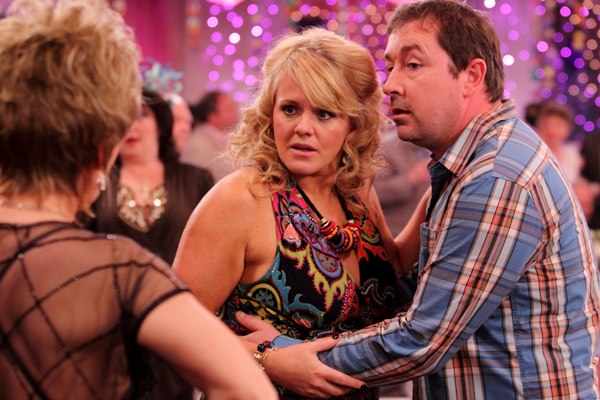 I absolutely adore Mount Pleasant.
It's fun. It's down to earth. It's relatable. In a word, it's wonderful.
The series revolves around the lives of Lisa (Still Open All Hours, Scott & Bailey, Coronation Street) and Dan (Daniel Ryan, The Bay, Innocent, Home Fires), a couple in their thirties married for ten years, as well as their parents, friends, and neighbors in Mount Pleasant, a suburb of Manchester.
Good-natured Dan has his own plumbing business, and the affable and occasionally high-strung Lisa works at a branch office of Reconnect Recruitment Consultants, where her friend Shelley (Angela Griffin, Inspector Lewis) is the manager. Shelley's husband is Dan's mate Greg (Adrian Bower, The Last Kingdom), a construction worker with a gambling problem. Working alongside Lisa is Denise (Ainsley Howard, The Village), a sweet but rather ditzy nineteen-year-old who's having an affair with Fergus (Neil Fitzmaurice, Peep Show), the kinda skeevy married boss of the company.
Lisa and Dan live in a close across the street from the flirtatious Bianca (Sian Reeves, Emmerdale), aka "Miss Skimpy Knickers," and next door to dishy new neighbor Jack (Owen McDonnell, Killing Eve). Lisa's parents, Barry (Bobby Ball, Not Going Out) and Sue (Pauline Collins, Upstairs, Downstairs), have been married for nearly 40 years and pop round to Lisa's practically every day (with their own keys to the house). Dan's parents, Pauline (Paula Wilcox, Upstart Crow) and Charlie (David Bradley, Harry Potter), are divorced; she's local and pops round often enough, and he's in Spain (until Series 2).
What Lisa, Dan, and the rest of the lot get up to is the stuff of everyday life — having laughs, rows, sex, and misunderstandings; having crises of confidence and having marriage and in-law issues; being the object of unwanted gossip or affection and being attracted to someone who isn't your spouse — and it's the storylines about this stuff, along with the characters themselves (some admittedly quirkier than others), that make the series so accessible, enjoyable, and (dare I say it) real.
Other cast members in Series 1 and Series 2 include Claire Goose (The Coroner), Robson Green (Grantchester), Diane Morgan (Motherland), and Liza Tarbuck (Upstart Crow).
The first two seasons of Mount Pleasant premiere in the US tomorrow, Monday, November 4, exclusively on Acorn TV, followed by Series 3 on November 18.
__________________

Add your comments on our Facebook and Twitter pages.
Share this post/page.




Outbound links on this page include non-affiliate links and affiliate links; the latter allows us to earn income for qualifying purchases and actions made through the links.
Mount Pleasant: Fabulous, Feel-Good Comedy-Drama Series Set to Debut in the US