The Scottish drama thriller The Victim is heading to select public TV stations across the US, including KCET, which announced today its air dates for the miniseries.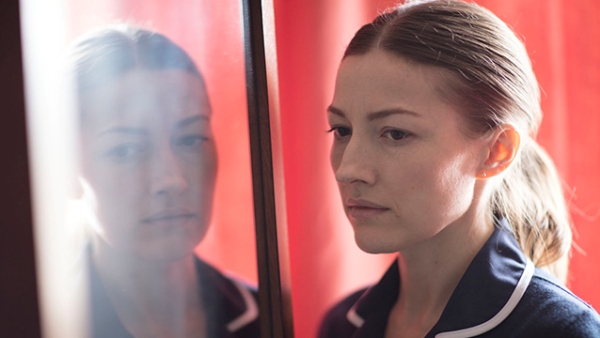 The Victim stars Primetime Emmy® Awards winner and three-time Golden Globes® nominee Kelly Macdonald (Boardwalk Empire, The Girl in the Café, Gosford Park) as Anna Dean, the still-grieving mother of a boy who was murdered fourteen years ago.
Anna is convinced that a local man named Craig Myers (James Harkness, Rogue One: A Star Wars Story, In Plain Sight) is actually Eddie J. Turner, her son's killer. In having been let down by the criminal justice system in Scotland, Anna attempts to get justice for her son by posting Myers' name and address online. The response amongst the public is quick and violent — a masked assailant savagely beats Myers, landing him in hospital.
DI Stephen Grover (John Hannah, Marvel's Agents of S.H.I.E.L.D., Marley's Ghosts) investigates the attack, which leads him to suspect Anna of having instigated it, whether intentionally or not. She is later arrested, charged, and put on trial for "incitement to murder." Meanwhile, Myers proclaims he is not Eddie J. Turner while trying to salvage his reputation, to allay his wife's fears, and to keep his family safe.
As the story progresses, the question that keeps arising is: Who is the real victim here?
Costars in the four-part drama include Karla Crome (Carnival Row), Isis Hainsworth (Wanderlust), Cal MacAninch (Mr Selfridge), Allison McKenzie (Shetland), Chloe Pirrie (Troy: Fall of a City), Pooky Quesnel (The A Word), Andrew Rothney (Catherine the Great), Jamie Sives (In the Dark), and Ramon Tikaram (Fortitude).
KCET premieres The Victim on Tuesday, January 7, 2020, at 9 PM PT, with Episode 1. The remaining episodes will air at the same time on January 14, 21, and 28. (Telecast details are subject to change.)
(If you live outside of KCET's Southern California broadcast area, contact the public TV station that serves your area to find out of they will air The Victim.)
__________________

Add your comments on our Facebook and Twitter pages.
Share this post/page.

Outbound links on this page include non-affiliate links and affiliate links; the latter allows us to earn income for qualifying purchases and actions made through the links.
The Victim: KCET Sets Broadcast Dates for Scottish Thriller