A bunch of dramas from the 1970s through the 2010s arrived on Prime Video over the past few months. Here are ten worth checking out.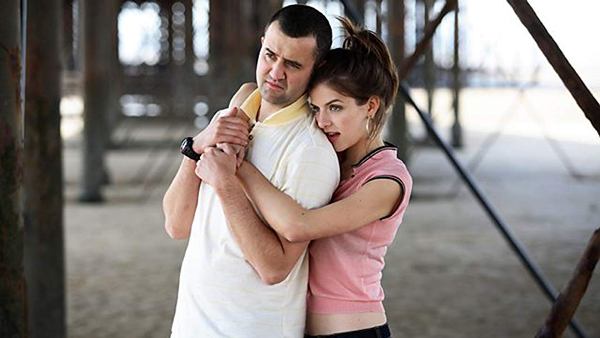 Budgie
Pop star-turned-actor Adam Faith had his first starring role on TV in this drama, in which he plays Ronald "Budgie" Bird, a not-so-swift petty crook whose scams and schemes to get money never seem to work out and always seem to land him in hot water with both the cops and his boss Charlie Endell (Ian Cuthbertson, Doctor Who), a Glaswegian gangster in London. (Both seasons are currently available.)
The Crash
Inspired by a real-life event, this two-part drama tells the story of a horrific car crash involving a group of teens — revealing the chain of events that led up to the accident and how its devastating effects impacted the lives of the teenagers, their friends, and their families. The cast includes Josh Bolt (Last Tango in Halifax), James Burrows (Mount Pleasant), Sacha Parkinson (Mr. Selfridge), and Georgia Henshaw (Waterloo Road).
From There to Here
One of my favorite new series of 2014, this miniseries stars Philip Glenister (Living the Dream) as Daniel Cotton, a factory owner who pulls the injured Joanne (Liz White, Life on Mars) to safety after the 1996 IRA bombing in Manchester ripped through the pub where she worked. The two begin a relationship, with neither Joanne nor his other wife, Claire (Saskia Reeves, Shetland), knowing about Daniel's double life until his secret is exposed.
The Gentle Touch
Jill Gascoine (C.A.T.S. Eyes) plays British TV's first female police detective in this police procedural. She stars as Maggie Forbes, a cop who has risen through the ranks to be a Detective Inspector. Following the murder of her husband and fellow officer, Maggie is left to raise their son alone while work has her investigating hate and sex crimes, murders, robbery and burglary cases, and other crimes in London. (All five seasons are currently available.)
Grafters
Robson Green (Grantchester) and Stephen Tompkinson (DCI Banks) star in this dramedy as Joe and Trevor Purvis, bickering brothers who run a building business along with their cousin Simon (Darren Morfitt, Silent Witness). They renovate a couple's home in London in Season 1 and work on Brighton schoolhouse conversion in Season 2. Costars include Neil Stuke (Silk), Emily Joyce (My Hero), and David Westhead (Bodyguard).
Peak Practice
This long-running drama (12 seasons) revolves around the lives of the doctors who work at a GP surgery in the (fictional) Derbyshire town of Cardale. Kevin Whately (Inspector Lewis) and Amanda Burton (Silent Witness) costarred alongside Simon Shepherd (Chancer), Esther Coles (Code of a Killer), and Gary Mavers (Emmerdale) for the first three seasons. (All but Seasons 5 and 7 are currently available.)
The Protectors
The late, great Robert Vaughn (Hustle, The Man from U.N.C.L.E.) starred in this action thriller series as Harry Rule, the leader of the titular organization, which is charged with protecting innocent people from various forms of crime and intrigue, such as false imprisonment and kidnapping. In the process, the team members become targets themselves. Costars include Nyree Dawn Porter (The Forsyte Saga) and Tony Anholt (Space: 1999).
Public Enemies
This miniseries revolves around Eddie Mottram (Daniel Mays, Good Omens), a convicted murderer recently released from prison who, while struggling to adjust to life on the outside, tells his probation officer, Paula Radnor (Anna Friel, Deep Water), he didn't kill his girlfriend. The three-parter costars Lorraine Ashbourne (The Crown), Georgina Rich (River), and Aisling Loftus (Mr. Selfridge).
Soldier Soldier
Robson Green (Wire in the Blood) and Jerome Flynn (Game of Thrones) star in the first five seasons of this drama, which follows the lives of the soldiers in a regiment of the (fictional) King's Fusiliers. (Trivia: Their performance of "Unchained Melody" in Season 4 prompted the duo's subsequent studio recordings, which gave them a hit album.) (All but the first of the show's seven seasons are currently available.)
Wired
Before she became The Doctor in Doctor Who, Jodie Whittaker starred in this thriller miniseries as Louise Evans, a single mum and banker who gets promoted and also blackmailed into helping a colleague (Laurence Fox, Victoria) defraud a bank of millions of pounds via an internet scam. By chance, Louise meets Crawford Hill (Toby Stephens, Black Sails), an undercover detective who says he wants to help her while he's trying to expose the fraud ring.
__________________

Add your comments on our Facebook and Twitter pages.
Share this post/page.

Outbound links on this page include non-affiliate links and affiliate links; the latter allows us to earn income for qualifying purchases and actions made through the links.
10 British Drama Series Recently Added to Prime Video US