Bodyguard has arrived stateside, and viewers on this side of the pond can now see why this crime thriller was the most-watched new drama series in the UK in a more than a decade.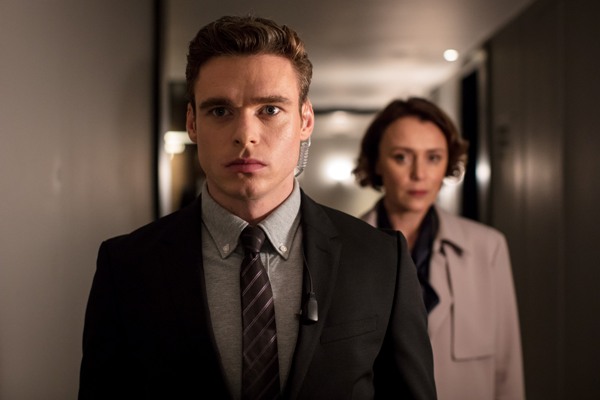 Bodyguard premiered yesterday on Netflix in every one of of its territories save the UK and Ireland.
I got started late and ended up binge-watching it until stupid o'clock in the morning.
Unless a show that debuts here in November or December turns out to be better than this nail-biting, heart-pounding, suspense-filled drama, I will likely name Bodyguard the best new British TV drama premiere of the year. (Oh, wait, there's Killing Eve. Okay, second best.)
Richard Madden (Game of Thrones, Medici: Masters of Florence, Cinderella) stars as Sergeant David Budd, a police officer and veteran of the war in Afghanistan. He suffers from PTSD but hasn't sought help, a situation that has contributed to his being separated from his wife, Vicky (Sophie Rundle, Peaky Blinders, Jamestown).
We meet Budd as he is returning to London by train with his two young children. While en route, he goes into cop mode and defuses a highly-tense situation. This act of heroism gets him promoted to a job with the Royalty and Specialist Protection Branch of the Metropolitan Police Protection Command, in which he is to protect Home Secretary Julia Montague.
The divorced Montague, played by BAFTA nominee Keeley Hawes (Line of Duty, The Durrells in Corfu, The Missing), is a Conservative MP who is as divisive a politician as she is an ambitious one. Given her support of the wars in Afghanistan and Iraq and the expansion of the government's surveillance powers, she stands for everything Budd despises. But he remains her protector. And becomes her lover.
Montague, who is almost always under verbal attack by those who disagree with her politics and see her latest maneuvers as tactics to get herself into 10 Downing Street, becomes the target of an actual assassination attempt.
Budd's earlier act of anti-terrorism heroism has put his and his family's lives in danger, too.
Meanwhile, Budd's boss and his boss' boss — Chief Superintendent Lorraine Craddock (Pippa Haywood, Scott & Bailey) and Commander Anne Sampson (Gina McKee, The Borgias) — give him an additional job: spy on Montague and give them the information he learns.
Ultimately, the Protection Command, the Counter-Terrorism Command, and MI5 fail in their duties, as a police officer and members of the Home Office are victims of a heinous crime.
And Budd becomes the prime suspect.
There are seemingly few scenes in Bodyguard in which one can breath normally and not have stress hormones coursing through one's body.
From the off, the multiple award-winning series creator and writer, Jed Mercurio (Line of Duty), trains viewers to anticipate being startled out of our skin or gripped by the fear that something horrible will happen in a matter of seconds. Add to this the suspicion that Mercurio cultivates and the outrage we feel from the WTH twist in his story — all combined with a truly likable and sympathetic lead character, played brilliantly by Madden — and it's easy to understand how and why this series was the UK's new TV drama breakout hit of not just this year but the past decade.
The supporting cast includes Stuart Bowman (Versailles), Tom Brooke (Preacher), Vincent Franklin (Happy Valley), Nicholas Gleaves (Scott & Bailey), Anjli Mohindra (Dark Heart), Paul Ready (The Terror), Richard Riddell (Barbarians Rising), Ash Tandon (The Good Karma Hospital), and Nina Toussaint-White (EastEnders).
Bodyguard, a Netflix Original series, is currently streaming on Netflix in all of the streaming giant's territories outside the UK and Ireland.
__________________

Add your comments on our Facebook and Twitter pages.
Share this post/page.

Bodyguard: Edge-of-Your-Seat Crime Thriller Is Crazy Good