Father Brown, the hit mystery series featuring the eponymous soul-saving, crime-solving Roman Catholic priest, is returning to public TV stations in the US, including WETA.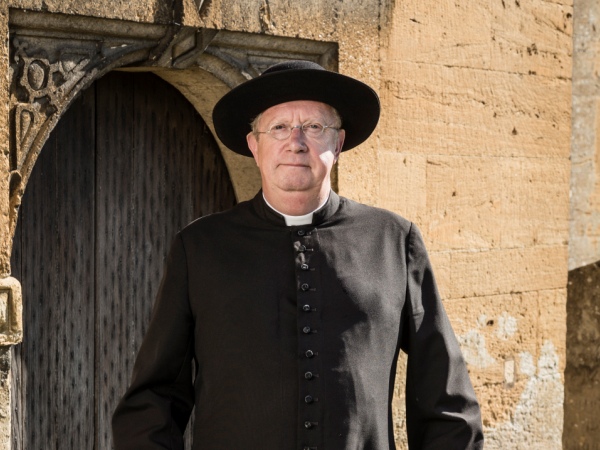 Series 7 of Father Brown completed its run on BBC One about ten weeks ago, and it is making its way to public TV stations on this side of the pond starting this month.
Mark Williams (Harry Potter) returns as Father Brown, and is joined by the other series regulars — Sorcha Cusack (A Discovery of Witches) as parish secretary Mrs. McCarthy, Jack Deam (DCI Banks) as Inspector Mallory, John Burton (Coronation Street) as Sergeant Goodfellow, and Emer Kenny (Pramface) as Bunty Windermere, Lady Felicia's niece.
Speaking of, Nancy Carroll (Queens of Mystery) reprises her role as Lady Felicia in two episodes, as does Tom Chambers (Emmerdale) as Inspector Sullivan in one episode. And Father Brown wouldn't be Father Brown without Flambeau, so John Light (WPC 56) is back as the dastardly thief, as well.
For such a quaint Cotswolds village, there's quite a bit of mischief in 1950s Kembleford. To wit: a daring train robbery, during which Mrs. McCarthy and Lady Felicia are kidnapped and held hostage; the manhunt for an alleged cop killer, during which Sergeant Goodfellow is shot; and the disappearance of both Father Brown and Inspector Mallory. (Ooh!)
There is mischief of the murderous kind, too, including homicides that happen at a girls finishing school, a farm, and a youth hostel. And St. Mary's Church itself isn't spared from a suspicious death!
(Video below is from Season 6)
Based loosely on the "Father Brown" stories by G.K. Chesterton, the new season features guest stars Samuel Anderson (Doctor Who), Selina Griffiths (Cuckoo), Olivia Hallinan (Lark Rise to Candleford), Maggie O'Neill (Shameless), Jemima Rooper (Lost in Austen), and Mark Umbers (Home Fires).
Father Brown: Series 7 premieres Thursday, April 11, at 8 PM ET, on WETA UK, the only public TV channel in the US that airs British and other international TV shows 24/7.
If you live outside of WETA's Washington, DC viewing area, check your local listings or contact the Viewer Services department of the public TV station that serves your area to find out if/when it will be screening Series 7.
__________________

Add your comments on our Facebook and Twitter pages.
Share this post/page.

Father Brown: Series 7 Set to Premiere on WETA UK