A brand new, multi-strand crime thriller is set to premiere on this side of the pond: In the Dark, starring MyAnna Buring as a copper haunted by her past and fearing for her future.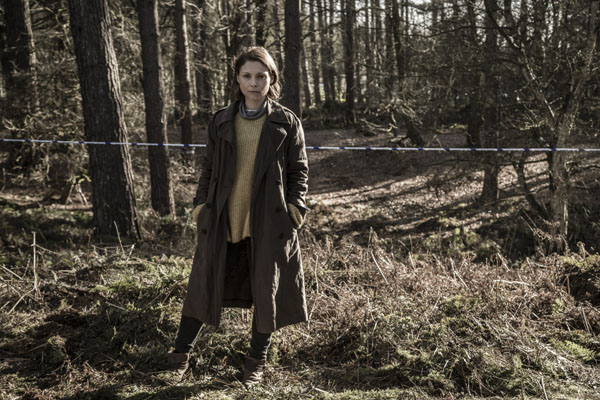 Brand new, as in the miniseries hasn't even finished its run in the UK yet. That happens tomorrow, which is when In the Dark premieres in the US.
The four-part mystery consists of two two-part stories based on the novels by bestselling crime writer Mark Billingham, whose protagonist, DI Helen Weeks, is played by MyAnna Buring (Ripper Street, Prey, Banished).
In the first story, "Time of Death," a pregnant Helen takes some leave from her duties with the Manchester Met to return to her hometown of Polesford, Derbyshire — a place she has loathed since her teen years.
She has two reasons to go back: to give her father (Clive Wood, Sense8, The Pillars of the Earth) the good, albeit unexpected, news about her impending motherhood with fellow detective and boyfriend DI Paul Hopkins (Ben Batt, The Village, From There to Here, Scott & Bailey), and to help her childhood best friend, Linda (Emma Fryer, Critical, PhoneShop), whose husband has been arrested for the abduction, and later murder, of two young girls.
Helen and Linda haven't spoken in years; the detective only learned about what happened to her friend's husband from news reports. So why help someone who's been like a stranger for so long? Because a secret from their past binds them together.
And it's not the only one that Helen has been keeping quiet about…
As for the case against Linda's husband, local DI Tim Cornish (Ashley Walters, Top Boy, Inside Men) is cocksure about it being an open-and-shut one. There's DNA evidence from the crime scene and more besides. Yet Helen's instinct tells her something is off about the whole thing and she sets about trying to learn the truth with help from Paul and Phil Hendricks (Matt King, Peep Show, Starlings), their pathologist colleague and friend.
"In the Dark" picks up soon after the Polesford case is closed. A heavily-pregnant Helen is back in Manchester with Paul and working on a case involving a gang of young thugs who've been robbing and killing passing motorists.
Tragedy touches Helen's life, too. Again, her instincts kick in and she suspects there's more to her loved one's death than what appears on the surface. As her personal inquiry pulls her into the dirty and dangerous underbelly of urban Manchester, Helen discovers that she might not know as much about those closest to her than she thought.
Written by Danny Brocklehurst (Ordinary Lies, The Driver, Shameless) and featuring David Leon (Vera), Georgia Moffett (Where the Heart Is), and Jamie Sives (Game of Thrones), In the Dark premieres in the US on Tuesday, August 1st, exclusively on BritBox.
__________________

Add your comments on our Facebook and Twitter pages.

Share this post/page.

In the Dark: British Crime Thriller Miniseries Premieres in the US