The amazing Sarah Lancashire headlines the cast of mystery miniseries National Treasure: Kiri, which premieres in the US on Hulu.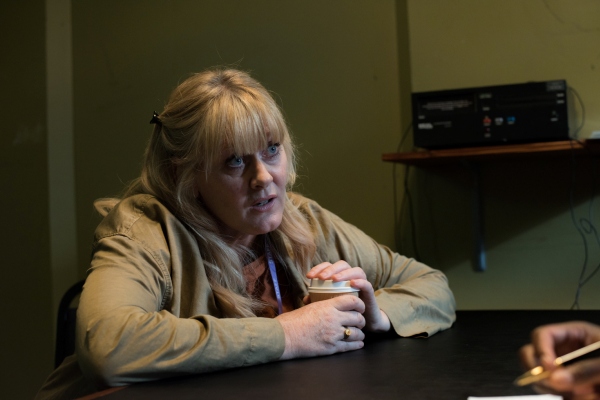 Written by Jack Thorne (National Treasure, The Last Panthers), National Treasure: Kiri stars Sarah Lancashire (Happy Valley, Last Tango in Halifax, The Paradise) as Miriam Grayson, a dedicated, possibly alcoholic, 50-something social worker in Bristol whose world is turned utterly upside down on a fateful day.
One of the children in her care is Kiri (newcomer Felicia Mukasa), a young black girl who is about to be adopted by Jim (Steven Mackintosh, The Halcyon, What Remains) and Alice Warner (Lia Williams, The Missing, Doc Martin) — her white, middle-class foster parents.
Kiri is in care because her birth father, Nate Akindele (Paapa Essiedu, Press, The Miniaturist), is an ex-con and ex-addict in his 20s who is known to have violent tendencies. When his daughter isn't with the Warner family, she visits with her grandparents, Nate's dad and mum — Tobi (Lucian Msamati, Taboo, Game of Thrones) and Rochelle Akindele (Andi Osho, Holby City, EastEnders).
This arrangement goes along swimmingly until the day Miriam allows Kiri to have an unsupervised visit with Tobi and Rochelle. Hours later Miriam receives a text: Kiri has gone missing. And the police, including DI Vanessa Mercer (Wunmi Mosaku, Fearless, Dancing on the Edge), call Miriam in to question her about Kiri's disappearance. During the subsequent police and public's search for the missing girl, her lifeless body is found.
The media are all over the story, and their focus is Miriam — the person who allowed Kiri to have an unsupervised visit with her father.
Off-camera is Miriam's boss Julie (Claire Rushbrook, Requiem, Whitechapel). Both concerned and livid, Julie shares with Miriam what Jim and Alice have said about the social worker, questions Miriam's judgment in the matter of Kiri's care, and suspends her pending the outcome of an investigation.
Everyone's finger is pointed at Miriam as the person to blame in Kiri's disappearance and death. But she didn't kill the girl. The question is, who did?
So opens the four-part miniseries, which features Finn Bennett (Liar, Cider with Rosie), Sue Johnston (Coronation Street), Nathaniel Martello-White (Collateral), Brendan Patricks (Downton Abbey), and Cara Theobold (The Syndicate).
National Treasure: Kiri, a Hulu Original series, premieres in the US tomorrow, Wednesday, April 4, exclusively on Hulu.
__________________

Add your comments on our Facebook and Twitter pages.
Share this post/page.

National Treasure: Kiri: Mystery Drama Starring Sarah Lancashire Premieres on Hulu