The wait for the highly-anticipated The Bletchley Circle: San Francisco is nearly over.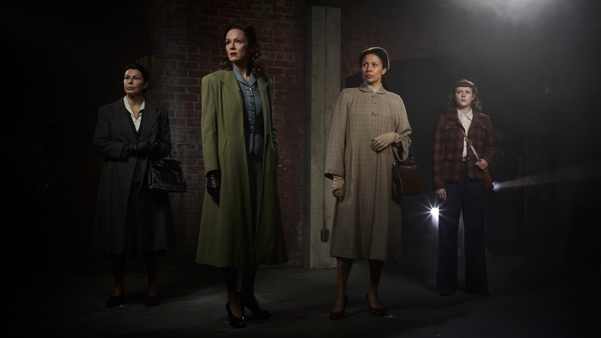 The Bletchley Circle: San Francisco, the follow-up series to The Bletchley Circle, stars two of the original cast members — Julie Graham (Shetland, Retribution) as Jean McBrian and Rachael Stirling (Detectorists, Capital) as Millie Harcourt — in four new two-part murder mystery stories that take place on this side of the pond.
Fans of the original series will recall that Jean and Millie were code-breakers at Bletchley Park, Britain's code-breaking headquarters during World War II, who used their skills in post-war Britain to investigate a series of complex crimes.
The new series opens in May 1942 at Bletchley Park, where a code-breaking colleague of Millie and Jean is murdered soon after the arrival of American servicemen at Bletchley.
Fast forward to 1956 London. Both women are still bound by the Official Secrets Act from revealing their past as code-breakers, so with only "clerical" to show for their service eleven years after the war ended, Millie now works as a governess to the cheeky young son of an MP in the House of Lords, and Jean has replaced military codes with the Dewey Decimal System in her work as a librarian.
Then a newspaper article about a murder in San Francisco — one that bears a striking similarity to the one at Bletchley fourteen years ago — changes all that, as Millie and Jean leave the lives they've known to track down a killer in the City by the Bay.
After arriving in San Francisco's Fillmore District, the two Brits connect with Iris Bearden (Crystal Balint, Mech-X4, Prison Break) and Hailey Yarner (Chanelle Peloso, Supernatural, Sacred Lies), former code-breakers for the Americans who, like their two fish-out-of-UK-waters counterparts, find themselves undervalued and overlooked in post-war America despite their indispensable war efforts.
But Iris and Hailey have a renewed purpose for putting their code-breaking skills to work again while joining forces with Millie and Jean: to find the killer's pattern, decipher the killer's codes, and catch the person who has already murdered one woman in England and two in San Francisco, and is threatening to take the lives of more victims.
Co-produced by Omnifilm Entertainment and World Productions in association with BritBox, the series features Jennifer Spence (SGU Stargate Universe), Peter Benson (Mech-X4), Colin Lawrence (The Killing), Agape Mngomezulu (The Simone Biles Story: Courage to Soar), and Aria Birch (Somewhere Between).
The cast of the first story (episodes "Presidio" and "Wake") includes Teach Grant (Damnation), Neil Grayston (Eureka), Nicholas Lea (The X-Files), Sarah-Jane Redmond (Da Vinci's Inquest), and Garfield Wilson (Almost Human).
The Bletchley Circle: San Francisco, a BritBox Original series, premieres in the US and Canada on Thursday, July 26, exclusively on BritBox and the BritBox channel on Amazon.
__________________

Add your comments on our Facebook and Twitter pages.
Share this post/page.

The Bletchley Circle: San Francisco Premieres in the US