No Offence is now streaming in the US and Canada. Go watch it.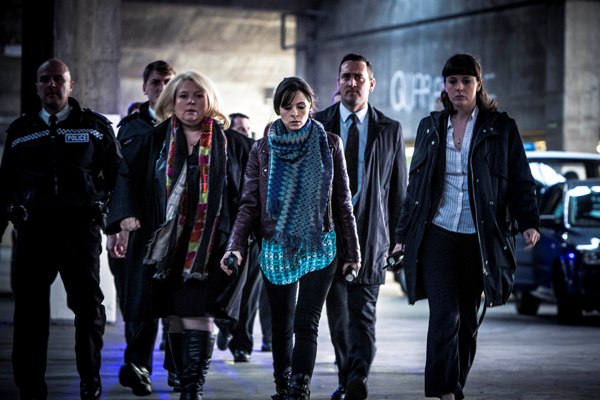 No Offence is the fabulous, must-watch cop dramedy series from the brilliant Primetime Emmy® and BAFTA Awards-winning writer and producer Paul Abbott (Shameless, Touching Evil, State of Play, Cracker, Reckless).
Combining intriguing crime stories with cracking dialogue, Abbott shakes up the police procedural genre by giving viewers a crime dramedy series that is at once dramatic, hilarious, and refreshing.
It centers on the goings-on at the Friday Street station of the (fictional) Manchester Metropolitan Police, where team meetings in the loo is a commonplace occurrence. It's also the precinct where DI Vivienne Deering (BAFTA nominee Joanna Scanlan, Getting On, The Thick of It) rules. Not one to take any guff from anyone, not even her superiors, Vivienne has a quick wit and a sharp tongue, cuts through the bureaucratic crap (even in the gents), and gets right in there with her team to nick criminals.
Whether they're after an arsonist, an illegal organ seller, or a pair of street drug makers, the impulsive DC Dinah Kowalska (IFTA Award winner Elaine Cassidy, Harper's Island, Acceptable Risk), the neurotic DS Joy Freers (Alexandra Roach, Hunderby, Utopia), and even-keeled family man DC Spike Tanner (Will Mellor, In the Club, Broadchurch) hit the streets of Manchester to nail them — oftentimes using unorthodox but effective tactics.
One perpetrator, though, has been able to evade the cops for months: a serial rapist and murderer of young Down Syndrome women. He's already killed two, and the third victim — Cathy Calvert (Charlie May-Clark, Death Comes to Pemberley) — barely escapes death, thanks to Dinah. With the killer still out there and other vulnerable women being potential new victims, the brilliant (and funny as hell) forensics expert Randolph Miller (Paul Ritter, Friday Night Dinner, Vera) comes up with a way to force the miscreant out of the shadows.
A production of Paul Abbott's Abbott Vision, No Offence — the 2016 Royal Television Society winner for Best Drama Series — features Tom Varey (Ackley Bridge), Saira Choudhry (Hollyoaks), Ste Johnston (Fungus the Bogeyman), Neet Mohan (Line of Duty), Colin Salmon (Arrow), Hannah Walters (Whitechapel), Kate O'Flynn (Doctor Thorne), and Risteard Cooper (Delicious).
No Offence: Series 1 premieres in the US and Canada today, April 16, exclusively on Acorn TV, as well as the Acorn TV channel on Amazon US.
__________________

Add your comments on our Facebook and Twitter pages.
Share this post/page.

No Offence: Brilliant Police Procedural Dramedy Premieres in North America