Noir doesn't necessarily mean Nordic, as is the case with Cardinal, a new crime drama serial from Canada that stars Billy Campbell as the eponymous detective.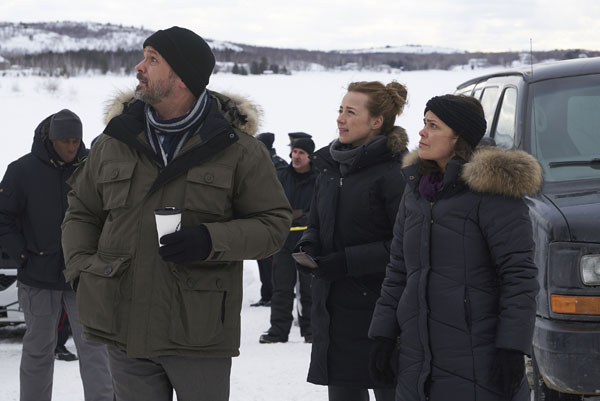 Welcome to Algonquin Bay, where a white-bearded man, alone in the midst of the snow-covered landscape, discovers a corpse in the frozen ice beneath an abandoned mine.
And where Detective John Cardinal (Billy Campbell, Helix, The Killing) returns to the Homicide squad to lead the murder investigation of Katie Pine — a thirteen-year-old First Nations girl whose disappearance he had doggedly investigated until the department chief pulled him off the case and it became an unsolved cold one.
His new partner is Detective Lise Delorme (Karine Vanasse, Revenge, Blue Moon), a French-Canadian cop newly reassigned to Homicide from the Financial Crimes department. This is no ordinary interdepartmental transfer: Concurrent with her work on the Katie Pine murder case is her covert but unofficial investigation of Cardinal. Rumor has it that he's a dirty cop, one who allegedly did a deal with a known drug dealer that got another cop killed, and it's up to Delorme to find the evidence of his guilt.
Cardinal — haunted by his past, tortured by his wife's illness, and single-minded about solving the murder, which he believes is the work of a serial killer — is dismissive of Delorme, giving her his year's worth of B&E (breaking and entering) cases instead of involving her in the homicide investigation. But as Cardinal learns, Delorme (whose marriage isn't as healthy as she or her husband would like) is no shrinking violet, and he's going to need her help after he discovers the body of another victim — one brutalized and tortured to an even greater degree than Katie Pine.
While Cardinal is piecing together the victims' details and developing a psychological profile of the killer, Delorme is discovering things about her partner that, should her suspicions be borne out, will end Cardinal's career and land him in prison. What she doesn't know is that he's on to her investigation of him.
What neither of them knows is there's yet another victim – still alive, but likely not for long…
Cardinal is reminiscent of some of the best programs in Euro TV's Nordic noir genre — with shades of Sweden's Wallander, Denmark's The Killing, and the Swedish-Danish co-production of The Bridge — given its troubled, brooding detective, intricate and gripping storyline, and an initially-tentative partnership between two flawed but devoted detectives. (Sounds like the first season of Broadchurch, too, doesn't it?) What is actually Scandinavian is the haunting theme music played during the title sequence: "Familiar" by Danish singer-songwriter Agnes Obel.
All of which goes to say that Cardinal is a binge-worthy new series.
Based on the critically-acclaimed "John Cardinal" crime novels by Giles Blunt, Cardinal has been renewed for two more seasons. Like Season 1, which is adapted from Blunt's Forty Words for Sorrow, Seasons 2 and 3 will also comprise six episodes each. The second season is to be based on the novel Black Fly Season, while the third will include story elements from both By the Time You Read This and Crime Machine.
Written by Aubrey Nealon (Orphan Black), executive produced by Nealon and Sienna Films' Jennifer Kawaja (Titanic) and Julia Sereny (Combat Hospital), and directed by multiple-award winner Daniel Grou (19-2, Vikings), Season 1 features Allie MacDonald (Orphan Black), Brendan Fletcher (Rogue), Robert Naylor (19-2), Kristen Thomson (I, Claudia), Glen Gould (Dominion Creek), and David Richmond-Peck (Orphan Black), amongst others.
Cardinal: Season 1, a Hulu Exclusive, premieres in the US on Friday, 16 June 2017, only on Hulu.
__________________

Add your comments on our Facebook and Twitter pages.

Share this post/page.

Cardinal: Canuck Noir Drama Starring Billy Campbell Premiering in the US