Our favorite Brummie gangsters are returning to telly. In one month. Clear your calendars for Season 4 of Peaky Blinders.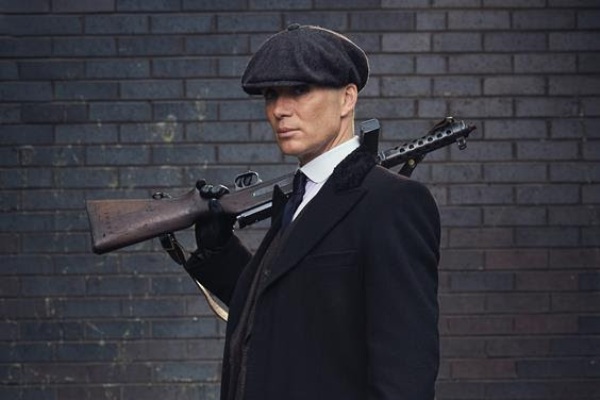 For folks who are new to Peaky Blinders, you have thirty-one days to binge-watch this utterly compelling period drama about a family of gangsters in early 20th-century Birmingham, because certain story arcs carry over into Season 4.
Fans of the show will remember that, with the exception of Peaky Blinders boss Tommy Shelby (Cillian Murphy, The Dark Knight Rises) and his sister Ada (Sophie Rundle, The Bletchley Circle), the rest of the Shelby family — brothers Arthur (Paul Anderson, The Revenant) and John (Joe Cole, The Hour), their Aunt Polly (Helen McCrory, Fearless), and her son Michael (Finn Cole, Animal Kingdom) — were hauled off to jail in the Season 3 finale.
And in the Season 4 opener, it appears their day of reckoning has come.
It's inevitable that Tommy will save them (there are six episodes), but the Shelbys' troubles aren't over yet. Sicilian mafioso Luca Changretta (Adrien Brody, Houdini) is out for revenge against the entire family.
Joining the cast this season are Charlie Murphy (Happy Valley) as Jessie Eden, the trade union activist who fought for equal pay for women in the 1920s, and Aidan Gillen (Game of Thrones) as gypsy Aberama Gold.
Returning to the series are Tom Hardy (Taboo) as Tommy's frenemy Alfie Solomons and (Hardy's real-life wife) Charlotte Riley (Press) as May Carleton, the wealthy racehorse-owning widow (from Season 2).
Peaky Blinders, a Netflix Original series, premieres in the US on Thursday, December 21st, exclusively on Netflix.
__________________
Add your comments on our Facebook, Google+, and Twitter pages.
Share this post/page.

Peaky Blinders: Season 4 US Premiere Date Set at Netflix