Acorn TV is giving folks in the US and Canada the chance to watch Love, Lies & Records before its scheduled premiere on the SVOD platform next week!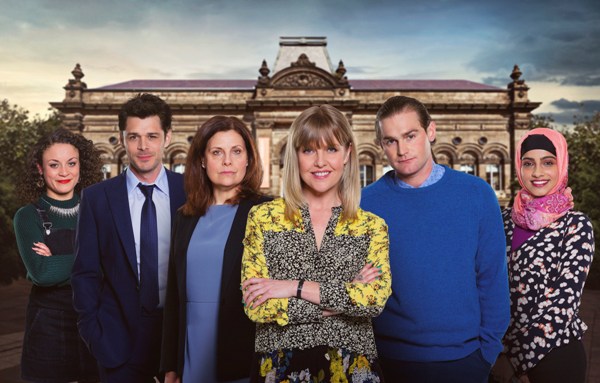 Acorn TV premieres the first episode of Love, Lies & Records, its newest Acorn TV Original series, tomorrow, Friday, November 17th, at 7 PM ET, on its Facebook page.
As long as you're in the US or Canada, you'll be able to watch the episode less than a day after its debut on BBC One, for a limited time only.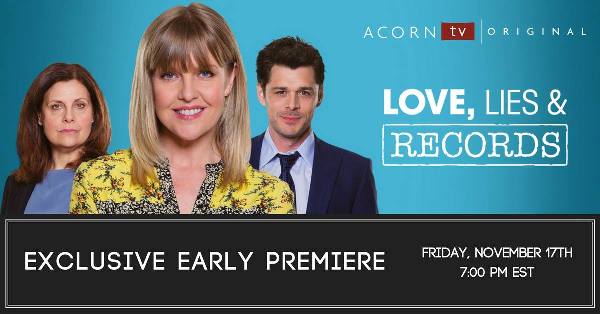 The award-winning Kay Mellor, who penned the hit dramas In the Club, The Syndicate, and Fat Friends, wrote Love, Lies & Records, and that right there should tell you something. Specifically that the series is steeped in the personal dramas of characters who, in real life, could be your friends and family members or those of folks you know.
The six-parter stars Ashley Jensen (Agatha Raisin, Catastrophe) as Kate Dickenson, a dedicated and hard-working registrar at the Leeds Register Office. With an on-call detective for a life partner, two demanding teen-aged children (plus a stepson of sorts), and a near-nonstop job registering births, deaths, and marriages, Kate is beyond busy taking care of all of them. (Work-life balance? Hah!)
Kate's two-jobs-in-one promotion to Registry Office Superintendent and Service Manager only makes her full schedule even more so. And there are unexpected consequences, as well.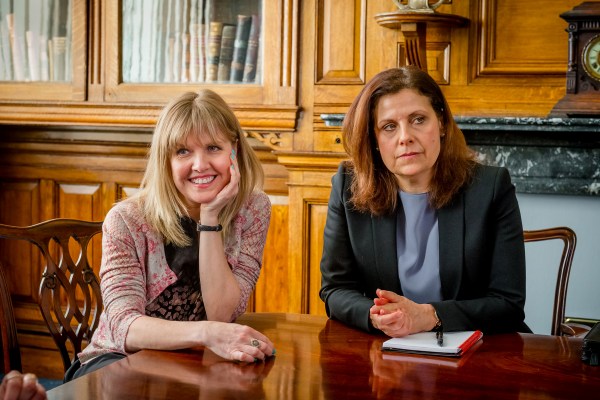 Kate's colleague, Judy Fellows (Rebecca Front, War and Peace, Humans), lives to work as a registrar rather than the other way around, and she is none too please about getting passed over for the promotion. Again. But Judy has discovered a secret about Kate and lets on that she knows, thus turning their already-tense relationship into one full of menace.
Judy isn't the only one who knows about the secret, either. Fellow registrar Rick Severs (Kenny Doughty, Vera, Stella) is personally aware of it and wants it to stay hush-hush as much as Kate.
If Judy ever lets the cat out of the bag to the rest of the registry staff and their bosses, there would be serious repercussions for both Rick and Kate. The impact would also be keenly felt by Kate's partner, Rob Armstrong (Adrian Bower, Mount Pleasant, Teachers), a detective sergeant for the Yorkshire Police who's bucking for a promotion while sharing with Kate the parenting and other domestic duties of their household.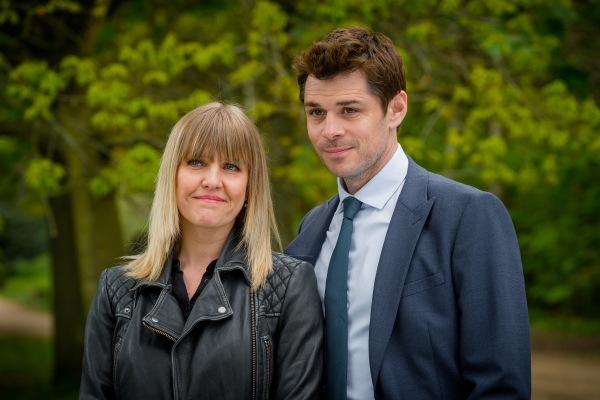 Meanwhile, Deputy Registrar James McKenzie (Mark Stanley, Game of Thrones, Dickensian) has a secret of his own. He decides to share it with his colleagues and is buoyed by Kate's support. Then, following the not-a-dry-eye-in-the-hospice wedding of new father Simon Armitage (James Burrows, Brief Encounters) and the cancer-stricken love of his life, James tells his family — and upends his life for the better in one sense and for the worse in another.
Whether some of the Leeds locals who go to see Kate, Rick, James, and the rest of the Register Office team are hiding things they legally shouldn't be doing remains to be seen…
Love, Lies & Records features Mandip Gill (Hollyoaks), Rochenda Sandall (Broken), and Matthew Marsh (Da Vinci's Demons).
If you can't join in the Love, Lies & Records exclusive early premiere event tomorrow, no worries. The drama has its scheduled premiere on Monday, November 20th, exclusively on Acorn TV, where a new episode will be added each Monday through December 25th.
__________________

Add your comments on our Facebook, Google+, and Twitter pages.
Share this post/page.

Love, Lies & Records: Watch Exclusive Early Premiere of Newest Acorn TV Original Series