The Thanksgiving Day tradition of turkey, cranberry sauce, and the premiere of the new season of A Place to Call Home continues this year.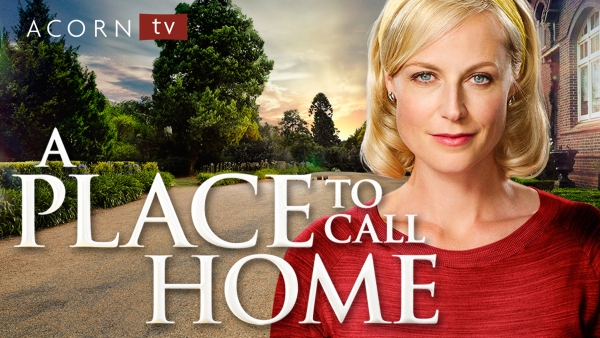 And the story of Sarah Adams and the Bligh family continues when the new season of A Place to Call Home premieres tomorrow in the US.
Opening in 1958, four years after the events in Season 4 (read more about it here), people gather to commemorate ANZAC Day. Sarah (Marta Dusseldorp, Janet King, Jack Irish) attends the observance at the war memorial in Inverness, where her lover and baby-daddy George Bligh (Brett Climo, Snowy River: The McGregor Saga, A Country Practice) is officiating.
It is at this somber service that we are introduced to a few new characters. One is Frank Gibbs (Aaron Pedersen, The Code), a local of Aboriginal descent. He stands apart from the other attendees, and not just because he is a decorated war veteran.
Another is Leah Gold (Madeleine Clunies-Ross, Tomorrow, When the War Began), the niece of (recurring character) Isaac Gold (Martin Sacks, Wentworth). Like him, Leah is Jewish, but her boyfriend Larry Grey (George Pullar, Fighting Season) isn't. Not only does Isaac disapprove of their relationship, he is moving to Israel and intent on bringing Leah with him.
Things are not exactly tickety-boo with the Blighs and their intimates, either.
Anna is still heartsick over the demise of her marriage to Gino, and it's affecting her writing. Which is to say she has writer's block. The curse of the successful first-time author notwithstanding, she owes her publisher and new lover, Ed Jarvis (Matt Day, Rake), a follow-up to Own Worst Enemy (also the title of this episode) but has nothing (save for a completed manuscript buried in the bottom drawer of her desk). Perhaps moving back to Ash Park will help get her writing juices flowing again.
Also in the city are Bligh matriarch Elizabeth (Noni Hazlehurst, The Letdown, City Homicide) and hubby Douglas Goddard (Robert Coleby, Monarch Cove), who look like they've settled nicely into married life. But his constant coughing could mean a return to Inverness sooner instead of later.
At the hospital, head of general medicine Jack Duncan (Craig Hall, The Doctor Blake Mysteries) and nurse Sarah are at odds with head of surgery Henry Fox (Tim Draxl, Supernova), who's desperately missing his now-absent, on-the-down-low lover James Bligh. Things are only slightly more civil between them at home at Ash Park, where Carolyn Bligh (Sara Wiseman, The Almighty Johnsons) is, in a manner of speaking, climbing the walls.
Which brings us to what every stateside fan wants to know: What about Regina Bligh?!?
The last time we saw her, she was in a straightjacket behind locked doors of a psychiatric hospital. Four years later, she's a blonde (her natural color) and acting quite, well, sane. Generous, even, given the offer she makes to George. The thing is, it could be another of her ruses, and no one trusts her even if it isn't. And Elizabeth makes no bones about saying this out loud.
Sarah has her own thoughts about the situation with Regina, but there is something much more important to her where George is concerned, and that something has to do with the upbringing of their son David (newcomer Elliot Domoney).
It's apparent from the first two episodes that this season will look at the prejudice against Aboriginal people in late 1950s Australia, the desires of young people to break free from the (perceived) confines of the past and family values and traditions, and the role parents give to religion in raising their children — themes that individuals across the globe still deal with sixty years later.
All of this, and more, is wrapped inside a love story and family saga for the ages.
Returning to the series are Deborah Kennedy (Neighbours) as local busybody Doris Collins, Frankie J. Holden (Underbelly) as kindly farmer Roy Briggs, and Mark Lee (Packed to the Rafters) as the devious Sir Richard Bennett.
A Place to Call Home: Series 5 premieres in the US tomorrow, Thursday, November 23rd, with Episodes 1 and 2, exclusively on Acorn TV. Episodes 3 and 4 premiere on Monday, November 27th, followed by double-episode debuts on subsequent Mondays through December 25th.
__________________

Add your comments on our Facebook, Google+, and Twitter pages.
Share this post/page.

A Place to Call Home: Season 5 of Addictive Aussie Romantic Drama Arrives in the US