This holiday season keeps getting better and better. Good Omens, the bestselling fantasy novel by renowned authors Sir Terry Pratchett and Neil Gaiman, has been dramatized for radio, and it's coming to BBC Radio 4!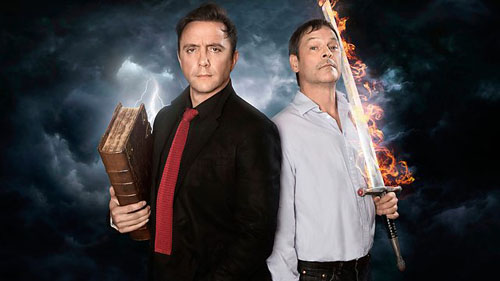 Back in September, BBC Radio 4 confirmed that it would bring to listeners the first-ever dramatization of the cult classic novel, Good Omens,
 co-written by acclaimed authors Neil Gaiman (American Gods, Stardust, Anansi Boys, the "Sandman" comics) and Sir Terry Pratchett (the "Discworld" novels, including The Colour of Magic, Wyrd Sisters, Hogfather, and Going Postal, amongst many others).
Since then, fans, myself included, have been wanting to know when we could tune in to the not-to-be-missed audio program. Now we do.
The radio dramatization of Good Omens starts with a special double-bill on Monday, 22 December 2014, at 11 PM BT (6 PM ET in the US) on BBC Radio 4, and culminate in an apocalyptic hour-long episode, which, according to the Nice and Accurate Prophecies of Agnes Nutter, Witch, has the world ending on Saturday, 27 December.
(Assuming life continues, and if you live in the US, you can listen to Good Omens and all BBC radio programs with iPlayer Radio. Just note the time difference when tuning in.)
The star-studded cast of Good Omens includes Mark Heap (Spaced, Stardust) and Peter Serafinowicz (Guardians Of The Galaxy, Shaun Of The Dead) in the central roles of angel Aziraphale and demon Crowley, respectively. Costarring in the audio drama are Colin Morgan (Merlin, The Fall) as Newton Pulsifer and Josie Lawrence (Skins, EastEnders) as Agnes Nutter, as well as Clive Russell (Game Of Thrones, Ripper Street), Julia Deakin (House of Anubis, Hot Fuzz), Louise Brealey (Sherlock, Ripper Street), Charlotte Ritchie (Siblings, Fresh Meat), Simon Jones (Hitchhiker's Guide To The Galaxy), Arsher Ali (Four Lions, Beaver Falls), and Phil Davis (Silk, Whitechapel), to name but a few.
To mark the announcement, BBC Radio 4 released a special clip from the program, starring the Good Omen co-authors. Charismatic demon Crowley (Serafinowicz) is late for an appointment to meet the Duke of Hell, and the police, played by Gaiman and Pratchett, are on his tail and about to get more than they bargained for…
In addition to the audio clip, the Good Omens mini-website at www.bbc.co.uk/goodomens features a series of illustrations from graphic artists, including those of Neil and Terry seen in the clip by Si Gurr. Additional illustrations, clips, teasers, and photos will be added to the site as the drama develops.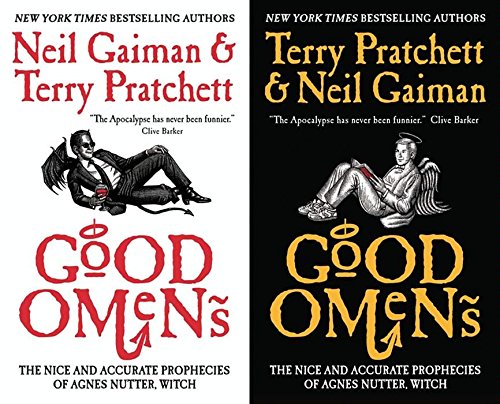 For folks unfamiliar with Good Omens…
 Events have been set in motion to bring about the End of Days. The armies of Good and Evil are gathering and making their way toward the sleepy English village of Lower Tadfield. Atlantis is rising, fish are falling from the sky, and the Four Horsepersons are assembling. Everything seems to be going to the Divine Plan…
Except the unlikely duo of an angel and a demon are not keen on the coming Rapture. The prospect of Armageddon is quite inconvenient for them, actually. If they're going to stop it from happening, they must find and kill the one who will bring about the Apocalypse: the Antichrist himself. There's just one teensy problem: someone seems to have lost him.
That's Good Omens on BBC Radio 4 beginning Monday, 22 December 2014. Woo hoo!
__________________
Add your comments on our Facebook, Google+, and Twitter pages.
Good Omens: Dramatization of Neil Gaiman, Terry Pratchett Bestseller Coming to Radio!