Mark your calendars, because the third series of WPC 56, the popular (and terrific!) daytime drama from the BBC, is about to premiere stateside on public TV stations.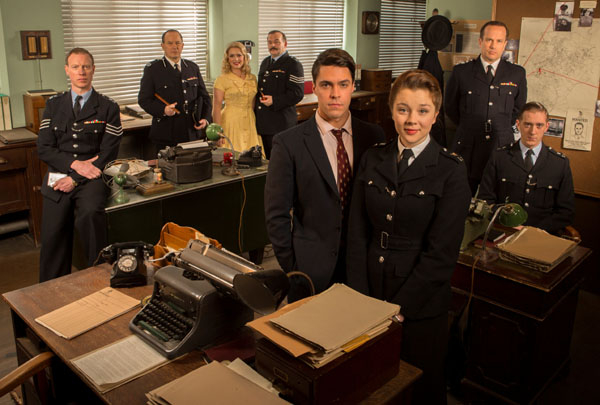 Viewers familiar with British police lingo will know that WPC stands for Woman Police Constable. As for the "56" in the program's title, it refers to the identification number of WPC Gina Dawson — the first female officer at the (fictional) Brinford Police — in Series 1 and 2 of the show.
(Certain story arcs from the second series carry over into the third, so if you missed Series 2, read this post to get caught up.)
Set in 1956, WPC 56: Series 3 opens shortly after the Series 2 finale. WPC Dawson has left the West Midlands by way of a transfer to the Met, and the Brinford Police now have their second female officer: WPC Annie Taylor (Claudia Jessie, Jonathan Strange & Mr Norrell).
Like her predecessor, WPC Taylor works in a male-dominated profession and sexism-filled police station. But Taylor is feistier and doesn't put up with much of the chauvinism or office shenanigans, such as the "Brinford brand." She also lives with her mum Lydia (Melanie Kilburn, Breathless) and dad Douglas Taylor (John Duttine, Heartbeat), a former Brinford Police Sergeant and World War II soldier who is totally against his daughter being a cop. The same could be said for Sergeant Sidney Fenton (Charles De'Ath, The Last Detective), who believes that no woman should be a police officer.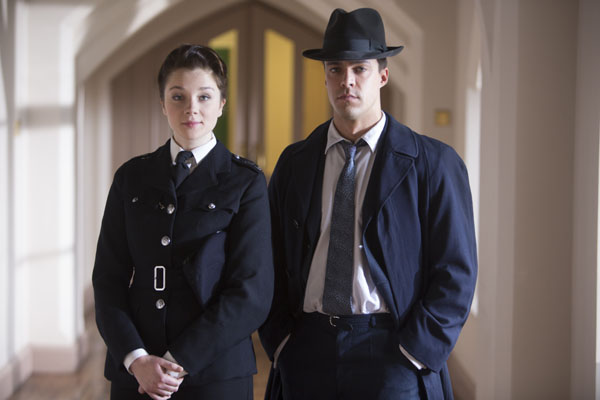 With Fenton's post-hospital return to work in "A Different Beat" comes a new case for the recently-arrived ladies' man DI Harry Sawyer (Oliver Rix, The Musketeers). It involves the selling of nude photos of wanna-be starlets, including a contestant in the Miss Birmingham beauty contest. It is at this event that Sawyer runs into his estranged mum, a drunk Lance Corporal William Sheppard (Stephen Casey, Death Comes to Pemberley) has a dust-up with Brigadier General Morris, and Birmingham Chronicle reporter David Mayer (Matt Kennard, Doctors) tries to interview the military men.
In other matters, the utterly repulsive Assistant Chief Constable Coulson (John Bowler, The Bill) is still working in Brinford, having dismissed the deal to take early retirement made by Chief Inspector Briggs (Mark Healy, Family Affairs), following the former's sexual assault of WPC Dawson (in Series 2). Meanwhile, the closeted Briggs is continuing his illicit affair with Carl Saunders (Daniel Brocklebank, Coronation Street) and can't seem to do anything about his lack of desire to be intimate with his increasingly upset wife Charlotte (Charlotte Lucas, Jamaica Inn).
With the culprit in the nude photos case caught, the Brinford Police have an urgent matter to deal with: the Brigadier General's wife has been bound and gagged in their home, and he has a gun pointed to his head by an unknown assailant. Then there's a gunshot.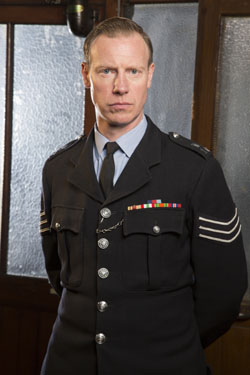 WPC Taylor and DI Sawyer arrest Sheppard for murder in "Walk the Line," then place him in a psychiatric hospital, since he appears to be suffering from some sort of shell shock. Except he is no longer there when they return to question him. Back at the station, Desk Sergeant John Swift (James Barriscale, EastEnders) wants to restart the police band, but won't let secretary Susie Nightingale (Rachel Leskovac, Last Tango in Halifax) join because she's a woman, even though he has a major crush on her.
While walking the beat, Fenton experiences PTSD symptoms from having been shot, and tries to control them by giving Police Constable Tommy Perkins (Liam Jeavons, Doctors) "proper training" during patrol. In stopping by a café, they learn about goods being stolen, and Perkins falls for waitress Gloria (Melissa James, Doctors). Unfortunately, he is later a victim of an assault during a sting operation with Fenton.
And in personal matters, Mrs. Briggs insists that she and her husband get professional help for their intimacy issues, and also asks Susie for help, while Coulson follows Briggs and discovers the latter's secret.
Taylor and Sawyer's investigation into Morris' murder and Sheppard's disappearance continues in "From the Shadows," in which Annie, in trying to save family friend Sheppard, pleads for help from her father, who reveals information about a secret mission during the war. At the hospital, an impressionable young nurse tells Sawyer that Sheppard could have been taken away for the Petra Project, and Sawyer discovers the identity of the actual assailant of the first nurse, as well as the fact that David Mayer isn't what he claims to be.
On the lighter side of things, new lovebirds Susie and Swift prepare for their first date, which requires a bit of awkward help from Taylor and Perkins. Meanwhile, the ever-dastardly Coulson enlists Fenton's help in bringing down his nemesis Briggs, as well as Brigg's lover. And David Mayer finds his lookalike Gabriel by the canal.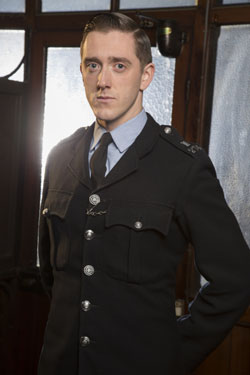 Following Brigg's arrest, Coulson takes operational control of the police station in "The Wayward Wind," and Perkins is now a target for Coulson's revenge, owing to the Constable's statement about his superior's sexual assault. Things don't get better for Perkins when he has to question Gloria about missing money from the café's till, but they look up after he figures out who the thief really is.
Annie shares a bit of quiet time and tinned food with her mum in the family's basement bomb shelter before she and Sawyer interrogate the now-arrested David Mayer, who reveals horrors about the Nazi death camps and medical experiments during the war. Elsewhere, Sheppard is being held prisoner in a locked cell.
For Briggs life couldn't be more miserable. Following Coulson and Fenton's interrogation of him, Briggs returns home, but his uncomfortable reunion with his wife is short-lived and he takes refuge in a boarding house. The same place where Fenton makes a horrifying discovery.
Most of the Brinford Police officers are mourning Briggs' death at the opening of "Requiem," and though his widow invites them all to the funeral, Coulson threatens anyone who attends. In light of these events, Susie decides to leave both her job and her relationship with the heartbroken Swift.
Meanwhile, Gabriel has tracked and found his prey, but is taken captive instead. At the now-deserted hospital, Taylor and Sawyer discover evidence of the horrors described by David Mayer, and race to find Sheppard and Gabriel with the help of Annie's father.
Series 3 concludes with Briggs's funeral, a quiet and small affair until unexpected attendees arrive. Later at the pub, Susie and the officers, including Fenton, raise a glass in Brigg's honor behind Coulson's back, and Swift gets down on one knee… with a ring…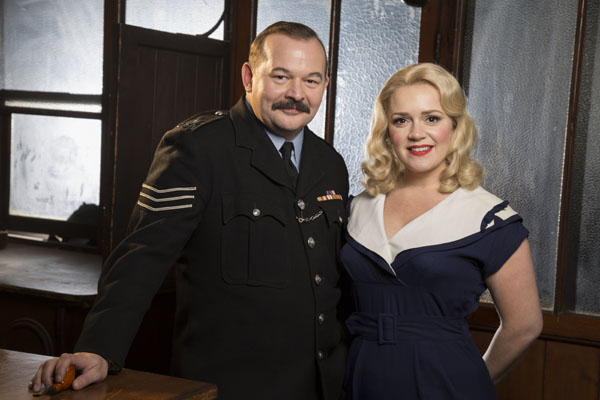 Although WPC 56 is set at a police station and there are crimes involved in the storylines, the series is less of a police procedural and more a drama about the good, bad, and ugly of human nature, from the cruel to the compassionate. The threads also reveal the difficulties of being a working woman in a mostly-male and sexist environment and of being gay at a time when homosexuality was an official crime. And in Series 3 in particular, of being a person suffering the effects of psychological and emotional trauma as a result of having done one's duty. It's well done and well worth a watch.
WPC 56: Series 3 premieres on the following public TV stations beginning Tuesday, the 1st of September 2015. (Check your local listings.) If you would like to watch the show but the station that serves your area isn't listed, contact them or American Public Television to request it.
| STATE | CITY | STATION |
| --- | --- | --- |
| CALIFORNIA | Monterey, Salinas, San Francisco, San Jose, Watsonville | |
| DISTRICT OF COLUMBIA | Washington, DC | |
| FLORIDA | Tampa | |
| IDAHO | Boise, Coeur d'Alene, Moscow, Pocatello, Twin Falls | |
| LOUISIANA | Alexandria, Baton Rouge, Lafayette, Lake Charles, Monroe, Shreveport | |
| MONTANA | Billings, Bozeman, Great Falls, Kalispell, Missoula | |
| NEW YORK | Norwood, Watertown | |
| OKLAHOMA | Tulsa | |
| TEXAS | Dallas/Fort Worth | |
| WISCONSIN | Milwaukee | |
__________________
Add your comments on our Facebook, Google+, and Twitter pages.
Share this post/page.

WPC 56: Series 3 of Daytime Drama Premieres in the US on Public TV Stations