The Television Critics Association (TCA) Summer Press Tour 2015 is in full swing, and here's a recap of Brit TV-related news from PBS and BBC America.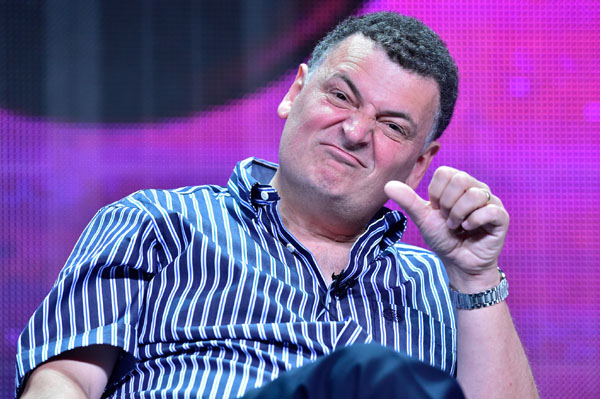 First, here's a quick run-down on the shows whose premieres PBS and BBC America have announced for this fall:

Neither Sherlock showrunner Steven Moffat nor Rebecca Eaton, producer of PBS Masterpiece, would confirm that the highly-anticipated Victorian Era-set Sherlock special would air on BBC One and PBS as a Christmas special this year. So, according to Deadline, "Journalists in the hall were left deducing, like the famous sleuth, that it must be airing in the U.S. some time before January, or PBS would have waited until the January TCA to hold this Q&A."
Steven Moffat & @suevertue discuss #SherlockPBS in 5 min in the International B'room. #TCA15 pic.twitter.com/HZG2IxgOKr

— PBS PressRoom (@PBSPressRoom) August 1, 2015
Of Sherlock star Benedict Cumberbatch, Moffat did say, "I think the population of the earth is going to have to increase before Benedict gets more famous." Elementary, my dear Watson.
Panel members' reticence and quips aside, here's what we do know: the three episodes of Sherlock's fourth season will be in production in 2016.
Speaking of next year year, PBS is giving Downton Abbey a sendoff to remember before premiering the show's sixth and final season on Sunday, the 3rd of January 2016. That is to say, Downton will have a float in the Rose Bowl Parade on New Year's Day.
All PBS CEO Paula Kerger said about this is, "it's a float and will have a lot of flowers on it and it will be a Downton Abbey theme." That, plus "And no, I won't be on it."
In the spring of 2016, PBS will premiere the fifth season of Call the Midwife, and over at…
… two new co-productions are coming to telly in 2016: political thriller Undercover and contemporary mystery Thirteen — the first co-developed series under the partnership between BBC Worldwide and AMC Networks.
Undercover, a six-part limited series written by Peter Moffat (Silk), centers on Maya (Sophie Okonedo, Criminal Justice), who is about to become the first black woman to hold the highest-ranking public prosecutor role in England. Just as her life comes under intense public scrutiny, she discovers her husband Nick (Adrian Lester, Hustle), and the father of her children, has been lying to her for years — concealing perhaps an affair or something altogether more sinister. If Maya digs up his real past, will she jeopardize her own future? What price do you pay for uncovering lies? And who wants her in the top job, and why?
Thirteen is an original five-part mystery thriller penned by up-and-coming writer Marnie Dickens (Ripper Street), which follows Ivy Moxham (Jodie Comer, My Mad Fat Fat) on the day she escapes from the cellar that has been her prison for the last 13 years. It's the day she'll return to her home, her family, her life. It's the day that is only the beginning.
An emotional roller coaster, Thirteen explores how to pick up the threads of a life half-lived and how to survive as a family under the greatest pressure: how to feel again, chance love again. It is a psychological drama about who to trust when you can't even trust yourself.
Additional cast members in Thirteen include Aneurin Barnard (War and Peace), Richard Rankin (The Crimson Field), Valene Kane (The Fall), Natasha Little (Breathless), Stuart Graham (The Fall), Joe Layton (Tatau), Katherine Rose Morley (Last Tango In Halifax), Eleanor Wyld (Misfits), Ariyon Bakare (Jonathan Strange & Mr Norrell), and Nicholas Farrell (Secret State).
__________________
Add your comments on our Facebook, Google+, and Twitter pages.
Share this post/page.

TCA 2015 Recap: Downton S6 Premiere Date, Victorian Sherlock, New BBC America Titles