Talk about must-see TV. The Brokenwood Mysteries is one of those shows that you love to love. And binge-watch. More than once. In a word, this treat of a crime drama from New Zealand is awesome. And it's now streaming in the US.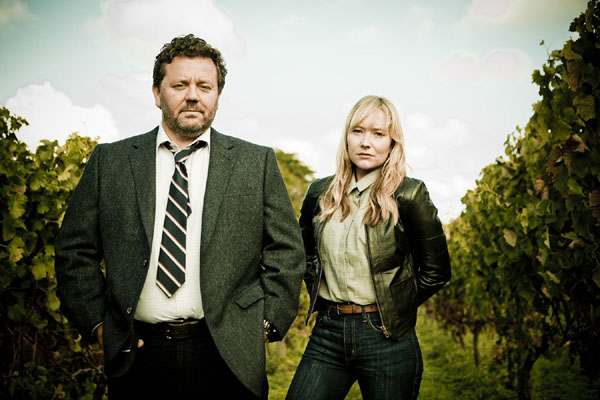 Travel with me Down Under, specifically to the rural New Zealand town of Brokenwood. It's small, with a population of 5,000, give or take, but a lot happens in and around this place. Farming, wine making, golfing, and hunting are just a few. Oh, and murder.
That's where Detective Senior Sergeant Mike Shepherd (Neill Rea, Go Girls, Legend of the Seeker) comes in. Known by cops throughout New Zealand for solving numerous crimes across the country, the good-natured, rather rumpled, and highly inquisitive Shepherd is sent by his boss, Hughes (Colin Moy, Underbelly: Land of the Long Green Cloud), to Brokenwood as a field investigator.
So Mike pulls into Brokenwood in his white, '71 Holden Kingswood to work a case alongside Detective Kristin Sims (Fern Sutherland, The Almighty Johnsons), Detective Constable Sam Breen (Nic Sampson, Go Girls), and their boss, Inspector Gary McLeod (Mark Clare, Mercy Peak). Later, Shepherd, a country music fanatic and divorcé with three, maybe four ex-wives, including New Zealand Police Head of Communications Meredith Wilmott (Andi Crown, Go Girls), decides to stay in Brokenwood for the long haul.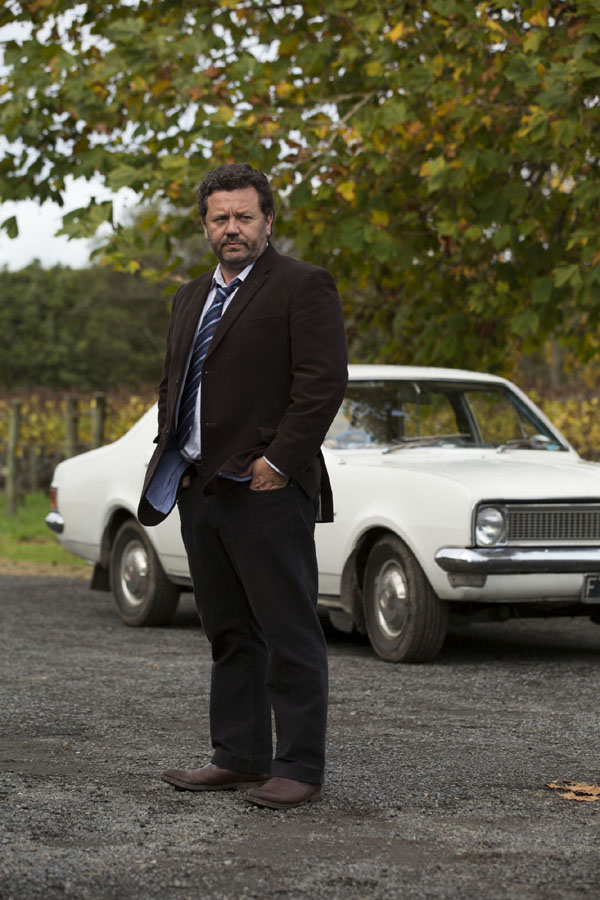 Shepherd tackles "Blood & Water" following the death — by accident, suicide, or murder — of local farmer Nate Dunn (Chris Sherwood, Xena: Warrior Princess), whose body is found in the river by two fishermen. ("Probably the one they wish had got away.") At the scene, Kristin, Gary, and pathologist Gina Kadinsky (Christina Ionda) are perplexed when Mike sits down for a, um, chat with the deceased, whom locals believe murdered his wife Evelyn (Sophie Henderson, Outrageous Fortune) ten years ago. As the investigation proceeds, Mike uncovers secrets that Nate's son Dwayne (Marc Pritchard), his girlfriend Sally (Shoshana McCallum, Coverband), Evelyn's sister Jacinta (Gillian Baxter, Super City), and organic farmer Phillip (Mike Edward, The Strip) would rather keep hidden.
They aren't the only ones. Shepherd has a secret of his own — Tania (Miriama McDowell, This Is Not My Life) — while Jared Morehu (Pana Hema Taylor, Spartacus: War of the Damned), a young, local Maori who does "a little bit of this and a little bit of that" (read: stuff on the fringes of the law), probably has a few, too, but none that we're aware of.
In "Sour Grapes," Mike and wine aficionado Jared are tasting the vinos at the annual Brokenwood wine show, where crotchety winemaker Ned James (Geoff Snell, Underbelly: Land of the Long Green Cloud) grouses and Paul Winterson (Alistair Browning, The Lord of the Rings: The Return of the King), head judge for the Brokenwood Wine Awards, causes a stir. The latter selects as the winner the chardonnay from vintners Julian Bright (Peter Elliott, Shortland Street) and Rob Visnic (Jeff Szusterman, The Jaquie Brown Diaries) over that of 5-year winner Amanda James (Josephine Davison, The Blue Rose). Then a body is discovered in an open fermenter at Amanda's winery. And later, there's another victim.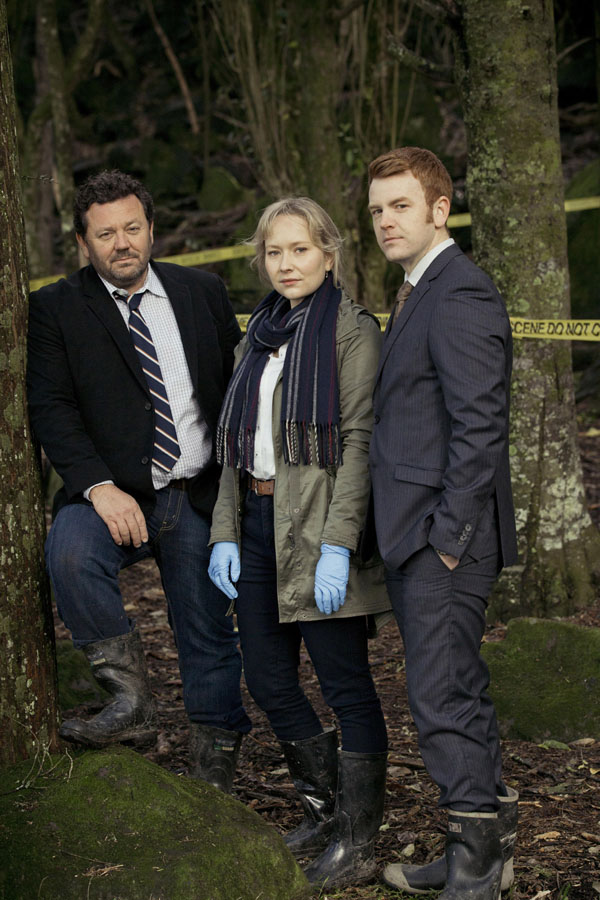 Mike, Kristin, and Sam delve into the past of Brokenwood Golf Club owner Alison Stone (Roz Turnbull, Outrageous Fortune) in "Playing the Lie," after her body is found on the greens by Club committee members Walter Elliott (Calvin Tuteao, Top of the Lake), Neil Bloom (Phil Peleton, Legend of the Seeker), Roger Harrington (Ian Hughes, The Lord of the Rings: The Return of the King), and Doug Randall (Underbelly: Land of the Long Green Cloud) during their regular Wednesday morning round. The detectives soon discover that the four men and others, including Alison's daughter Nicky (Greta Gregory) and fired farm manager Janet Grimm (Donogh Rees, City Life), had motives for killing her. But which one did the deed?
And in "Hunting the Stag," friends Stent (Ben Wright, 3 Mile Limit), "Frodo" (Karl Willetts, Outrageous Fortune), and Hayden (Francis Mountjoy, Spartacus: War of the Damned) go deer hunting as a stag do to celebrate Hayden's upcoming nuptials to Kelly (Jessica Joy Wood, Super City). The thing is, Hayden ends up dead in the woods from a bullet to the head. All three men had fired off the one and only shot that each had loaded, and neither of the deceased's mates fesses up to shooting him. And here's the rub: Hayden was killed with the bullet from his own rifle. The plot thickens when Frodo discovers something he wasn't supposed to, and Kristin unwittingly puts herself in a life-threatening situation.
There are so many things to like about The Brokenwood Mysteries.
Where to start?
Let's begin with the characters. Mike Shepherd is an immensely likable guy. He's easygoing, intelligent, and depending on the situation, funny or downright witty. He plays well with others, remembers to pick up coffee, and cares enough to check in (even if one doesn't want him to). In essence, Shepherd is a good man who happens to be a top-notch detective with a classic car, several ex-wives, an idiosyncrasy or two, and a penchant for country music. (He's also a tad mysterious, since we know very little about him, even after four episodes, but his being so approachable makes this is easy to overlook.)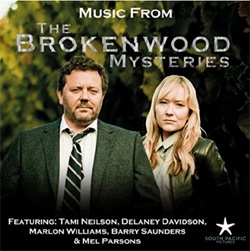 About the music, I gotta say that The Brokenwood Mysteries has one heckuva cool soundtrack.
I listen to country music every now and again, but the tunes in Brokenwood, performed by artists including Barry Saunders, Marlon Williams, and award-winners Tami Neilson and Delaney Davidson, have me hooked. (Not quite as much as Shepherd, but still.) The songs, like the show itself, grabbed me from the get-go. And I'm not talking just the doleful, cry-in-your-whiskey type tunes, either. There are hard-drivin', rockin' ones, too, some of which could be considered rockabilly.
Back to the characters and the also likable Kristin Sims. A self-assured, ambitious, and skilled detective who knows and speaks her mind, she does not like country music, information about a case being kept from her, or liars. She does, though, enjoy her work, and develops a friendly and effective working relationship with Mike, even if she's still a bit iffy about him sometimes.
And while we see much less of Jared than Mike and Kristin in each episode, he is one of the highlights of Brokenwood. Good looks aside, the presence of Jared adds brightness, levity, and fun to scenes, and he has a number of "Oh, snap!" zingers, as well.
Accordingly, the writing and directing, and the acting by Rea, Sutherland, Taylor, et al, are spot on. For the latter, one doesn't notice the acting but the action and the characters the actors portray. Individuals whom we could know, be friends with, share a beverage with if we lived in Brokenwood. The mysteries — filled with red herrings and characters you're not quite sure about until the end (or their end, whichever comes first), amidst gorgeous New Zealand settings — flow fluidly from one twist and turn to the next. And the conclusions are smart and satisfying, with reveals that add another spin to already well-crafted stories.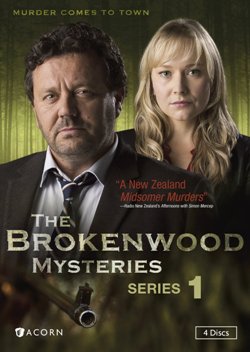 So, The Brokenwood Mysteries
is an engaging, compelling, and humorous series of whodunits, worthy of binge-watching when your schedule can accommodate two or more of the feature-length, standalone-story episodes.
It premiered in New Zealand on Prime TV in 2014, and in 2015 was awarded the Bronze World Medal in the Drama category at the New York Festivals Television & Film Awards.
Acorn TV premiered Brokenwood's first episode, "Blood & Water," yesterday, 4 May 2015. The rest of Acorn TV's Brokenwood schedule is as follows:
Episode 2 "Sour Grapes" — premieres Monday, 11 May 2015
Episode 3 "Playing the Lie" — premieres Monday, 18 May 2015
Episode 4 "Hunting the Stag" — premieres Monday, 25 May 2015
Acorn Media releases the The Brokenwood Mysteries: Series 1
DVD in the US in July 2015.
Series 2 of The Brokenwood Mysteries is currently in production, and I, for one, cannot wait until it debuts stateside.
__________________
Add your comments on our Facebook, Google+, and Twitter pages.
The Brokenwood Mysteries: Awesome New Zealand Crime Drama Premieres in the US