Peaky Blinders, the critically-acclaimed and UK viewer-favorite gangster drama, is set to take US Brit TV fans by storm when it debuts stateside, exclusively on Netflix.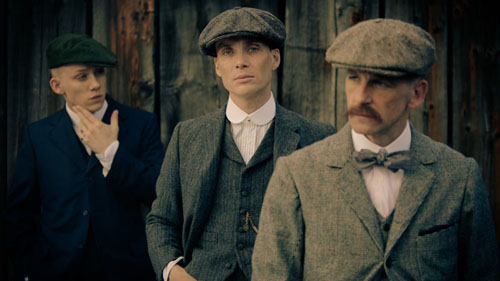 Nextflix, the world's leading Internet television network, has already brought such Brit TV hits as Happy Valley, Hinterland, The Politician's Husband, and Southcliffe to US screens this year. And in association with The Weinstein Company and Endemol, it is set to add another title to its exclusive offerings: Peaky Blinders.
Set in 1919 Birmingham, England, Peaky Blinders
follows the extended Shelby family, leaders of the Peaky Blinders gang, so called because members sewed razor blades into the peaks of their flat caps, thus turning their head gear into weapons when necessary.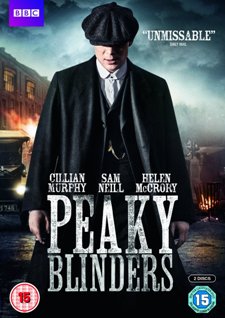 The ambitious and dangerous Thomas Shelby, played by Cillian Murphy ("The Dark Knight Rises", Batman Begins), heads up the Peaky Blinders, which profits from illegal betting, the black market, "protection" services, and robbery. Fixing horse races with a bit of magic powder from a Chinese immigrant is Tommy's latest money-making scheme, but it pales in comparison to the guns he haps upon. With them, he seizes the opportunity to make a much bigger name for himself in Birmingham's crime world.
But others want the weapons, too, among them rival gangs, Communist revolutionaries, and IRA Fenians. And so does Inspector Chester Campbell, played by Sam Neill (The Tudors, Reilly: Ace of Spies), who has been dispatched from Belfast by Winston Churchill to impose order on Birmingham streets and recover the stolen guns.
And so begins Peaky Blinders,
a dark, gritty, epic drama about one of England's most notorious real-life gangs.
Created and written by Steven Knight ("Dirty Pretty Things"), the first series of Peaky Blinders costars Helen McCrory ("Hugo,), Annabelle Wallis ("Snow White and the Huntsman"), Paul Anderson ("The Firm"), Iddo Goldberg ("Secret Diary of a Call Girl"), and Charlie Creed-Miles ("Wild Bill"). Cast additions for the second series include Tom Hardy ("Inception""), Noah Taylor (Game of Thrones"), and Charlotte Riley ("DCI Banks).
Said Ted Sarandos, Chief Content Officer at Netflix, "Peaky Blinders' captivated audiences in the UK with its compelling storylines, powerful performances and stunningly beautiful imagery, and we cannot wait for our US audience to experience the series for the first time on Netflix. "We are thrilled to add this must-see series to our roster of exclusive content in the U.S.""
"Added Harvey Weinstein, co-chairman of The Weinstein Company, "Peaky Blinders is a richly creative, deeply engaging series that will have the perfect home in the U.S. on Netflix. We''re sure American viewers will be seduced from the very first moment.""
"And Cathy Payne, Chief Executive of Endemol Worldwide Distribution, stated, "We are thrilled to have viewers discover 'Peaky Blinders' on Netflix in the US, quickly becoming known as the preeminent destination for audiences to find and enjoy quality programming from around the world."
Peaky Blinders" is executive produced by Knight, Caryn Mandabach, Greg Brenman, Jamie Glazebrook, and Frith Tiplady, as well as Will Gould for Series Two. The series is a Caryn Mandabach Production and Tiger Aspect Production for BBC Two.
Netflix will exclusively debut all six episodes of Peaky Blinders: Series One
at 12:01 AM PT on Tuesday, 30 September 2014, and launch Series Two
in November, approximately a month after it begins screening in the UK on BBC Two.
__________________
Add your comments on our Facebook, Google+, and Twitter pages.
Peaky Blinders: Netflix Scores Another Brit TV Exclusive with Hit Gangster Drama