For folks who can't get enough of seeing actors from across the pond on telly, add the new FX historical fiction drama, The Bastard Executioner, to your to-watch list this fall.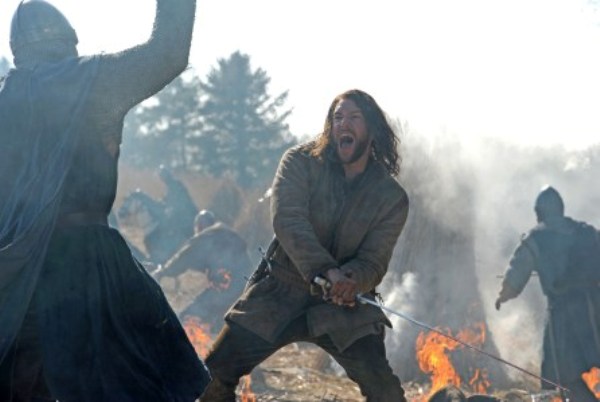 Based on an idea by Oscar®-winning producer Brian Grazer (24, Friday Night Lights) and written by Primetime Emmy® nominee Kurt Sutter (Sons of Anarchy, The Shield), The Bastard Executioner has been picked up for a 10-episode first season at FX.
The period drama, set during the early 14th Century, centers on a warrior knight in King Edward I's charge who, broken by the ravages of war, vows to lay down his sword. But when that violence finds him again, he is forced to pick up the bloodiest sword of all: the executioner's sword.
Said Grazer about his concept for the show, "I find the executioner to be an incredibly fascinating and provocative character. He deals with the highest order and the lowest order in the culture. It's about as morally complex a profession as you can imagine, and it is going to make for a spellbinding series."
Added Sutter, "I love history. I love theology. I love blood. It's been very satisfying weaving fact and fiction to create a new mythology that combines all these elements."
Starring as the titular executioner, Wilkin Brattle, is Aussie Lee Jones (Home and Away, Magical Tales), who leads the cast alongside Golden Globe winner Katey Sagal (Sons of Anarchy, Pitch Perfect 2) as Annora of the Alders. Sutter also costars as the Dark Mute.
The main cast features actors from across the UK and Ireland, including:
Stephen Moyer (True Blood) as Milus Corbett
Brían F. O'Byrne (Love/Hate) as Baron Ventris
Flora Spencer-Longhurst (Leonardo) as Baroness Lowry Aberffraw Ventris
Kyle Rees (Pride) as Calo Caine
Sam Spruell (The Last Ship) as Toran Prichard
Darren Evans (My Mad Fat Diary) as Ash y Goedwig
Danny Sapani (Penny Dreadful) as Berber the Moor
Timothy V. Murphy (True Detective) as Father Ruskin
Sarah White (newcomer) as Isabel Kiffin
Sarah Sweeny (Holby City) as Jessamy Maddox
Ross O'Hennessy (Da Vinci's Demons) as Locke
Alec Newman (Waterloo Road) as Leon Tell
Tim McDonnell (How to Be Happy) as Huxley
And in guest-starring and recurring roles are Matthew Rhys (Death Comes to Pemberley) as Gruffudd y Blaidd, Martin McCann (Titanic: Blood and Steel) as Randolph Corset, and Alun Raglan (Doctor Who) as Jonas the Collector.
The Bastard Executioner is produced by Fox 21 Television Studios and FX Productions, and executive produced by Grazer, Sutter, Francie Calfo (Those Who Kill), and Primetime Emmy winner Paris Barclay (NYPD Blue), who also directs the series.
Filming of the pilot recently wrapped in Wales, and production picks up there this summer for The Bastard Executioner's premiere on FX this fall.
__________________
Add your comments on our Facebook, Google+, and Twitter pages.

The Bastard Executioner: New FX Medieval Drama Brings Slew of British and Irish Actors to Telly