Yes, Virginia, there is a Santa Claus. And he's brought presents quite early (Christmas in February!) but in the form of Brit TV news. Specifically, news that 50 Ways to Kill Your Mammy, Broadchurch, and Hunderby are returning to telly.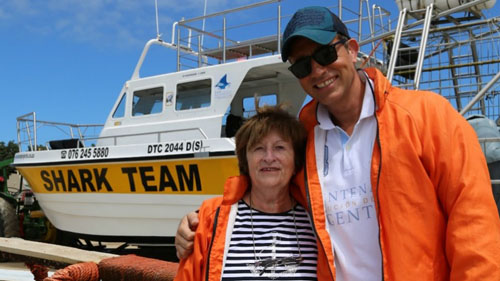 I am over the moon that 50 Ways to Kill Your Mammy will is coming back with Series 2, Broadchurch with Series 3, and Hunderby with a special.
50 Ways to Kill Your Mammy is the first show on my list of 2015 favorites, because it is too good not to be. The concept is simple: It's a reality/travel program in which Irish broadcast personality Baz Ashmawy takes his ma, Nancy, to different places around the world for a series of "extreme bucket list" adventures.
But here's the real thrill: Watching the septuagenarian Nancy tackle stunts as well as Baz. And the mother-son relationship? Well, it's heartwarming and hilarious. (If you think Downton's Dowager Countess has zingers, you should hear Nancy's.)
The show has been nominated for an RTS Award in the Popular Factual and Features category, and is as popular in the more than 100 territories where it's been sold (the Americas, Asia, Europe, the Middle East, and Oceania) as it is in the UK and Ireland. In the US, it screens on Discovery Life under the title 50 Ways to Kill Your Mother.
Production has begun on the second series, which follows Baz and Nancy on a new set of adventures from Germany to Scandinavia, Mexico to Japan, and India to Texas. Viewers also get to meet more of the Ashmawy family. 50 Ways to Kill Your Mammy: Series 2 will air on Sky 1 later this year. Fingers crossed that Discovery Life picks it up, too.
Said Baz, "After all the amazing things Nancy did last series, I'm as surprised as anyone that she's still alive! Trying to kill my mum was the best fun I've ever had and now I'm thrilled to get the chance to try again."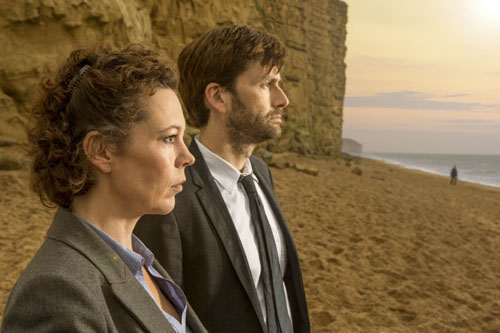 Broadchurch,
Chris Chibnall's multiple award-winning and critically-acclaimed drama, has gripped UK audiences for two series — first with the investigation into "Who killed Danny Latimer?" and then with the aftermath of this case along with details about that other case — and the news that ITV has commissioned a third is fabulous.
David Tennant and Olivia Colman are reprising their roles as Alec Hardy and Ellie Miller, and details about other cast members and filming dates will be confirmed at a later date.
Series creator and writer Chibnall said, "We've been overwhelmed that nine million people every week have continued to join us on the twists and turns of Broadchurch. This third chapter has been a glint in my eye for a long time and I'm thrilled to be writing these characters once again."
Viewers in the US can tune in to Broadchurch: Series 2 when it premieres on BBC America next Wednesday, 4 March 2015, at 10 PM ET.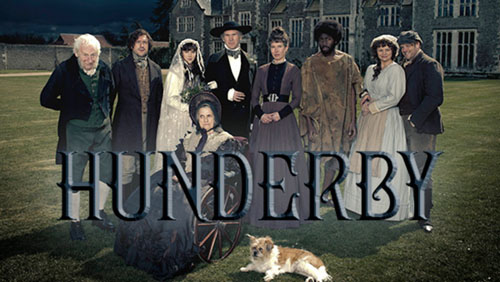 And glory be! Hunderby,
the British Comedy Award winner from BAFTA® winning writer and actress Julia Davis (Nighty Night), is returning! The dark comedy, set in an 1800s rural parish where doomed romance, closet homosexuality, and accidental incest are par for the course, is coming back with a two-hour special, Hunderby Revisited.
The special picks up where Series 1 left off, with Hunderby residents still reeling from the revelations of the series finale. All that heroine Helene (Alexandra Roach, Utopia) wants is a happy life with her new baby and Dr. Foggerty (Rufus Jones, The Casual Vacancy), but Hunderby housekeeper Dorothy (Davis) has something else in mind, as does Foggerty's jealous sister/wife, Crippled Hesther (Rosie Cavaliero, A Young Doctor's Notebook).
Dorothy wants to be the Mistress of Hunderby, although the Master, Pastor Edmund (Alex Macqueen, The Thick of It), has been crushed by the fat wife he thought dead and led astray by the sexually-dubious Brother Joseph (Alexander Armstrong, The Sarah Jane Adventures). Adding to the comedy/drama are two newcomers to Hunderby: an irresistible French sexpot and a homophobic locum pastor with a taste for hanging.
Filming on Hunderby Revisited is scheduled to start this spring, and Sky Atlantic is scheduled to screen the special later this year. Let's hope Hulu does, too.
If you haven't watched Hunderby yet, head over to Hulu/Hulu Plus to check it out.
__________________
Add your comments on our Facebook, Google+, and Twitter pages.
Returning: 50 Ways to Kill Your Mammy, Broadchurch, Hunderby