Magic is in the offing at BBC America when it debuts its original fantasy drama, Jonathan Strange & Mr Norrell, in 2015.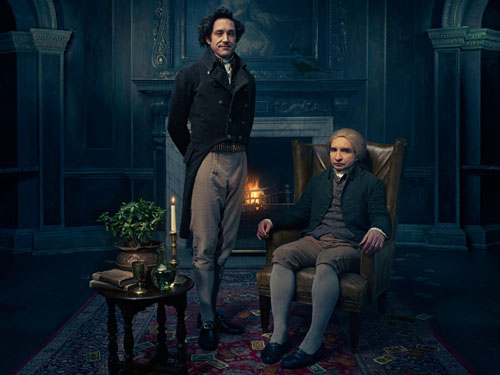 Based on The New York Times bestselling novel Jonathan Strange & Mr Norrell
by Susanna Clarke and adapted by Peter Harness (Wallander, Is Anybody There?), BBC America's new drama series stars Eddie Marsan (Best of Men, Ray Donovan, Filth) and the Olivier award-winning Bertie Carvel (Restless, Hidden, Matilda) in the title roles.
Additional cast members include Enzo Cilenti (MI-5, Rome), Alice Englert (Ginger & Rosa, Beautiful Creatures), Marc Warren (Hustle, The Musketeers), Samuel West (Mr Selfridge, Fleming), and Charlotte Riley (Wuthering Heights, Peaky Blinders).
The English haven't believed in practical magic for centuries, but now, in the early 19th century, that looks to change when the reclusive Mr Norrell (Marsan) of Hurtfew Abbey stuns the city of York by causing the statues of York Cathedral to speak and move.
With a little persuasion and help from his man of business Childermass (Enzo Cilenti), Norrell goes to London to help the government in the war against Napoleon. It is there that he summons a fairy (Warren) to bring Lady Pole (Englert) back from the dead… and opens a can of worms.
Produced by Cuba Pictures for BBC One and co-produced with BBC America, in association with Feel Films, Far Moor, Screen Yorkshire, and Bell Media's SPACE, Jonathan Strange & Mr Norrell will premiere on BBC America in 2015.
__________________
Add your comments on our Facebook, Google+, and Twitter pages.
Jonathan Strange & Mr Norrell: There's Magic in New Drama