Hmm, given the trailers for the new season of Death in Paradise and the new serial Wolf Hall, it looks like there's a whole lotta drama going on. (And a few laughs, too.)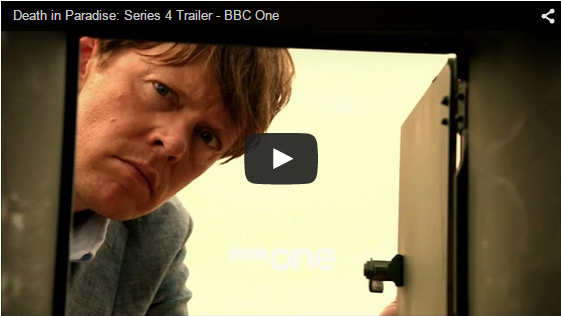 Chouette! There are more murders, mysteries, and Humphrey Goodman mayhem headed our way when the fourth series of Death in Paradise debuts in the UK next week (and later in the US). As noted in this piece, Kris Marshall did, in fact, deliver the goods in his first season as DI Goodman, so much so that viewership increased.
Tant pis, though, that Gary Carr isn't returning as Fidel Best, as his character has moved to a neighboring island in the Caribbean. Fidel's replacement at the Saint-Marie police: une femme. Sergeant Florence Cassell, played by Josephine Jobert (Sous Le Soleil De Saint-Tropez), a fellow French actress to Sara Martin (Détectives), who returns as DS Camille Bordey.
Also reprising their roles are Danny John-Jules (Red Dwarf) as Officer Dwayne Myers, Don Warrington (New Street Law) as Commissioner Selwyn Patterson, and Élisabeth Bourgine (My Best Friend) as Camille's maman, Catherine.
There are a lot of guest stars for Series 4, too, including Amy Nuttall (Downton Abbey), Tyger Drew-Honey (Outnumbered), Natalie Gumede (Coronation Street), Will Mellor (Broadchurch), and many others. Which of their characters will be the guilty amongst the suspects? Ya gotta watch to find out.
Death in Paradise: Series 4 debuts Thursday, 8 January 2015, at 9 PM BST, on BBC One. It should screen in the US on public TV stations, as Seasons 1-3 did, so stay tuned for more details. In the meantime, you can catch up on Seasons 1 and 2 at Amazon Instant Video,
Google Play, iTunes, and Vudu,
 where Season 3 should also be available in due course.
__________________
Thomas Cromwell was no stranger to intrigue, dastardly deeds, and murders, I mean executions. And it is the story of his rise to power, from a blacksmith's son to King Henry VIII's closest adviser in the Tudor court, that is told in the six-part historical drama, Wolf Hall, adapted from the the Man Booker Prize-winning novels by Hilary Mantel, Wolf Hall
and Bring Up the Bodies.
BAFTA, Olivier, and Tony Awards winner Mark Rylance (The Other Boleyn Girl) stars in Wolf Hall as Cromwell, with Emmy® and Golden Globe Awards winner Damian Lewis (Homeland) as Henry VIII and Royal Television Society nominee Claire Foy (Little Dorrit) as Anne Boleyn.
The stellar cast also includes Jonathan Pryce (Cranford) as Cardinal Thomas Wolsey, Joanne Whalley (The Borgias) as Katherine of Aragon, Mark Gatiss (Sherlock) as Secretary to the King Stephen Gardiner, and Anton Lesser (Endeavour) as Thomas More, as well as Mathieu Amalric, Thomas Brodie-Sangster, Richard Dillane, Bernard Hill, Natasha Little, Jessica Raine, Saskia Reeves, and Charity Wakefield.
The premiere date for Wolf Hall has not yet been set for BBC Two. In the US, the highly-anticipated drama, part of an exciting 2015 line-up on PBS, debuts Sunday, 5 April 2015, at 10 PM ET. (Check your local listings.)
__________________
Add your comments on our Facebook, Google+, and Twitter pages.
Watch: Trailers for Death in Paradise Series 4 and Wolf Hall