Here's an update on eight British TV titles, including a few details about their new seasons and new cast members, plus those about a brand-new series.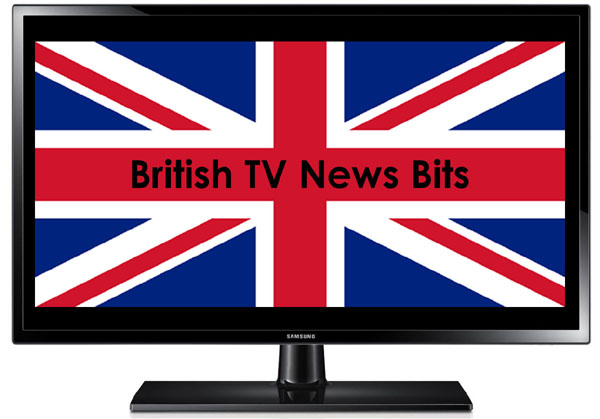 The Bay
Filming has started on Season 5 of the hit mystery-crime drama series The Bay, with Marsha Thomason (Cobra) reprising her role as DS Jenn Townsend, Morecambe MIU's Family Liaison Officer. Also returning are Daniel Ryan (Mount Pleasant) as DI Tony Manning, Erin Shanagher (Ridley) as DS Karen Hobson, Andrew Dowbiggin (Coronation Street) as DS James Clarke, Barry Sloane (Revenge) as Chris Fischer, Georgia Scholes (Hollyoaks) as Chris's daughter Erin, and David Carpenter and Emme Hayes as Conor and Maddie, Jenn's children.
Joining the cast are Olwen May (A Very British Scandal, Happy Valley) and Suzanne Packer (Casualty, Keeping Faith), who plays Jenn's mum, Anne Townsend.
The guest cast includes Leanne Best (Young Wallander, Cold Feet), Neil Maskell (Hijack, Utopia), David Troughton (Grantchester, The Café), Stephen Wight (Screw, I May Destroy You), Ceallach Spellman (White Lines, Cold Feet), and Tara Lynne O'Neill (Derry Girls, The Fall), who plays Sinead, DI Tony Manning's new partner.
The story in Season 5 revolves around the death of Hannah, a 23-year-old university student whose body is found on the edge of the docks. Jenn, who is returning to work following the death of her father, pushes aside her own grief to support Hannah's bitterly-divided family. As Jenn and the MIU team dig deeper into the case, they uncover hidden friendships and secret liaisons as the anger rises in the student community and the intensity increases. With the team peeling back the complicated layers of Hannah's life and the secrets within it, Jenn must reconcile her personal and professional struggles as she grapples to solve the case, come to terms with her own loss, and build bridges with her own family.
Stay tuned for updates about The Bay: Season 5. In the meantime, viewers in the US and Canada can stream The Bay: Seasons 1-4 on BritBox, while folks in the UK can stream them on ITVX.
Beyond Paradise
Filming is also underway in picturesque locations around South-West England in Devon and Cornwall on the first Christmas special and the second season of the Death in Paradise spinoff, the hugely-successful BBC-BritBox International mystery-crime drama series Beyond Paradise. Returning for both are Kris Marshall (Sanditon) as DI Humphrey Goodman, Sally Bretton (Not Going Out) as Martha Lloyd, Zahra Ahmadi (The Bay) as DS Esther Williams, Dylan Llewellyn (Derry Girls) as PC Kelby Hartford, Barbara Flynn (Cracker) as Anne Lloyd, and Felicity Montagu (Tom Jones) as Margo Martins.
With Humphrey and Martha's make-or-break trip to Saint Marie in the Season 1 finale, what can fans expect to see in Season 2? More joyful escapism, humor, and mind-boggling cases, for sure, as Humphrey, Shipton Abbott's new detective inspector, will be tasked with solving a shocking crime on a steam train, an arson attack predicted by a medium, and the baffling disappearance of the local fishing legend.
The Beyond Paradise Christmas special is scheduled to air during the 2023 festive season, with Season 2 landing next year. Stay tuned for updates. In the meantime, folks in North America, South Africa, and the Nordic markets can stream Season 1 on BritBox, and those in the UK can stream it on BBC iPlayer.
Call the Midwife
Following the renewal of this award-winning, fan-favorite period drama for Seasons 14 and 15 comes news that production has started on Season 13 of Call the Midwife, which consists of a 90-minute Christmas special (to air in December 2023), followed by eight hour-long episodes in 2024 for BBC One and iPlayer in the UK and PBS in the US.
In the first episode of Season 13, Nonnatus House kicks off a new pupil midwife-training program, welcoming pupil midwives Joyce Highland (Renee Bailey, Mood) and Rosalind Clifford (Natalie Quarry, Doctors). Both are excited by this new stage in their careers and move into Nonnatus House, where they share a room. Joyce, who hails from Trinidad, aims to become Matron of a British hospital. Hardworking, fiercely bright, and deeply kind, she has a traumatic past that she cannot conceal forever. Rosalind is young, warm, passionate, and funny. Although seemingly naive at times, she has an inner steeliness that will lead her to make some life-changing decisions.
As with previous seasons, Season 13 continues to explore complex medical and personal situations on the midwifery and district nursing rounds. It's 1969, and with more babies being born in hospital than ever before, the need for maternity beds remains extremely high across the country; Poplar is coping better than most due to the work of Nonnatus House and the popularity of home births under the auspices of the Sisters.
The new season will also feature stories from within the Sylheti and Nigerian communities and from around the docks, and explore issues surrounding Cerebral Palsy, Congenital Hip Dysplasia, Tetanus, Porphyria, and TB. Poor housing continues to blight areas of Poplar, presenting complex social and health challenges to the Nonnatus team.
Returning regular cast members include Judy Parfitt as Sister Monica Joan, Jenny Agutter as Sister Julienne, Laura Main as Shelagh Turner, Helen George as Trixie Aylward, Cliff Parisi as Fred Buckle, Stephen McGann as Dr Turner, Linda Bassett as Nurse Crane, Megan Cusack as Nancy Corrigan, Annabelle Apsion as Violet Buckle, Georgie Glen as Miss Higgins, Zephryn Taitte as Cyril Robinson, Olly Rix as Matthew Aylward, Rebecca Gethings as Sister Veronica, Daniel Laurie as Reggie Jackson, Max Macmillan as Timothy Turner, Alice Brown as Angela Turner, Francesca Fullilove as Colette Corrigan, April Rae Hoang as May Tang, and Edward Shaw as Teddy Turner.
Stay tuned for updates about Call the Midwife: Season 13. In the meantime, viewers in the US can catch up on Call the Midwife: Seasons 1-12 on Amazon Video, while those in the UK can stream them on BBC iPlayer.
Jamie Cooks the Mediterranean
Restaurateur, cookbook author, and program presenter Jamie Oliver (5 Ingredients: Quick & Easy Food, Jamie's 30 Minute Meals) has a brand-new TV series for Channel 4 — Jamie Cooks the Mediterranean — in which he will travel the Mediterranean in search of both deliciously traditional and excitingly innovative ways of cooking to inspire us with a gorgeous range of recipes.
In the four-part series made by Jamie Oliver Productions, the chef explores the Mediterranean — specifically in Greece, Tunisia, Spain, and France — diving into the fresh flavors and brilliant simplicity of some of the most varied and vibrant cuisines in the world. Each episode gives viewers a taste of extraordinary culinary experiences in a variety of settings, from diverse urban areas to stunning coastal locations, as Jamie embarks on a voyage of discovery, meeting people from a range of cultures and tasting his way around these stunning destinations.
Bringing us a taste of holiday at home, Jamie uses what he learns in each country as inspiration to create delicious new recipes — including a smoky aubergine flatbread inspired by Greece, crispy prawn parcels drizzled with harissa dreamed up in Tunisia, a juicy pork chop with chargrilled peppers courtesy of Spain, and a sublime tart of courgette (zucchini), goat's cheese, and olive tapenade created in France.
Jamie Cooks the Mediterranean will air on the UK's Channel 4 this autumn. There's no word yet on whether the show has been picked up for the US. Stay tuned for updates. In the meantime, select Jamie Oliver TV titles are available for streaming in the US on BritBox as well as The Jamie Oliver Channel, his FAST channel available on Freevee, The Roku Channel, Tubi, and Xumo, and in UK on Channel 4 and The Jamie Oliver Channel on Samsung TV Plus.
McDonald & Dodds
Season 4 of the hit Bath-set detective drama series McDonald & Dodds, starring Tala Gouveia (Cold Feet) and Jason Watkins (Hold the Sunset), has started filming. The new season includes three feature-length episodes, the first of which guest stars Toby Stephens (Black Sails), singer/songwriter Pixie Lott (The Voice Kids), Lydia Leonard (Gentleman Jack), Daniel Lapaine (Catastrophe), Dipo Ola (Landscapers), John Gordon Sinclair (Traces), and Ace Bhatti (Line of Duty).
In this first episode, McDonald and Dodds investigate a case involving a middle-aged woman found shot dead in a rented flat. The killer has removed all clues to the victim's identity, but DNA reveals she went missing over 35 years ago. Where has she been all those years?
Also returning to the series are Claire Skinner (Outnumbered) as Chief Superintendent Ormond and Charlie Chambers (EastEnders) as DC Goldie. Joining the cast is Bhavik C. Pankhania (World On Fire) as DC Lee.
Stay tuned for updates about McDonald & Dodds: Season 4. In the meantime, viewers in the US, Canada, and Australia can stream McDonald & Dodds: Seasons 1-3 on BritBox, and those in the UK can stream them on ITVX.
Sex Education
The fourth season of the award-winning hit comedy-drama series Sex Education will be its last. In Season 4, following the closure of Moordale Secondary, Otis (Asa Butterfield, Your Christmas or Mine?) and Eric (Ncuti Gatwa, Doctor Who) now face a new frontier: their first day at Cavendish Sixth Form College. Otis is nervous about setting up his new clinic, while Eric is praying they won't be losers again.
But Cavendish is a culture shock for all the Moordale students. They thought they were progressive, but this new college is another level. There's daily yoga in the communal garden, a strong sustainability vibe, and a group of kids who are popular for being kind. Viv (Chinenye Ezeudu, The Stranger) is totally thrown by the college's student-led, non-competitive approach, while Jackson (Kedar Williams-Stirling, Wolfblood) is still struggling to get over Cal (Dua Saleh). Aimee (Aimee-Lou Wood, Living) tries something new by taking an Art A-Level, and Adam (Connor Swindells, Rogue Heroes) grapples with whether mainstream education is for him.
Meanwhile, over in the US, Maeve (Emma Mackey, Barbie) is living her dream at prestigious Wallace University, being taught by cult author Thomas Molloy. Otis pines for her, all while adjusting to not being an only child at home — or the only therapist on campus…
Sex Education: Season 4 premieres globally on Thursday, September 21, exclusively on Netflix.
Cast members returning for Season 4 include Gillian Anderson (The X-Files), Mimi Keene (EastEnders), George Robinson (Dalgliesh), Alistair Petrie (Deep State), Samantha Spiro (M.I.T.: Murder Investigation Team), Jim Howick (Ghosts), Rakhee Thakrar (Karen Pirie), and Daniel Ings (I Hate Suzie).
Joining the cast for the final season are Emmy® Award winner Dan Levy (Schitt's Creek), Thaddea Graham (Doctor Who), Lisa McGrillis (Mum), Marie Reuther (Kamikaze), Jodie Turner Smith (Anne Boleyn), Eshaan Akbar (Spitting Image), and newcomers Felix Mufti, Anthony Lexa, Alexandra James, Reda Elazouar, Bella Maclean, and Imani Yahshua.
Vienna Blood
Vienna Blood, the popular British-Austrian period mystery-crime drama series inspired by the novels of Frank Tallis, has been renewed for a fourth season, which has already been picked up by PBS in the US and the BBC for BBC Two and BBC iPlayer in the UK. Filming begins in Austria this summer, with Matthew Beard (Magpie Murders, Avenue 5) and Juergen Maurer (Anatomy of Evil, Tatort: Munich) reprising their roles as the crime-fighting duo of Freudian psychiatrist Doctor Max Liebermann and Police Detective Inspector Oskar Rheinhardt, respectively.
Story-wise, unlike previous seasons, Season 4 will feature a single multi-episode story. Set in 1909, the new season finds Vienna shaken to its core after the double murder of an arms dealer in police custody and a senior public official. As Oskar and Max investigate, they discover a conspiracy that leads to the heart of government. Will they be able to stop a seditious mole known as "Mephisto" from bringing the Austro-Hungarian Empire to destruction? And will their lives ever be the same again?
Stay tuned for updates. In the meantime, viewers in the US can stream Vienna Blood: Seasons 1-3 on the PBS Masterpiece Prime Video Channel and the digital channels of local PBS affiliate stations with PBS Passport. Viewers in the UK can stream them on BBC iPlayer.
World on Fire
Masterpiece has released a preview of Season 2 of wartime drama World on Fire, which tells the story of World War II through the eyes of ordinary people whose lives have been thrown into chaos.
In Season 2, the true reality of war has arrived in Britain, as RAF pilots are sent to destroy German bombers prowling the skies above Manchester, while rescue operations are underway on the streets below. The new season will take viewers from the streets of Britain into occupied France and Nazi Germany, and to the sands of the North African desert, where British troops struggle alongside Indian Sappers and Australian Diggers to adapt to a very different kind of combat.
Season 2 of World on Fire premieres in the UK on Sunday, July 16, on BBC One and iPlayer, and in the US on Sunday, October 15, on PBS. New episodes will drop weekly.
Cast members returning for the six-episode second season include Lesley Manville (The Crown, Magpie Murders) as Robina, Jonah Hauer-King (The Little Mermaid, Little Women) as Harry, Julia Brown (Shetland, The Last Kingdom) as Lois, and Zofia Wichlacz (DNA, The Mire) as Kasia, as well as Blake Harrison (The Inbetweeners, A Very English Scandal) as Stan, Eugénie Derouand (Paris Police 1900, Inside) as Henriette, Eryk Biedunkiewicz as Jan, and Cel Spellman (Cold Feet, Waterloo Road) as Joe.
Joining the cast for Season 2 are Mark Bonnar (Guilt, Shetland) as Sir James Danemere, Ahad Raza Mir (Resident Evil, Hum Tum) as Rajib, Gregg Sulkin (Runaways, Pretty Smart) as David, and Miriam Schiweck (Der Staatsanwalk, Fellweckselzeit) as Marga.
Catch up on Season 1 in the UK on BBC iPlayer and in the US on the PBS Masterpiece Prime Video Channel and the digital channels of local PBS affiliate stations with PBS Passport.
__________________
As an affiliate of Amazon and other cos, affiliate links on this blog allow us to earn income from qualifying actions (at no extra cost to you).

British TV News Bits: The Bay, McDonald & Dodds, Vienna Blood & More