June brings the national premieres of 17 new series and seasons to the US, plus the second season of an entertaining travel series on select public TV stations.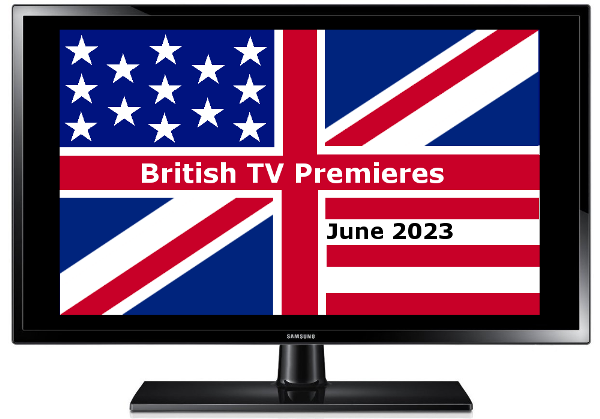 For updates about shows from the UK, Canada, and Ireland added to US linear TV and streaming channels throughout the month, see the British TV Viewing Guide.
Programs and dates are subject to change without prior notice.
Videos below may contain content that is not suitable for everyone.
As an affiliate of Amazon & other cos, affiliate links on this blog allow us to earn income from qualifying actions (at no extra cost to you).
NATIONAL PREMIERES
The Lazarus Project (UK)
Paapa Essiedu (I May Destroy You, Gangs of London) stars in this sci-fi action thriller as George, the latest recruit to The Lazarus Project, a secret organization that has harnessed the ability to turn back time whenever the world is at the threat of extinction. George and his colleagues are the few people on Earth with the ability to remember the events that are undone when time goes back. But when a freak accident harms someone close to George, Lazarus won't let him turn back time to undo it unless there is the threat of global extinction. Now George must choose to stay loyal or go rogue as he faces the question of, "If you had the power to re-write your past, what would you sacrifice to do it?"
The cast includes Anjli Mohindra (Bodyguard), Tom Burke (C.B. Strike), Caroline Quentin (Bridgerton), Rudi Dharmalingam (Wakefield), Charly Clive (Pure), Vinette Robinson (Boiling Point), Brian Gleeson (Bad Sisters), and Lia Williams (The Capture).
The Lazarus Project premieres in the US on Sunday, June 4, at 9 PM ET/PT, on TNT. (Rescheduled from January 2023)
Somewhere Boy (UK)
This drama centers on Danny (Lewis Gribben, Shetland, Deadwater Fell), a teen who's been living with his dad, Steve (Rory Keenan, Striking Out, Peaky Blinders), since his mum was killed in a car crash when Danny was a baby. But their house is in the middle of nowhere, and Steve has Danny locked in, telling him the world outside is full of monsters waiting to take him away, just like they took his mum. In the overwhelm of his grief, Steve thought he'd done the right thing to make up this story and bring up Danny away from murderers, wars, drugs, crap governments, burgers, evil.
For eighteen years they just stayed in, listening to Benny Goodman records and watching old movies with no sad endings. And that's how Danny grew up. It was all he knew, and he was happy. But when Danny turns eighteen, his whole world, everything he's ever known, explodes in an instant, and he has to come to terms with a new world he never knew existed… and find the real monster: the one that killed his mum.
Costarring Samuel Bottomley (Ladhood) and Lisa McGrillis (Mum), Somewhere Boy premieres in the US as an eight-episode binge on Wednesday, June 7, exclusively on Hulu.
The Box (UK)
This three-part docuseries follows Police Detective Chris Loudon's mission to expose the truth behind one of America's worst serial killers. After discovering a box of evidence seized decades ago, but whose contents had been left untouched, Loudon finds dozens of photos of young women — setting him on a course in which he unravels a terrifying murder mystery created by a monster hiding in plain sight in small-town Illinois, where women's reports of sexual assault were all too frequently dismissed throughout the 1970s.
The Box, a Topic Original, premieres in the US and Canada on Thursday, June 8, exclusively on Topic.
Love/Hate: Seasons 4 & 5 (IE)
Never before shown in the US, the final two seasons of this IFTA awards-winning crime drama series returns us to post-boom Ireland and reintroduces us to members of Dublin's criminal underworld and their intimates, including Nidge (Tom Vaughan-Lawlor, The Ipcress File), Tommy (Killian Scott, Dublin Murders), Trish (Aoibhinn McGinnity, Smother), Siobhan (Charlie Murphy, Happy Valley), and Peter Coonan (Bad Sisters), amongst others. Joining the cast is Brían F. O'Byrne (The Wonder) as Detective Inspector Mick Moynihan, who is set to bring Nidge down.
Love/Hate: Seasons 4 & 5 premiere in North America as a twelve-episode binge on Thursday, June 8, exclusively on BritBox.

Tour de France : Unchained (France-UK)

This sports docuseries closely follows all of the Tour's participants, from the riders to the team managers, to understand the multiple stakes of a race that is now broadcast in 190 territories. It goes behind the scenes of iconic teams — from the preparation phase, to the finish line in Paris — including AG2R Citroën Team, Alpecin-Fenix, EF Education-EasyPost, Groupama-FDJ cycling Team, Ineos Grenadiers, BORA-hansgrohe, Team Jumbo-Visma, and Team Quick-Step Alpha Vinyl.
Tour de France : Unchained, a Netflix Series, premieres globally on Thursday, June 8, exclusively on Netflix. (You can set a reminder for it now.)
The Lake: Season 2 (CA)
Following on from the events in Season 1, the second season of this comedy series sees Justin (Jordan Gavaris, Orphan Black) and Riley (Travis Nelson, The Recruit) decide to make their relationship official. But their plans, along with the beloved boathouse, go up in flames. Carrying equal parts shame and blame, Justin sets out to prove his innocence, rebuild the heart of the lake, and win back the man he loves.
Meanwhile, Maisy-May (Julia Stiles, Riviera) is dealing with a wildfire of her own: the return of her mother, Mimsy (Lauren Holly, Family Law), who claims she's dying and wants to spend her final summer with her family on the lake. And while Billie (Madison Shamoun, All American) returns for what is meant to be a one-week vacation, her holiday changes after gorgeous tree planter Forrest (Jhaleil Swaby, Supergirl) and fierce climate activist Ivy (Max Amani, 1 Queen 5 Queers) suddenly give her two reasons to blow up her summer.
Other series regulars back for Season 2 include Terry Chen (The Expanse), Jon Dore (Inside Amy Schumer), Carolyn Scott (Star Trek: Strange New Worlds), Natalie Lisinka (Murdoch Mysteries), and Declan Whaley (Criminal Minds).
The Lake: Season 2, a Canadian Amazon Original Series, premieres globally on Friday, June 9, exclusively on Prime Video.
Father Brown: Season 10 (UK)
Set in 1954 in the sleepy Cotswold village of Kembleford, the latest season of this hit mystery series sees the return of dashing Chief Inspector Sullivan (Tom Chambers, Holby City), who proves to be a pleasant distraction for Mrs. Devine (Claudie Blakley, Pride & Prejudice), Father Brown's (Mark Williams, Harry Potter) lively new parish secretary, all while his plucky new housekeeper, Brenda Palmer (Ruby-May Martinwood, Taboo), assists the priest with his crime solving.
With royal visits, kidnappings, and notorious gangsters to contend with, Father Brown also faces his old adversary, Hercule Flambeau (John Light, North & South), who returns to Kembleford after being accused of murder. Father Brown risks his own life to prove Flambeau's innocence — but is his faith in the master criminal misplaced?
Father Brown: Season 10 has its North America premiere on Tuesday, June 13, exclusively on BritBox.
The Full Monty (UK)
Picking up twenty-five years after the events in the Oscar®-winning film The Full Monty, this comedy-drama series rejoins (most of the) original band of Monty men and women in Sheffield since they've settled into a new way of living. Gaz (Robert Carlyle, Hamish Macbeth) is navigating relationships and escapades with his grown-up police officer son, Nathan (Wim Snape, Gentleman Jack), and rebel-teenage daughter, Destiny (Talitha Wing, Alex Rider).
Dave (Mark Addy, Game of Thrones) and his wife, Jean (Lesley Sharpe, Before We Die), now work at the same school and are dealing with some big issues both in and out of the classroom. Lomper (Steve Huison, Coronation Street) and Dennis (Paul Clayton, House of the Dragon) are married and trying to keep their dwindling, cheekily named Big Baps café afloat. And while Gerald (Tom Wilkinson, Michael Clayton) is retired, Horse (Paul Barber, The Invisibles) is simply struggling to make ends meet amidst a crumbling welfare system.
The Full Monty premieres as an eight-episode binge on Wednesday, June 14, exclusively on Hulu.

Our Planet II (UK-US)
From the Emmy® Award-winning team behind Planet Earth comes this nature docuseries, a follow-up to the award-winning Our Planet. Narrated by Sir David Attenborough, and using innovative cinematography, the four-part series unravels the mysteries of how and why billions of animals migrate — revealing some of the most dramatic and compelling stories in the natural world.
Our Planet II, a Netflix Series, premieres globally on Wednesday, June 14, exclusively on Netflix. (You can set a reminder for it now.)
Black Mirror: Season 6 (UK)
After a rather long absence, Charlie Brooker's dark, satirical anthology series will be back with five new stories filmed in the UK (including Scotland) and Spain.
"Joan Is Awful" — An average woman is stunned to discover a global streaming platform has launched a prestige TV drama adaptation of her life — in which she is portrayed by Hollywood A-lister Salma Hayek. Cast: Annie Murphy (Schitt's Creek), Ben Barnes (Shadow and Bone), Himesh Patel (EastEnders), Michael Cera (Arrested Development), Rob Delaney (Catastrophe), Salma Hayek Pinault (Frida)
Loch Henry — A young couple travel to a sleepy Scottish town to start work on a genteel nature documentary, but find themselves drawn to a juicy local story involving shocking events of the past. Cast: Daniel Portman (Game of Thrones), John Hannah (Transplant), Monica Dolan (W1A), Myha'la Herrold (Industry), Samuel Blenkin (The Witcher: Blood Origin)
Beyond the Sea — In an alternative 1969, two men on a perilous high-tech mission wrestle with the consequences of an unimaginable tragedy. Cast: Aaron Paul (Breaking Bad), Auden Thornton (This Is Us), Josh Hartnett (Penny Dreadful), Kate Mara (House of Cards), Rory Culkin (Under the Banner of Heaven)
Mazey Day — A troubled starlet is dogged by invasive paparazzi while dealing with the consequences of a hit-and-run incident. Cast: Clara Rugaard (The Rising), Danny Ramirez (The Falcon and the Winter Soldier), Zazie Beetz (Atlanta)
Demon 79 — Northern England, 1979. A meek sales assistant is told she must commit terrible acts to prevent disaster. Cast: Anjana Vasan (We Are Lady Parts), Paapa Essiedu (Gangs of London)
Black Mirror: Season 6 premieres globally on Thursday, June 15, exclusively on Netflix.
The Grand Tour: Eurocrash (Season 5B) (UK-US)
Following on from "A Scandi Flick," Part A of this motoring series's fifth season, Part B, aka "Eurocrash," finds Jeremy Clarkson, Richard Hammond, and James May with a problem: Every country they want to visit is either a trouble hotspot or has banned them from entering. So they head to Central Europe instead, embarking on a road trip nobody has ever thought of, in cars nobody would ever dream of using. This epic 1400-mile journey — in an outrageous Japanese Al Capone gangster car, a pickup that thinks it's a convertible, and G 75-year-old American micro mini — takes them from Gdańsk in Poland through Slovakia, Hungary, on to their final destination of the stunning Lake Bled in Slovenia.
In Poland they cause havoc at a spectacular motor race featuring Soviet made Formula 1 cars, before heading to the actual prison camp where the Great Escape took place. In Kraków they recruit a famous Formula 1 world champion to the team before heading to Slovakia to sample a stunning Eastern European hypercar, a hidden racing Škoda classic, and the world's most advanced flying car. With James as broken as the car he's driving, the trio plus their new recruit head into Hungary, where for their troubles they end up in a time loop and have to run the gauntlet of the world's deadliest archers. The team then make a dash for the finish line, which involves yet more peril in a spectacular Fast and Furious-type finale at a military airbase.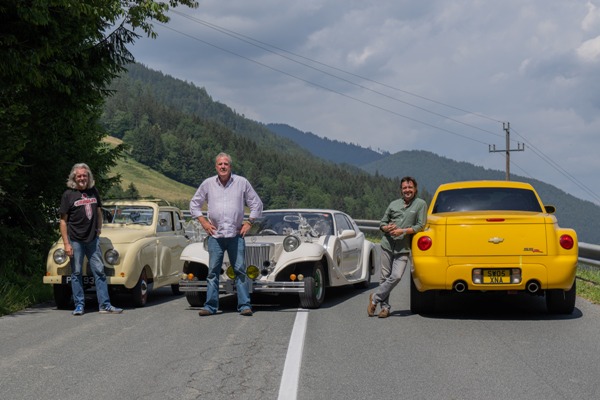 The Grand Tour: Eurocrash, an Amazon Original series, premieres globally on Friday, June 16, exclusively on Prime Video.

Outlander: Season 7 (UK-US)
Picking up from the events in the Season 6 finale, the new season of this mega-hit series finds Jamie (Sam Heughan, Suspect), Claire (Caitríona Balfe, Belfast), and their family caught in the violent birth pains of an emerging nation, as armies march to war and British institutions crumble in the face of armed rebellion. The land the Frasers call home is changing, and they must change with it — forced to navigate the perils of the Revolutionary War in order to protect what they've built, and learning that sometimes, to defend what you love, you have to leave it behind. As the conflict draws them out of North Carolina and into the heart of this fight for independence, Jamie, Claire, Brianna (Sophie Skelton, DCI Banks), and Roger (Richard Rankin, Rebus) are faced with impossible decisions that have the potential to tear their family apart.
Based on An Echo in the Bone, Book 7 in Diana Gabaldon's "Outlander" series of romantic, historical adventure novels, Outlander: Season 7, Part 1 premieres in the US on Friday, June 16, at 8 PM ET/PT, on the linear Starz channel, with streaming available on the 16th at midnight ET via the Starz app and on all Starz streaming and on-demand platforms. New episodes will debut weekly.
Ridley (UK)
Adrian Dunbar (Line of Duty, Blood) leads the cast of this mystery-crime drama/police procedural series as Alex Ridley, a former Detective Inspector who took early retirement due to a nervous breakdown following the deaths of his wife and daughter. Now, eighteen months later, he is called back to advise on a complex murder case by his replacement and former protégé, DI Carol Farman (Bronagh Waugh, Our House, Unforgotten). Carol is keen to access Ridley's unique insight into crime-solving, which served them so well in the past — but then the investigation takes a dark and unexpected twist.
The case that brings Ridley back to police work is one of four stories told in feature-length episodes that costar Terence Maynard (Sherwood), Georgie Glen (Call the Midwife), George Bukhari (Vera), and Julie Graham (Shetland), amongst others.
Ridley premieres in the US on Sunday, June 18, at 8 PM ET, on linear PBS, with streaming available on PBS.org, the PBS app, and the PBS Masterpiece Prime Video Channel.
Endeavour: Season 9 (UK)
The final season of this hit mystery series opens in spring 1972, which brings with it a new start for Endeavour Morse (Shaun Evans, Vigil). His return to CID coincides with a gruesome discovery in a college garden. The investigation leads him and Thursday (Roger Allam, Murder in Provence) to a celebrated orchestra, and when a second tragedy hits, they uncover a web of secrets at the company's core. Meanwhile, grisly London business turns up on Oxford's doorstep when a brutal murder is committed in a derelict warehouse.
Endeavour: Season 9 premieres in the US on Sunday, June 18, at 9 PM ET, on linear PBS, with streaming available on PBS.org, the PBS app, and the PBS Masterpiece Prime Video Channel.
Clean Sweep (IE)
Created by Gary Tieche (Preacher) and inspired by true events, this crime thriller is told from the point-of-view of the killer, self-sacrificing mother and wife Shelly Mohan (Charlene McKenna, Bloodlands, Vienna Blood, Peaky Blinders). Multitasking supermom Shelly juggles the lives and schedules of three kids, ages 10, 11 and 15, and fills her days with cooking, cleaning, shopping, and chauffeuring — yet she still manages to have a home-cooked meal on the table by the time her husband, Jason (Barry Ward, Anne Boleyn, Des), a Galway Garda detective, arrives home every night. It's chaotic and hectic and mostly thankless, but it is a life Shelly is happy with. But when a dark secret emerges from her past, she makes a fatal choice to prevent the truth from surfacing.
Additional cast members include Cathy Belton (Hidden Assets), Kaitlyn Rose Downey (The Princess), Adam Fergus (Harry Wild), Trevor Kaneswaren (Line of Duty), Rhys Mannion (It Is In Us All), Aidan McCann (Bad Sisters), and Jeanne Nicole Ní Áinle (SisterS).
Clean Sweep, a Sundance Now Original Series, premieres in the US with two episodes on Thursday, June 22, exclusively on Sundance Now and the AMC+ streaming bundle. New episodes of the six-episode first season will drop weekly on Thursdays on both platforms.

Cannes Confidential (UK-SE)
Created by Chris Murray (Midsomer Murders, Agatha Raisin) and set in Cannes on France's famed Cote d'Azur, this romantic crime drama follows the relationship between Cannes detective Camille Delmasse (Lucie Lucas, Gloria, Nicolas Le Floch) and international conman Harry King (Jamie Bamber, Strike Back, Battlestar Galactica). While Delmasse and her trusted sidekick, Lea Robert (Tamara Marthe, The Paris Murders), are investigating the murder of Jester, a young street artist who appears to have had many enemies, no-nonsense Camille keeps running into the charming but shady art collector Harry.
Meanwhile, Camille's father, the respected former Chief of Police Philippe Delmasse (Jean-Hughes Anglad, Braquo, The Passenger), is about to be cleared from corruption charges. But there are secrets being unraveled: Harry isn't really an art collector, and regarding Philippe, Camille's world is about to be turned upside down. Does Harry know who is behind the framing of Philippe? Camille intends to find out.
Cannes Confidential, an Acorn TV Original, premieres in North America on Monday, June 26, exclusively on Acorn TV. New episodes will debut each Monday through July 31.
Hijack (UK-US)
Created by series writer George Kay (Lupin, Criminal) and director Jim Field Smith (Criminal, Truth Seekers), this seven-part thriller, told in real time, follows the journey of a hijacked plane as it makes its way to London over a seven-hour flight, as well as the authorities on the ground who are scrambling for answers. Sam Nelson (Idris Elba, Luther), an accomplished negotiator in the business world, needs to step up and use all his guile to try and save the lives of the passengers — although his high-risk strategy could be his undoing. On the ground when the plane is hijacked is Zahra Gahfoor (Archie Panjabi, The Good Wife), a counter-terrorism officer who becomes part of the investigation.
Also featuring in the series are Christine Adams (Black Lightning), Max Beesley (Jamestown), Eve Myles (Keeping Faith), Neil Maskell (Peaky Blinders), Jasper Britton (Royal Shakespeare Company: Henry IV Part I), Harry Michell (Devils), Aimée Kelly (The Personal History of David Copperfield), Mohamed Elsandel (Hireth), and Ben Miles (The Crown).
Hijack, an Apple Original, premieres globally with the first two episodes on Wednesday, June 28, exclusively on Apple TV+. New episodes will debut singly each week through August 2.
LOCAL/REGIONAL PREMIERES
Miriam and Alan: Lost in Scotland: Season 2 (UK)
A year older but not necessarily wiser, Miriam Margolyes (Call The Midwife, Harry Potter), Alan Cumming (Schmigadoon!, The Good Wife) and Alan's dog, Lala, rediscover more of their Scottish roots — and then journey across the pond to their other mutual home: America. While in the US, they go on an epic road trip that takes them to Los Angeles, Palm Springs, and Las Vegas.
Miriam and Alan: Lost in Scotland: Season 2 is confirmed for airing on or after Monday, June 12, on Georgia Public Broadcasting, Idaho Public Television, KCET, KCPT, KERA, KLVX, KQEH, KTCA, KTWU, KUED, KVIE, KWSU, Maine Public Television, Maryland Public Television, NHPBS (New Hampshire), NJ PBS (New Jersey), Oregon Public Broadcasting, PBS North Carolina, PBS Wisconsin, WETA, WNED, WNEO, WNET, WPBS, WPSU, and WPTO. (Check you local listings or contact the station that serves your area for air dates and times. To request the shows, contact your public TV station or American Public Television.)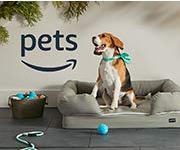 NON-PREMIERE PROGRAMS BEING ADDED TO STREAMING SERVICES

Titles in this section begin streaming on the dates shown below on Acorn TV and its digital channels, including Acorn TV on Amazon.
Catherine Cookson's Tilly Trotter (UK)
Based on the novels in Catherine Cookson's "Tilly Trotter" series, this romantic drama, set in 1830s rural England, tells the story Tilly Trotter (Carli Norris, EastEnders), a courageous young girl envied by women for her beauty, lusted after by men, accused of witchcraft, and forced to rise above the prejudice of many people in the community in which she lives. Catherine Cookson's Tilly Trotter begins streaming Monday, June 5.
WPC 56: Season 2 (UK)
In this 1956-set police procedural, WPC Gina Dawson (Jennie Jacques, Vikings) continues to make her mark as the first and only policewoman on the Brinford beat. With a few fresh faces in the station, it's business as usual as Gina and the men deal with teenage runaways, Teddy Boys, and petty criminals. However, the lines of the law start to blur when the hunt for a killer draws the team into the criminal underworld of shady boxing clubs, brothels, and nightclubs — all run by a ruthless gangster, as dangerous as he is untouchable. And the unwanted attention of a senior officer pushes Gina to cross a line, which could mean the end of her career forever. WPC 56: Season 2 begins streaming Monday, June 12.
City of Vice (UK)
Set in London in 1753, this historical crime drama sees the new Magistrates of Westminster, novelist Henry Fielding (Ian McDiarmid, "Star Wars" films) and his blind half-brother, John (Iain Glen, Game of Thrones), want to set up a police force to tackle London's soaring crime epidemic. They find a potential patron in Lord Newcastle (Sam Spruell, The North Water), the Prime Minister's brother, but he is unsure of such a force's merits. With the help of Saunders Welch (Francis Magee, Kin), the High Constable of Holborn, the brothers set out to show Newcastle they can rid the streets of the violent criminal gangs. City of Vice begins streaming Monday, June 19.
Rosamunde Pilcher's Summer Solstice
Based on the works of novelist Rosamunde Pilcher, this drama sees organist Oscar Blundell (Jan Niklas, Tatort) and actress Elfrida Phipps (Sinéad Cusack, North Sea Connection) move into a common home, while Countess Lucinda Rhives (Honor Blackman, Goldfinger) has rebuilt her seaside castle into a hotel under the direction of Carrie (Lara Joy Körner, Tatort) and Sam (Jason Durr, Casualty). Carrie and Sam's relationship is strained by their being under pressure to succeed. This, on top of a lawsuit threatened by best-selling American author Alexia White (Jacqueline Bisset, Murder on the Orient Express), owing to an article in Sam's newspaper accusing her of plagiarism, published without his permission. In this tense situation, Carrie finds out that she is pregnant. To take some of the strain off her, Sam employs Leo Berger (Bjoern Casapietra, Shadows of the Past) as the hotel manager, against Carrie's wishes. But Carrie is afraid to be gotten rid of, so she fights for Sam, her job, and — when she is stopped violently by a breakdown — for her child. Rosamunde Pilcher's Summer Solstice begins streaming Monday, June 19, exclusively on Acorn TV.
WPC 56: Season 3 (UK)
In the final season of this crime drama, fresh-faced WPC Annie Taylor (Claudia Jessie, Bridgerton) is the only female officer in the Brinford Police, following trailblazing WPC Gina Dawson's move to the Met. Hailing from a respected police family, this way of life is in Annie's blood, but as the first woman amongst them to join up, she has big shoes to fill, not least of all her father's. Annie is determined to be the best policewoman she can be, and with the same old attitudes to contend with at work and at home, it'll be an uphill struggle. But Annie Taylor is gutsy and tenacious; she's never given up on anything in her life, and she's not about to start now. WPC 56: Season 3 begins streaming Monday, June 26.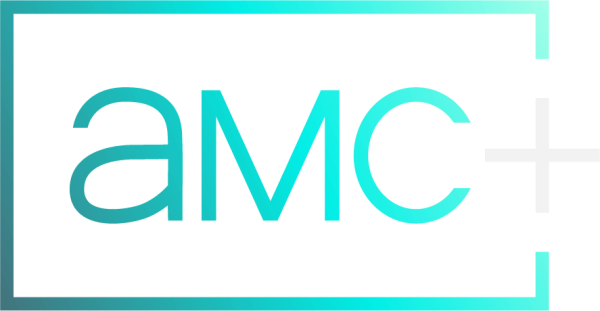 Titles in this section begin streaming on the dates shown below on AMC+ and its digital channels, including AMC+ on Amazon.
The Lost King (UK)
Based on a true story, this comedy-drama sees an amateur historian defy the stodgy academic establishment in her efforts to find King Richard III's remains, which were lost for over 500 years. Starring Harry Lloyd (The Theory of Everything), Sally Hawkins (The Shape of Water) and Steve Coogan (Philomena), and directed by Stephen Frears (The Queen), The Lost King begins streaming Friday, June 16.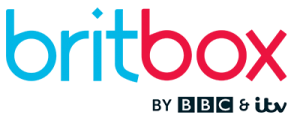 Titles in this section begin streaming on the dates shown below on BritBox and its digital channels, including BritBox on Amazon.
Love/Hate: Seasons 1-3 (IE)
In the opener of this multi-award-winning crime drama, Darren Treacy (Robert Sheehan, The Umbrella Academy) returns to Dublin after hiding out in Spain to avoid the Garda, which wanted him for gun possession. When his brother and former gang mate, Robbie (Chris Newman, Red Rock), is shot in a drive-by shooting outside Cloverhill Prison, it sets off catastrophic events that spark tension between rival gangs, leaving the Dublin community to live with the consequences of the ensuing gang war. Love/Hate: Seasons 1-3 begin streaming Thursday, June 8.
The Great Train Robbery (UK)
This two-part drama tells the story of the real-life 1963 event known as the Great Train Robbery, in which a gang of 15 robbers, led by mastermind Bruce Reynolds, attacked a train and got away with more than £2.6 million. Part 1 tells the story from the robbers' point of view, detailing how the robbery was inspired, planned, rehearsed, and executed; Part 2 takes a look at the police investigation into the robbery, led by London DCS Tommy Butler, as the team of detectives try to identify every criminal involved in the crime and bring them to justice before they flee England. Starring Luke Evans (The Pembrokeshire Murders), Jim Broadbent (Why Didn't They Ask Evans?), and Jack Roth (Bohemian Rhapsody), The Great Train Robbery begins streaming Wednesday, June 21.
Hoff the Record: Seasons 1 & 2 (UK)
This semi-improvised comedy series sees actor David Hasselhoff play a fictionalized version of himself — complete with previously unknown German son and an oddball entourage — as he arrives in the UK to try and reignite his career thirty years after he rose to fame with global hits Knight Rider and Baywatch. Shot in documentary style and made by the award-winning team behind An Idiot Abroad and The Moaning of Life, Hoff the Record: Seasons 1 & 2 begin streaming Thursday, June 29.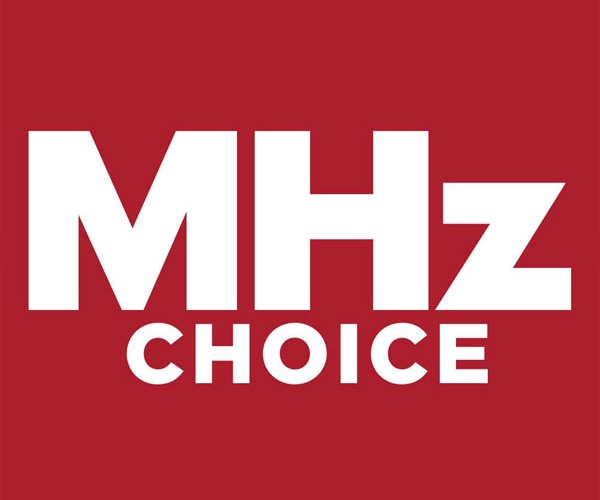 Titles in this section begin streaming on the dates shown below on MHz Choice and its digital channels, including MHz Choice on Amazon.
Maigret: Season 4 (UK)
Of the many adaptations of Georges Simenon's 75 "Maigret" novels over the years, the one considered by many to be the definitive adaptation is this BBC series starring Rupert Davies as Inspector Jules Maigret. Davies, who won the 1962 Best Actor BAFTA TV Award for his portrayal of the pipe-smoking, deep-thinking French detective, was proclaimed by the author himself as "the perfect Maigret." Maigret: Season 4 begins streaming Tuesday, June 13.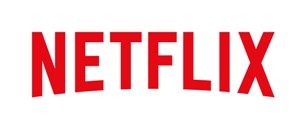 Titles in this section begin streaming on the dates shown below on Netflix.
When Missing Turns to Murder (UK)
Narrated by actor Shaun Dooley (Gentleman Jack), this true-crime docuseries looks at cases in the UK where missing persons investigations took a turn for the worse. When Missing Turns to Murder begins streaming in the US and other territories on Wednesday, June 14.

__________________
Did you miss any of the new shows from previous days, weeks, or months? Check out the British TV Viewing Guide and Archives to find out.
__________________
For details about the June premieres of shows from Australia and New Zealand, visit The Down Under TV Place. For info about the debuts of original-language, English-subtitled programs from Europe, visit The Euro TV Place. And for that of a select list of titles from other countries, visit The Global TV Place.
__________________

British TV Premieres in June 2023: The Full Monty, Hijack, Ridley & More