There's been a lot happening in the world of British TV. Here are some highlights about what's coming down the pike.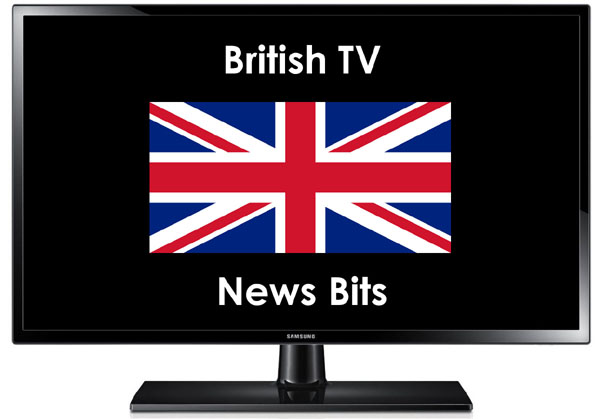 The Bay
ITV has ordered a fifth season of this hit police procedural / mystery-crime drama series. Set in the Morecambe Bay area of Lancashire, the case in Season 5 will see Morecambe MIU focusing on the emotionally-complex life of a divided family. Along with the bitterly-divorced parents of the victim, DS Jenn Townsend (Marsha Thomason, Cobra, White Collar) and the team will have to tread very carefully to keep the whole family onside.
Filming will begin later this year on the new season, with series regulars Daniel Ryan (Mount Pleasant, Home Fires), Erin Shanagher (Peaky Blinders, The Moorside), Andrew Dowbiggin (Coronation Street, Emmerdale Farm), and Thomas Law (EastEnders, Casualty) joining Marsha Thomason. Additional casting and series details will be announced in due course.
Seasons 1-4 of The Bay are currently available for streaming in the US on BritBox.
The Couple Next Door
Channel 4 and Starz have co-commissioned this six-part thriller starring Sam Heughan (Outlander, Suspect), Eleanor Tomlinson (The Outlaws, Poldark), Jessica De Gouw (The Secrets She Keeps, Pennyworth), and Alfred Enoch (Harry Potter, How To Get Away with Murder). Loosely adapted from the Dutch series The Neighbors, this psychological drama explores the stultifying claustrophobia of suburbia and the fallout of chasing your darkest desires.
When Evie (Eleanor Tomlinson) and Pete (Alfred Enoch) move into an upscale neighborhood, they find themselves in a world of curtain twitching and status anxiety. But they soon find friendship in the form of the couple next door, alpha traffic cop Danny (Sam Heughan) and his wife, glamorous yoga instructor Becka (Jessica De Gouw). Then Danny shares a night of passion with Evie…
Filming has started in Leeds and Belgium on The Couple Next Door, which will screen on Channel 4 in the UK, on Starz in the US and Canada, and on Lionsgate+ in Latin America (dates tba).
D.I. Ray
This Birmingham-set crime thriller starring Parminder Nagra as the titular cop (The Blacklist, ER, Bend it Like Beckham) is returning with a second six-part season. In the new season, Leicester-born Detective Inspector Rachita Ray investigates the murder of a high-profile criminal. Sensitive ethnic issues relating to the case ignite racial tensions, causing a personal conflict for Rachita, both as a British Asian woman and as a police officer, which she must fight to prevent a turf war erupting on the streets of Birmingham.
Filming has started in Birmingham with Parminder Nagra and returning cast members Gemma Whelan (The Tower, Gentleman Jack, Game of Thrones), Ian Puleston-Davies (The Bay, Silent Witness), Steve Oram (Killing Eve, Doctor Who), Peter Bankolé (The Chelsea Detective, Peaky Blinders), and Sam Baker-Jones (The Walk-In, Noughts + Crosses). New cast members include Patrick Baladi (Breeders), Dinita Gohil (Our House), Witney White (Father Brown), Michael Socha (Chernobyl), Syreeta Kumar (Apple Tree Yard), Lauren Drummond (Holby City), and Tahar Rahim (The Serpent). Additional details will be released in due course.
Season 1 of DI Ray is currently available for streaming in the US on the PBS Masterpiece Prime Video Channel, the PBS app, and PBS.org (for viewers with PBS Passport).
The Diplomat
Netflix's new political drama has been renewed for a second season. Season 1 debuted on April 20 at #1 on Netflix's weekly global Top 10 TV English list. In its first weekend the show had 57.48M hours viewed and appeared in the Top 10 in 86 countries. Details about Season 2 will be released in due course.
In Season 1, Kate Wyler (Keri Russell, The Americans, Felicity) is the new US Ambassador to the UK, a job she is ill-equipped for. With war brewing on one continent and boiling over on another, Kate will have to diffuse international crises, forge strategic alliances in London, and adjust to her new place in the spotlight — all while trying to survive her marriage to fellow career diplomat and political star Hal Wyler (Rufus Sewell, The Man in the High Castle, Victoria).
Season 1 of The Diplomat is currently available for streaming globally on Netflix.
Everyone Else Burns
The CW has picked up this recently-commissioned Channel 4 series, a comedy about a Mancunian family and the puritanical Christian sect they are devoted to, exploring what it feels like to balance faith, family, and identity in a world that could end tomorrow (but probably won't).
Patriarch David (Simon Bird, Friday Night Dinner, The Inbetweeners) desperately wants the church to promote him to Elder. His dutiful and long-suffering wife, Fiona (Kate O'Flynn, Landscapers, No Offence), longs to deviate from her own dogmatic moral compass, so hungry is she for a life beyond sermons and squash. Their naïve and anxious 17-year-old daughter, Rachel (Amy James-Kelly, Gentleman Jack, Three Families), is about to fall for someone who could save her social life but damn her soul. And their bullied 12-year-old son, Aaron (Harry Connor), is a model young believer — except his drawings feature the rest of the family burning in hell.
Everyone Else Burns will premiere in the US later this summer on Tuesdays at 9:30 PM ET, as part of The CW's 2023-2024 season (date tba).
Grace
Filming has started on Season 4 of Grace, the dark, Brighton-set mystery-crime drama series starring John Simm (Life on Mars, Doctor Who, The Village) as Detective Superintendent Roy Grace. Based on the best-selling "Roy Grace" series of crime novels by Peter James, the new season consists of four feature-length episodes that costar Richie Campbell (Top Boy, Liar), Zoë Tapper (Liar), Craig Parkinson (Line of Duty), Laura Elphinstone (Chernobyl), Brad Morrison (Dinosaur), and Sam Hoare (The Capture). Also featuring in Season 4 is Robert Glenister (Sherwood, Hustle).
In "Dead Man's Time," Grace and Branson (Richie Campbell) investigate a robbery where thousands of pounds worth of beautiful antiques were stolen from a secluded house. As Grace digs deeper, he unearths a web of ancient grudges, leading him down a dark, murderous trail as he races against the clock to untangle who is at the heart of this robbery. "Want You Dead" sees Grace and Branson investigate a case where nothing is as it first appears. When an unidentified victim is found dead in curious circumstances, the post mortem reveals more questions than it does answers. As Grace works to identify the body, hoping this might provide some crucial clue as to the killer's motive, he soon has another death on his hands when a second victim turns up in central Brighton, discovered in similarly bizarre circumstances.
Grace and Branson are thrown into what is possibly their most disturbing and high-profile case yet in "You Are Dead," when skeletal remains are unearthed by workmen digging up a path in central Brighton. Meanwhile, across the city that same morning, a victim is snatched in broad daylight. With no witnesses and no sign of who took her, Grace starts to suspect whether the victim's fiancé is lying to the police. And in the final episode, "Love You Dead," a known Brighton burglar is found dead in his car in gruesome circumstances. Although his wife claims he had turned over a new leaf, evidence suggests the victim may have been up to his old breaking-and-entering tricks on the night he was killed. As Grace and the team delve deeper, Roy receives a call from a US police contact about a crime abroad that bears the hallmarks of a mafia hit. The police are keen to trace a woman they believe to be from Brighton, who could be in danger. As Roy scours the city to help find her, it becomes apparent he isn't the only one looking for this mysterious woman.
Additional details will be released in due course.
Seasons 1-3 of Grace are currently available for streaming in the US on BritBox.
Joan
In addition to acquiring Everyone Else Burns, The CW is co-producing this drama with ITVX and Snowed-In Productions in association with All3Media International. Set in the 1980s, it stars Sophie Turner (Game of Thrones, X-Men: Dark Phoenix, The Staircase) as notorious jewel thief Joan Hannington.
The series opens with Joan as a fiery and uncompromising but deeply-scarred and vulnerable twenty-something woman — a devoted mother to her six-year-old daughter, Kelly, but a wife trapped in a disastrous marriage with a violent criminal named Gary. When Gary goes on the run, Joan seizes the opportunity to create a new life for herself and her daughter. Adopting new identities and making new acquaintances along the way, Joan becomes a masterful jewel thief. Using her sharp intelligence, charm, and talent for impersonation and performance, she embarks on a thrilling, high-stakes journey that challenges her every limit, driven by her desire to care for her daughter and create a secure home for them both.
Costars include Frank Dillane (Fear the Walking Dead), Kirsty J. Curtis (Match Not Found), Gershwyn Eustache Jr. (I May Destroy You), and Laura Aikman (The Split).
The CW will launch Joan in the US in 2024 (date tba).
The Madame Blanc Mysteries
Filming is currently underway on Season 3 of this popular whodunit series created and co-written by and starring Sally Lindsay (Cold Call, Mount Pleasant). Consisting of seven hour-long episodes, the new season sees renowned and respected antiques dealer Jean White (Sally Lindsay) using her expertise in the world of antiquities to solve a series of murders and mysteries against the backdrop of the beautiful French village of Sainte Victoire.
Also returning to the series are co-writer Sue Vincent (Mount Pleasant, Shameless), Steve Edge (Murder They Hope, Maxine), Robin Askwith (Strike, Benidorm), Sue Holderness (Only Fools and Horses, Still Open All Hours), Alex Gaumond (Derry Girls, Death In Paradise), and Tony Robinson (Time Team). Further casting announcements will be announced in due course.
Seasons 1 and 2 of The Madame Blanc Mysteries, including the 2022 Christmas special, are currently available for streaming in the US on Acorn TV. The 2023 Christmas special is set to debut during this year's holiday season, with the six regular season episodes slated for 2024.
Stay tune for updates on all of the above.
__________________
As an affiliate of Amazon and other cos, affiliate links on this blog allow us to earn income from qualifying actions (at no extra cost to you).

British TV News Bits: D.I. Ray, Grace, Madame Blanc & More