There is a lot happening in the world of British TV, with renewals for long-time and brand-new favorites, plus casting news, so let's get to it!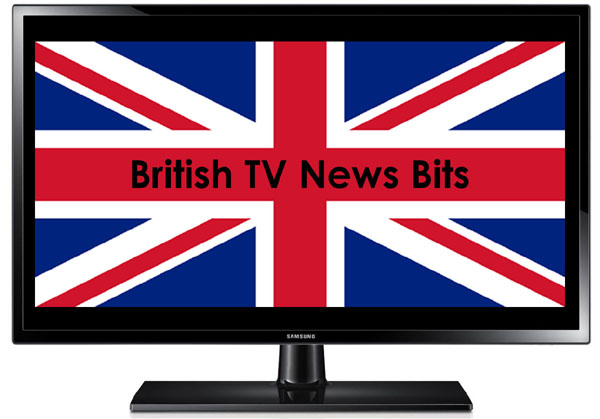 Beyond Paradise
The BBC has announced that Beyond Paradise, the hit new mystery drama spinoff of Death in Paradise, has been renewed for a second season and a Christmas special. Starring Kris Marshall (Sanditon) and Sally Bretton (Not Going Out), the series follows DI Humphrey Goodman (Marshall) and his fiancée, Martha (Bretton), as they leave London to start a new life on the Devon coast.
Also returning are Zahra Ahmadi (The Bay) as DS Esther Williams, Dylan Llewellyn (Derry Girls) as PC Kelby Hartford, Felicity Montagu (This Time with Alan Partridge) as office support Margo Martins, and Barbara Flynn (Kate & Koji) as Anne Lloyd, Martha's mum.
The Christmas special is slated to debut during the 2023 holiday season, with Season 2 expected in 2024. Season 1 of Beyond Paradise is currently available for streaming in North America, the Nordics, and South Africa on BritBox and in the UK on BBC iPlayer.
The Dry
Irish comedy-drama series The Dry has also scored a second season renewal from ITV. The BAFTA-nominated series stars Roisin Gallagher (The Fall) as Shiv Sheridan, a recovering alcoholic whose return to Dublin from London makes staying on "the dry" much harder than she expected. In addition to Gallagher, Adam John Richardson (Intruder) and Siobhán Cullen (Dalgliesh) will be back as Shiv's brother and sister, Ant and Caroline, respectively, amongst other cast members.
Picking up seven months after the events in Season 1, Season 2 sees the Sheridans in their new normal, but are they really happy with this new status quo, or have they just rearranged their dysfunction and found another groove of denial to fit into? Shiv is determined to get sobriety right this time, to cut the toxic influences out of her life for good — but what if the biggest threat to Shiv's stability turns out to be closer to home? Giving up alcohol is one thing, but what about giving up your family?
Season 1 of The Dry is currently available for streaming in the US and Canada on Sundance Now and the AMC+ streaming bundle, and in the UK on ITVX, where Season 2 will be streaming next year. (No word yet on Season 2 for North America.)
Father Brown
Filming has already started in the Cotswolds on Season 11 of fan-favorite whodunit series Father Brown, with Mark Williams (Harry Potter) returning as the crime-busting priest. Joining him are series regulars Tom Chambers (Holby City) as Chief Inspector Sullivan, Claudie Blakley (Man vs. Bee) as Mrs. Devine, and Ruby-May Martinwood (Death in Paradise) as Brenda, amongst other cast members.
The Season 11 guest cast includes Sylvester McCoy (Doctor Who), Ingrid Oliver (Doctor Who), and Ian Gelder (Game of Thrones), with John Light (Murder in Provence) back as Hercule Flambeau, and Lorna Watson (Sister Boniface Mysteries) returning as Sister Boniface.
Opening in 1955, Season 11 sees Father Brown and Sister Boniface becoming embroiled in a murder at an arts and crafts fair, Brenda facing ghosts from her past when old friend Dr McClurgy (Sylvester McCoy) reaches out, and Flambeau (John Light) returning with his estranged father (Ian Gelder) in tow and a dangerous mission in mind…
Seasons 1-9 of Father Brown are currently available for streaming in North America on BritBox, while Seasons 1-10 are available on BBC iPlayer. Season 11 will air on BBC One early next year. (Nor word yet on Seasons 10 or 11 for North America.)
Hope Street
Hope Street, a BBC Daytime, BBC Northern Ireland and BritBox International drama, has been renewed for a third season, which will have 15 episodes, up from the 10 episodes in the first two seasons. Set in the fictional town of Port Devine on the Northern Ireland coast, the drama follows the trials and tribulations of the Port Devine police department and reveals details about their private lives.
Returning for Season 3 are Ciaran McMenamin (Rig 45) as Inspector Finn O'Hare, Bríd Brennan (Unforgotten) as Concepta O'Hare, Des McAleer (Silent Witness) as Barry Pettigrew, Kerri Quinn (Coronation Street) as Marlene Pettigrew, Niall Wright (McDonald & Dodds) as Callum McCarthy, Aaron McCusker (Marcella) as Clint Dunwoody, Niamh McGrady (Sister Boniface Mysteries) as Nicole Devine, and Rachel Tucker (Informer) as Siobhan O'Hare, amongst others.
Season 3 of Hope Street begins filming this month. Seasons 1 and 2 are currently available for streaming in North America on BritBox, and in the UK on BBC iPlayer.
Industry
Kit Harington (Game of Thrones) joins the cast of Industry for its third season. The series follows a group of young bankers as they forge their identities within the pressure cooker environment and sex- and drug-fueled blitz of international bank Pierpoint & Co's London office. Harington will play Henry Muck, the CEO and Founder of Lumi, a green tech energy company about to go public.
Production on Season 3 of Industry begins this month in the UK. Seasons 1 and 2 are currently available for streaming in the US on HBO Max and Amazon Video and in the UK on on BBC iPlayer.
Unforgotten
While stateside fans of this acclaimed mystery drama await word about the US premiere of Season 5, ITV has renewed Unforgotten for a sixth season, with series stars Sinéad Keenan (Showtrial) and Sanjeev Bhaskar (The Indian Doctor) reprising their roles as DCI Jess James and DI Sunil "Sunny" Khan.
Season 6 will follow DI Khan and DCI James as they investigate cold cases and unsolved crimes from the past, unraveling secrets and unearthing buried truths along the way.
Seasons 1-4 of Unforgotten are currently available for streaming in the US on PBS Passport and Prime Video, with Seasons 1-5 available in the UK on ITVX.
Vera
So, there's good news and bad news about Vera. First, the bad news: Kenny Doughty (Black Work) and Ibinabo Jack (Doctors), who played DS Aidan Healey and DC Jacqueline "Jac" Williams, respectively, will not be back for Season 13.
The good news: Obviously, the hit Brit mystery-crime drama series has been renewed for Season 13, with multi-award-winning actress Brenda Blethyn (Kate & Koji) returning as the intrepid DCI Vera Stanhope. Joining Brenda in the new season is her former Vera co-star David Leon (Silent Witness), who will reprise his role as Joe Ashworth. Series regulars Jon Morrison (Taggart) and Riley Jones (EastEnders), who play DC Kenny Lockhart and DC Mark Edwards, respectively, will also be back in the new season.
Bittersweet news: Viewers will be able to see Kenny Doughty and Ibinabo Jack in their final appearance in Vera in "The Rising Tide," a special feature-length episode based on Ann Cleeves's eleventh "Vera" novel. Per ITV, the episode will be scheduled later this year.
Series 1-12 of Vera are currently available for streaming in North America on BritBox and in the UK on ITVX.
Stay tuned for updates.
__________________
As an affiliate of Amazon and other cos, affiliate links on this blog allow us to earn income from qualifying actions (at no extra cost to you).

British TV News Bits: Beyond Paradise, Hope Street, Unforgotten & More