The second season of My Grandparents' War begins this evening, and we have an exclusive clip from the upcoming episode featuring actor Toby Jones. Check it out!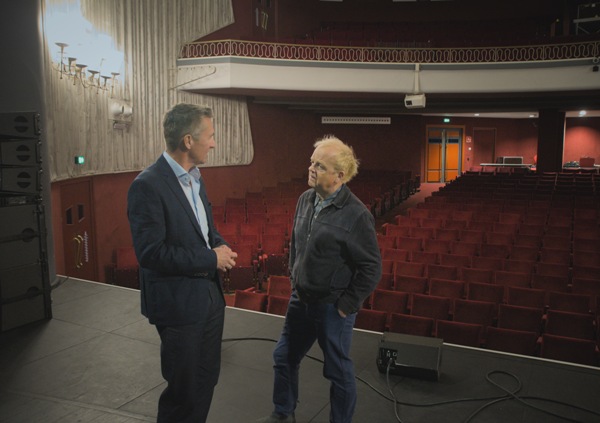 When the first season of My Grandparents' War first screened in the US a year ago this month, I, like countless other viewers, was glued to the TV during each of the four episodes. The compelling stories — deeply personal, moving (to tears), and revealing — took us into the past by way of British actors Helena Bonham Carter, Mark Rylance, Kristin Scott Thomas, and Carey Mulligan, to show them and us the bravery and the sacrifices made by their grandparents during World War II.
This evening brings the US premiere of Season 2 of My Grandparents' War, which again takes audiences on a fascinating journey into the past to understand the extraordinary impact of global conflict on the families of four British international stars: actors Kit Harington (Game of Thrones, Gunpowder), Keira Knightley (Atonement, Pride and Prejudice) and Toby Jones (Detectorists, The Pale Blue Eye), and recording artist Emeli Sandé ("Next to Me," "Our Version of Events").
Each of them hosts an episode that explores their family's unique stories, including the secrets that are revealed and the discoveries that are made, as they travel to historic locations — from the Scottish Highlands, to Kenya and Zambia — to retrace their grandparents' footsteps during the events that changed their lives forever.
Opening Season 2 is the "Kit Harington" episode, which debuts tonight, Tuesday, April 11, followed by "Keira Knightley" on April 18, "Toby Jones" on April 25, and "Emeli Sandé" on May 2. Each hour-long episode begins airing at 9 PM ET on PBS, with streaming available on pbs.org and the PBS App.
As with the others, Toby Jones was mostly unfamiliar with his grandparents' experiences during wartime until My Grandparents' War, during which he uncovers the remarkable World War II stories of his maternal grandparents, Reggie and Dorki, whose love endured despite the trauma and hardships they faced.
Toby learns that Reggie joined the Royal Artillery as a gunner after Hitler invaded Poland. Dorki, a performer, became part of the Entertainment National Service Association (ENSA) and traveled with a company of actors to Northern France to lift the spirits of British soldiers. When the Nazis invaded France on May 10, 1940, thousands of British soldiers and hundreds of ENSA performers, including Dorki, were soon evacuated by the Royal Navy, departing as bombs fell.
In February 1942, Reggie left for India, which was facing an invasion from the Japanese on the border with Burma. On March 8, 1944, the Indian Army, including Reggie, confronted 100,000 Japanese soldiers. Under siege for months, the 20th Indian Division finally prevailed, inflicting the biggest defeat the Japanese Army had ever suffered.
On the ship returning home, Reggie was explicitly instructed not to talk about his wartime experiences, leaving Reggie and Dorki's children and grandchildren to know little to nothing about their experiences — until now.
In the exclusive clip below, Toby learns about his grandfather's romantic side, but also about how the war changed the man for the worse for his wife, his children, and himself.
My Grandparents' War is a production of Wonderhood Studios for Channel 4 Television, in association with The WNET Group. Original production funding for Season Two was provided, in part, by MyHeritage and PBS.
__________________
As an affiliate of Amazon and other cos, affiliate links on this blog allow us to earn income from qualifying actions (at no extra cost to you).

My Grandparents' War: Check Out Exclusive Season 2 Clip Featuring Toby Jones