A couple weeks ago, I spoke with Lorna Watson and Will Trotter about Sister Boniface Mysteries. Check out our chat (and get details about some of the episodes)!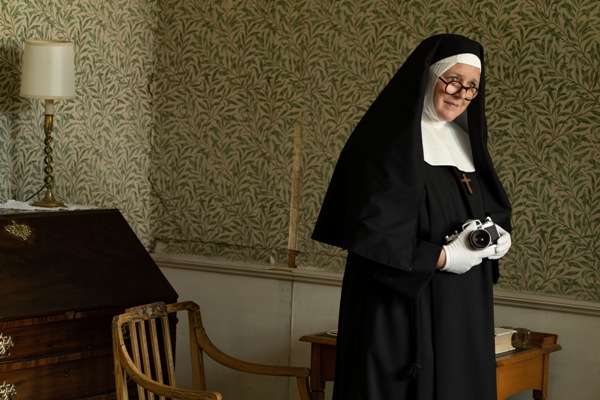 It's just about here, folks — it being BritBox Original Sister Boniface Mysteries, the highly-anticipated Father Brown spinoff series starring Lorna Watson, who reprises her role as the eponymous murder-mystery-solving nun, first seen in the Season 1 episode "The Bride of Christ."
It's been nearly ten years since that episode of Father Brown first aired, and re-watching it reminded me of how much I had liked Lorna's character. And after screening the three episodes of Sister Boniface Mysteries that BritBox made available, I liked her even more — a wine-making, Vespa-driving, popular crime fiction-reading, high IQ- and PhD-possessing Catholic nun who, as the official Police Scientific Advisor to the Great Slaughter Constabulary, assists the police with their inquiries in 1960s Warwickshire, both at crime scenes and in her own fully-equipped crime lab.
As for the show itself, Sister Boniface Mysteries is heavenly — a lighthearted, humorous, clever, and cozy whodunit series that viewers will delight in.
Even after screening just three of the show's ten episodes, I already love Sister Boniface Mysteries, so I was positively effusive about it when chatting with Lorna and executive producer Will Trotter (Father Brown, Shakespeare & Hathaway).
LJ: "I have to say, I'm in love with the show! It's so delightful!"

LW: "Oh, that's so kind of you to say so. Thank you!"
It is a lovely show, one that might not have gotten made had certain circumstances been different. The announcement about the commissioning of Sister Boniface Mysteries was made two years ago — right before the pandemic hit and much of the world went into lockdown.
LJ: "How did that end up affecting the process of getting the show made?"

WT: "If I can answer that — In the first place, it was fantastic to get Lorna, before the pandemic, on board and get Jude [Tindall] writing the series, Jude the lead writer, of course, and the [series] creator. [The pandemic] did affect us, and actually, bizarrely, in a positive way, cos we had a very, very busy year set up in production. We were doing Father Brown, Shakespeare & Hathaway, and then wedged in between that we were going to do ten episodes of Sister Boniface. Well, the pandemic arrived, lockdown happened, and we couldn't shoot, but we were concentrating on the scripts. Now, it had a double effect: One, some of the writers were all over the place, like everybody else was, cos we were having to cope with this new thing that was going on in our lives, and it was affecting our personal lives and our working life. But also, we realized some of the things we wanted to change and make better in Sister Boniface, it gave us the time to perfect it, actually — some of the procedurals, some of the forensics… the balancing act of how much we use Sister Boniface in the show and how we can exploit her in other scenes. So there's a lot of detailed work we were able to do during that lockdown year, so when we came out, the scripts were in great shape. Actually better, if anything."
Despite not knowing what shape the scripts had been in, it seemed to me that whatever improvements the writers made show up in the series; for example, certain story elements that are very clever, such as some of the forensics, like Will mentioned.
It was two years ago that the re-writes began, but it's been a decade since Lorna was first cast as Sister Boniface in Father Brown and nine years since viewers first saw her in the role.
LJ: "Lorna, did it ever occur to you that you would be revisiting the character — not as a recurring character on Father Brown but as the star of your very own show?"

LW: "Linda, absolutely not. I cannot stress this enough that this doesn't happen very often. As far as I was concerned, it was a lovely job and I had forgotten about it. Not forgotten about it, but I was cracking on with my life and then got this sort of out-of-the-blue phone call — very surprising but very brilliant and very, you know, just wonderful. And I couldn't believe it! I mean, I had somebody who had said to me, 'Oh, I think the character had gone down really well,' but I had no idea, no! So, yeah, absolutely brilliant! It's been a real adventure and so nice to be able to take a character that I'd really enjoyed playing and then really get to know her over the course of ten episodes — you know, find her nuances and everything and just be able to explore that a bit more. It was a real treat.

"My background is sketch comedy, and there are occasions where you play a character and it resonates, and you think, 'Oh, I'd quite like to play that character again.' And in a similar vein, I had so much fun being a nun. It was great to be able to be given the opportunity do it all over again and just so thoroughly and, as I say, really get to know her. It's been a blast and we had so much fun making it."
In watching the screeners, it really did look like she and the rest of the cast had fun, despite the fact that COVID was swirling about throughout the UK (and elsewhere) during their (and others') production, even forcing some to pause because new lockdown measures had been implemented.

LJ: "You shot during the pandemic. At any point, did you guys go into another of the lockdowns while you were shooting?"

LW: "No, we weren't in lockdown, but production was affected in the sense that there were rules in place that had to be followed very stringently and we were all wearing masks, being tested regularly. But people did it, and I think everyone was so thankful to be working that, in spite of the restrictions in place, everyone was very compliant and just wanted to get it done, cos we were just so desperate to work and just so thankful to finally be filming. We'd been waiting a year to get cracking and it was just, you know, we were just giddy with excitement to be finally shooting. There were definitely protocols in place and everyone was very strict about it… We had a four-month shoot — it's a long shoot — and I think we were only affected once by COVID. That's all, hats off to production and everyone playing their part and making everyone as stringent, to stick to the rules, as they did."
As a viewer, it was very refreshing for me to see the two male detectives, Detective Inspector Sam Gillespie (Max Brown) and Detective Sergeant Felix Livingstone (Jerry Iwu), being so personable and not at all threatened by the women around them — be it Sister Boniface when assisting them with their cases, local journalist Ruth Penny (Miranda Raison) when requesting exclusives, or WPC Peggy Button (Ami Metcalf) when providing support on their inquiries. Or even Sam's landlady, Mrs. Clam (Belinda Lang), when diving into her dramas — which prompted me to ask laughingly:
LJ: Who came up with these names?

LW: "They're so good, aren't they? Mrs. Clam — Clam is one of my favorite names in the whole series."

LJ: And [local townie] Miss Thimble!
While it was quite refreshing to see that, I mentioned that I also noticed things of that period, of the '60s, in the dialogue that felt very uncomfortable; for example, a demeaning comment made by the Chief Constable (Robert Daws) to Felix, which made for "a cringe moment."
LJ: "Will, can you speak to what the writers wanted to include but maybe not go so overboard on, given the lightheartedness of the series."

WT: "Yeah, Linda, it's a real balancing act, because we're looking through the eyes of 2022 as opposed to what really was going on in the '60s. So you can throw a nod to it, but you can't go too far. One time there was a black-and-white minstrels-type comment, which we took out, even though it was of the time. It just felt uncomfortable, you know? So you're right — the buffoonish Chief Constable, yeah, he's lovable in a way, but he's also of that time, so you can throw some dirt at him. He's quite rude to the WPC in one of the episodes, and says, 'You know what,' to Sam, 'She's too emotional. We got to get rid of her.' [Will laughs out loud.] It's like [Sam] realizes that he can't argue with [the Chief Constable], but he fights for [the WPC] in a different way. So we show that sexism in a subtle way rather than hitting people over the head. [The Chief Constable] sees it though his work; he doesn't see a problem with that. He thinks she's too emotional, she shouldn't be in the job. It's a man's job. The subtle things about racism, we put them in there, but they're hopefully subtle and don't distract from really, as you said, a piece that's got lots of really emotional men and fantastically strong females, who are all different. The protofeminist nature of Ruth, but at the same time she's in love with Sam. They're rounded characters."
Having chatted about the show's writing and production, and Lorna's enjoyment in playing Sister Boniface and thrill in getting her own series, I was curious about how Sister Boniface Mysteries actually came about.
LJ: "Who had the brilliant idea to bring her back?"

WT: "It all roots back to the original episode, which Jude Tindall, who's the creator of the character in the series — she wrote that episode back in the day, ten years ago, for Father Brown, which Lorna played such a starring role in that we were like, 'Oh my lord, we've got this character who's just leaping out of the screens. We've got to bring her back, and we've got to bring Lorna back to do it.' But we didn't know whether to put it back in the show, where she couldn't really fit in — those worlds, you don't really visit a convent that often — so that needed a bit of working out.

"Anyway, at the time we thought, 'Right, she'd be great in her own series. I think she'd be fantastic.' This was a conversation between myself, Neil [Irvine] the script producer, who's done every episode, and Jude Tindall, our lead writer and by then one of the lead writers on Father Brown. So we kept thinking, 'When can we use her?' But we thought Father Brown would only run for three series, maybe we can bring her in then and put her on the BBC then. Well, Father Brown just kept going on and on and on, and eventually… I was talking to BritBox, and BritBox had bought all of the Father Browns back from Netflix to put on their channel. And it was doing so well, I just suggested to the head of BritBox, 'Look, we've got this great spinoff series idea,' and I'd already got Jude to start writing it. I thought, 'Let's just commit to this' and they just said, 'Yeah, we'd love that as a companion piece.' And bang, there you go. Lorna said yes. Happy days!"
It will be happy days for us viewers, too, because the series is great. It's clever, it's got humor, it's lighthearted. Given the state of the world today, it's a nice show to lose ourselves in. It's lovely to escape into something that is actually pleasant.
Before we signed off the Zoom, I had one last question:
LJ: "I understand it's early days yet, but have there been any whispers about a possible second season?"

WT: "Yeah, more than whispers, but I can't say any more."
So with a smile and an undelivered-but-understood wink, wink, nod, nod, Will, Lorna, and I said our goodbyes, leaving me waiting for the seven episodes of Sister Boniface Mysteries that I haven't seen yet and hopeful that another ten will be produced for our viewing pleasure.
While Will couldn't share any details about a second season, I can share a few about three episodes.
In "Unnatural Causes," attendees at a local festival discover a dead woman at one of the attractions, while Detective Sergeant Felix Livingston, on secondment to the Metropolitan Police from Bermuda, is supposed to be in London but ends up in Great Slaughter. His confusion is compounded by the arrival of Sister Boniface, who's come to the train station on her Vespa (complete with sidecar) to fetch Felix and bring him to the crime scene, where Detective Inspector Sam Gillespie, WPC Peggy Button, and Chief Constable Lowsley are. The murder victim was a 23-year-old housemaid who worked for the wealthy Bellamy siblings, the recent heirs of their late uncle's fortune, alongside the uncle's nurse. Who amongst them might have wanted the young woman dead, and why? Sister Boniface aims to find out, and discovers a critical clue in an unlikely place.
"Love and Other Puzzles" opens with a 50-something "busty divorcée" on a dinner date that turns out to be her last evening alive. She will not be the last lonely female local whose pre-Tinder newspaper advertisement leads to death in Great Slaughter. Each crime scene has the same puzzling clues and it's up to Sister Boniface to figure out what they mean before the killer claims another victim.
And in "Scoop," a young female guest at a soirée at the home of a government minister is found dead, soon after she said she felt ill and had retired to one of the bedrooms. But the case turns out to be more complex than the initially-presumed accidental death — a case that sees journalist Ruth Penny actively collaborating with Sam, Felix, and Sister Boniface to determine who amongst the guests and hosts had the motive, means, and opportunity to do in the victim.
There isn't currently a trailer for the series, but BritBox has posted a video tour of the Sister Boniface Mysteries set, presented by series costar Jerry Iwu. Take a look.
Then check out Sister Boniface Mysteries, which has its World Premiere tomorrow, Tuesday, February 8, exclusively on BritBox. New episodes will debut each week through April 12.
(For viewers in the UK, the series will air exclusively on Drama, UKTV's free-to-air channel, as well as on the British broadcaster's on-demand service UKTV Play.)
__________________
As an affiliate of Amazon and other companies, ads & affiliate links on this blog allow us to earn income from qualifying actions and purchases (at no extra cost to you).

Interview: Star Lorna Watson & EP Will Trotter Talk New Series 'Sister Boniface Mysteries'