Fans of Father Brown and other cozy whodunit series, rejoice! We now have a date for when Sister Boniface Mysteries launches on BritBox!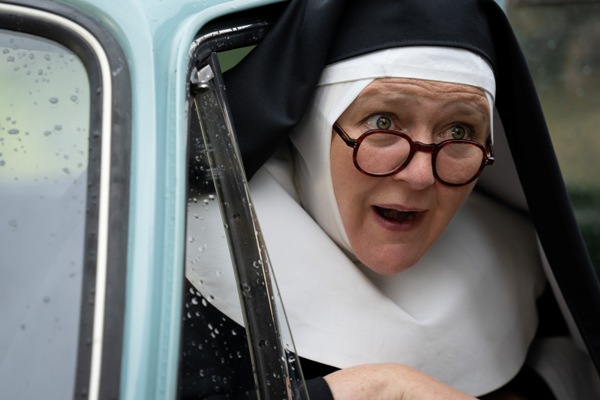 Put this on your to-watch calendar: Sister Boniface Mysteries, a BritBox Original series, has its World Premiere on Tuesday, February 8, exclusively on BritBox.
For folks who might not have heard about this highly-anticipated new show, Sister Boniface Mysteries is a spin-off of Father Brown, a perennial favorite amongst British TV and cozy mystery series enthusiasts. Those who've watched the first season of Father Brown might recall Sister Boniface in the episode "The Bride of Christ."
Now she has her own lighthearted mystery series. Returning to the role is Lorna Watson (Watson & Oliver, Shakespeare & Hathaway), whose Sister Boniface is a Catholic nun, yes, but also a Vespa-driving woman with an IQ of 156, a PhD in Chemistry, and a fully-equipped crime laboratory (and an addiction to popular detective fiction) at St Vincent's Convent, a small community of wine-making nuns, located deep in the Warwickshire countryside.
Set in the 1960s, when police forensics is rudimentary, the ten-episode series follows the investigations of Sister Boniface, an invaluable aid to the Great Slaughter Constabulary. She's more up to speed on the latest forensic techniques than the police, so whether it's mud, blood, hair, or fibers, if there is evidence to be found, Boniface will find it.
In her role as official Police Scientific Advisor, Sister Boniface works alongside the dashing Detective Inspector Sam Gillespie (Max Brown, The Tudors) and Detective Sergeant Felix Livingstone (Jerry Iwu, Sex Education), a buttoned-up Bermudian copper whose secondment to the Metropolitan Police landed him in Great Slaughter by mistake.
A cast of eccentric local characters — including Ruth Penny (Miranda Raison, MI-5), a hard-nosed investigative journalist and the editor of the Albion Bugle, and Peggy Button (Ami Metcalf, Upstairs Downstairs), a young, unshakeable police constable — combined with his boss's reliance on a nun, leave Felix reeling. But as Sam points out, that nun ensures they have the highest clean-up rate in the county.
Produced by BBC Studios Drama Productions, the series is created by Jude Tindall (Father Brown, Shakespeare & Hathaway) and executive produced by Will Trotter (Father Brown, Shakespeare & Hathaway, The Coroner).
New episodes of Sister Boniface Mysteries will debut on BritBox North America each week from February 8 through April 12.
(The series will air in the UK exclusively on UKTV's free-to-air channel Drama and its on-demand service UKTV Play, date tba).
__________________
As an affiliate of Amazon and other companies, ads & affiliate links on this blog allow us to earn income from qualifying actions and purchases (at no extra cost to you).

Sister Boniface Mysteries: BritBox Sets World Premiere Date for New Whodunit Series