Folks' favorite PR guru-turned-amateur sleuth-turned professional private investigator returns with tomorrow's premiere of new Agatha Raisin: Season 4 episodes.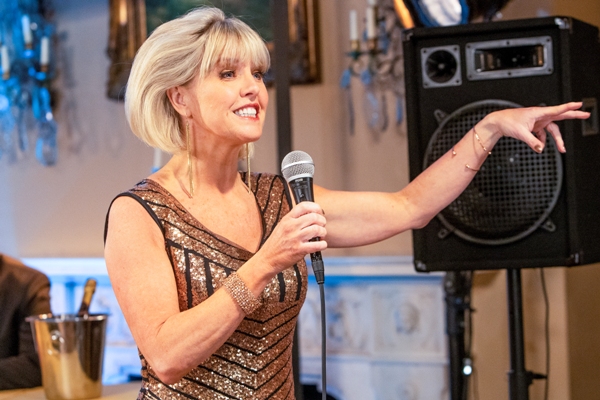 Season 4 of Agatha Raisin returns with Ashley Jensen (After Life, Catastrophe) leading the cast of the two-part murder mystery story "Love, Lies and Liquor," based on the novel of the same name by the late, great M. C. Beaton.
(While this story's title reminds us of another of Ashley Jensen's series, Love, Lies and Records, viewers will likely also recognize in the two episodes an element that is reminiscent of another novel, one written by an American author and set at a similar locale. And one more thing: If you didn't already know what "Netflix and chill" really means, you will from watching this story.)
Anyhoo…
James Lacey (Jamie Glover, Waterloo Road), Agatha's on-off-again, now-former love interest, has returned to Carsely after a successful book tour, and is leaving just as quickly, but this time with Agatha. He's taking her someplace special for a working holiday, a beautiful place by the sea where they can get busy on his new book. But Agatha's expectations of somewhere fabulous, like Mauritius, are dashed when they arrive at The Palace Hotel — in Snoth-on-Sea. (Heck, this place isn't even Belgium!)
What it is, is a hotel that has seen better days. And presumably better-behaved guests. Before Agatha and James can even have a pre-prandial drink, they are (figuratively) assaulted by a loud, obnoxious family seated a few tables away in the hotel restaurant. And after Agatha and the family's matriarch have a bit of a set-to, the platonic couple head off premises for dinner — followed by the local police's arrest of Agatha in the morning.
That dreadful woman was found murdered, and a key clue points to Agatha as the killer. With the case requiring further inquiries, Agatha gets bail instead of jail, and gets hired by the hotel manager to find the culprit, lest the scandal negatively affect the pending sale of the place to a casino company. So Agatha gets busy investigating the murder with the help of friends Roy (Mathew Horne, Gavin & Stacey) and Toni (Jodie Tyack, Unforgotten) at the hotel and Bill (Matt McCooey, Midsomer Murders) back in Carsely.
It isn't long before the untimely demise of not one but two more people, both of whom had connections to the first victim and were also murdered. As Agatha and her crew continue to gather information and clues and piece them together, the reason why the three people were killed becomes clearer.
Things come to a head on the evening of the hotel's Las Vegas-themed event. And before all is said and done, Agatha has caught the killer (natch). She might also have a new addition to her team of merry misfit sleuths in the near future…
Returning cast members include Lucy Liemann (Rev.) as Vicar Sarah and Jason Merrells (Finding Alice) as Sir Charles. Guest stars include Phil Daniels (EastEnders), Holli Dempsey (Harlots), Robbie Gee (Cuffs), Suzanne Packer (Keeping Faith), Ian Puleston-Davies (Pennyworth), Taz Skylar (Boiling Point), and Paul Thornley (The Good Karma Hospital).
Agatha Raisin: Season 4, an Acorn TV Original, returns with the two-part "Love, Lies and Liquor" tomorrow, Monday, February 7, exclusively on Acorn TV and its digital channels.
__________________
As an affiliate of Amazon and other companies, ads & affiliate links on this blog allow us to earn income from qualifying actions and purchases (at no extra cost to you).

Agatha Raisin: Season 4 of Hit Mystery Series Returns with New Episodes