BritBox announced today the cast and the start of production on their Original commission Sister Boniface Mysteries.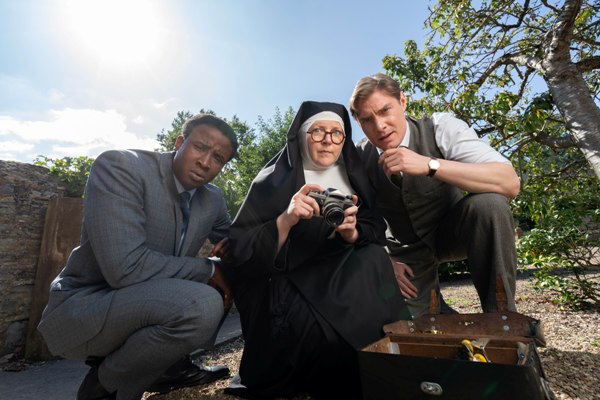 Leading the cast of Sister Boniface Mysteries, a spin-off of the hugely popular Father Brown, are Lorna Watson (Watson & Oliver, Father Brown), Max Brown (Downton Abbey, The Tudors), Jerry Iwu (Sex Education, Halal Daddy), Miranda Raison (MI-5, Dark Heart), and Ami Metcalf (Father Brown, Upstairs Downstairs).
Set in 1960s rural England, Sister Boniface Mysteries follows the investigations of Sister Boniface of St Vincent's Convent — a nun, moped rider, wine maker, and part-time forensic scientist. The character first appeared in "The Bride of Christ" episode of Father Brown, brought to life by Lorna Watson.
This lighthearted murder mystery series delves into crimes that take place in the aptly named town of Great Slaughter, where the police rely heavily on their secret weapon, Sister Boniface. At a time when police forensics is rudimentary, Sister Boniface's is at the forefront of this field. With a Ph.D. in chemistry, an I.Q. of 156, and a knack for finding clues hidden in plain sight, this nun knows the devil is in the details.
In her role as official Police Scientific Advisor, Boniface works alongside the dashing maverick Detective Inspector Sam Gillespie (Max Brown) and Detective Sergeant Felix Livingstone (Jerry Iwu). Felix was supposed to be on secondment to the Metropolitan Police, but an administrative error lands him in Great Slaughter. A cast of eccentric local characters combined with his boss's reliance on a nun leave him reeling — although, as DI Sam points out, "that nun" ensures they have the highest clean-up rate in the county.
The character of Ruth Penny, a hard-nosed investigative journalist and the editor of the Albion Bugle, is played by Miranda Raison, and the role of Peggy Button, the young, unshakeable police constable, is played by Ami Metcalf.
Additional cast members include Belinda Lang (Inspector Alleyn Mysteries), Sarah Crowden (Grantchester), David Sterne (Detectorists), Virginia Fiol (EastEnders), and Ivan Kaye (The Coroner).
The ten-episode series will also see a special appearance from Mark Williams (Father Brown, Harry Potter).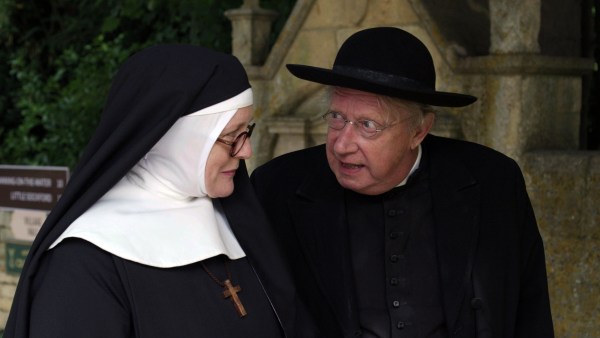 Said series creator Jude Tindall:
"Since Lorna Watson as Sister Boniface bounced so joyfully into season one of Father Brown I always had a plan to bring her back. Now that plan has come to fruition, I couldn't be more thrilled."
Emily Powers, Head of BritBox North America, enthused:
"We've been looking forward to this at BritBox since we first read the script and are excited to share it with our BritBox community, especially fans of Father Brown. Lorna brings Sister Boniface to life in such a charismatic way, we know her delightful performance will be enjoyed by all."
And Executive Producer Will Trotter added:
"Sister Boniface is an eccentric, charming, witty crime-solver with a forensic eye for detail. With the series set in the fabulous 1960s bucolic English countryside, it's a family viewing treat."
Sister Boniface Mysteries has been commissioned by BritBox North America, and comes from the award-winning team behind the hit series Father Brown and Shakespeare & Hathaway: Private Investigators. Produced by BBC Studios Drama Productions, the series is created by Jude Tindall and executive produced by Will Trotter. Peter Bullock is the Series Producer and Neil Irvine is the Script Producer. BBC Studios Distribution is the global distributor for the series.
Sister Boniface Mysteries will premiere in North America in 2022 exclusively on BritBox, where the series will join BritBox's latest Original mysteries, including Why Didn't They Ask Evans?, The Mallorca Files, Grace, Traces, The Bay, and the upcoming Hope Street.
In the UK, Sister Boniface Mysteries will air exclusively on UKTV's free-to-air channel Drama and its on-demand service UKTV Play, also in 2022.
Stay tuned for updates.
__________________
As an affiliate of Amazon and other companies, ads & affiliate links on this blog allow us to earn income from qualifying actions and purchases (at no extra cost to you).

Share this post/page.

Sister Boniface Mysteries: BritBox Announces Cast for Father Brown Spin-Off Series