Peacock announced today the US premiere date for its new Original young adult drama, Noughts + Crosses.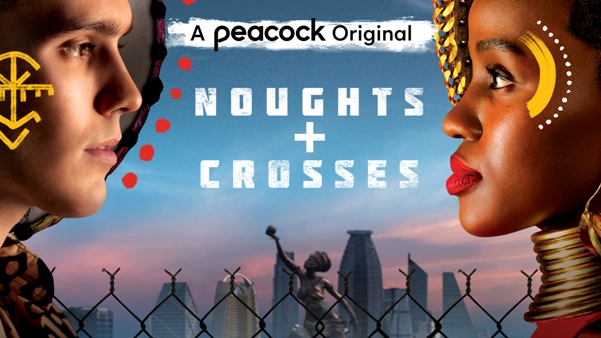 Adapted from Book One in Malorie Blackman's award-winning "Noughts & Crosses" YA novel series, the timely and thought-provoking TV series Noughts + Crosses is set to launch on Peacock on Friday, September 4.
The six-episode drama is set in an alternate world in which history happened in racial reverse. Centuries ago Aprica invaded Europe and enslaved its people. In present-day Albion, slavery is an institution of the past, but Jim Crow-esque segregation laws maintain the power dynamic: a ruling class of Black "Crosses" controls the country's politics, wealth, and culture over an oppressed, impoverished underclass of white "Noughts" who are at the brink of revolt.
Against this backdrop a love story unfolds — one of two star-crossed young adults who are divided by their color but united in their love for one another. Callum McGregor (Jack Rowan, Peaky Blinders, Born to Kill) is a Nought, and Sephy Hadley (Masali Baduza, Trackers, The Fighter) is a Cross and the daughter of a prominent politician. Destiny crosses their divergent paths, and they're swept away in a romance that seems doomed from the start.
Noughts + Crosses co-stars Jonathan Ajayi (Wonder Woman 1984), Helen Baxendale (Cold Feet), Paterson Joseph (Safe House), Josh Dylan (The End of the F***ing World), Shaun Dingwall (Above Suspicion), Kiké Brimah (Death in Paradise), Rakie Ayola (Shetland), Bonnie Mbuli (Wallander), and Ian Hart (The Last Kingdom).
__________________

Share this post/page.




Outbound links on this page include non-affiliate links and affiliate links; the latter allows us to earn income from qualifying actions.
Noughts + Crosses: Peacock Original YA Drama Series Premieres Next Month in the US