Acorn TV announced today its acquisition of the exclusive US and Canadian rights to Bloodlands, the BBC One Irish detective drama starring James Nesbitt.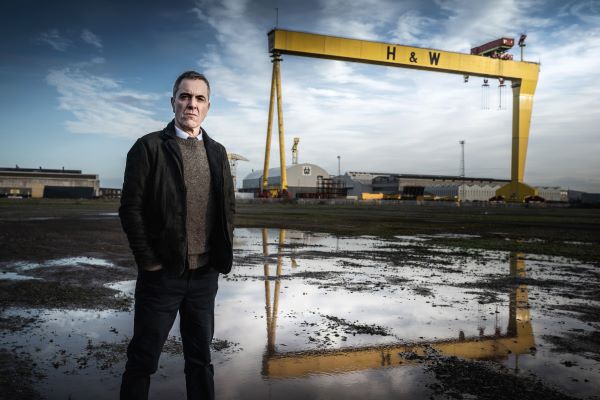 Written by Chris Brandon (Red Rock), Bloodlands stars James Nesbitt (The Hobbit, The Missing, Cold Feet) as Tom Brannick, a veteran detective going into his own dark past to try to solve a cold case in Northern Ireland.
When an expensive car containing a suicide note but no body is pulled from the sea, veteran Northern Ireland police detective Tom Brannick instantly sees the connection to an infamous cold case that holds enormous personal significance for him: a notorious and long-buried series of mysterious disappearances. Brannick then goes on an obsessive campaign to identify and unmask the semi-mythical figure behind these events: "Goliath" — code-named after the giant Samson and Goliath shipyard cranes that dominate the Belfast skyline. It's a case that comes from Tom's — and his country's — dark past.
The four-part crime thriller is executive produced by Jed Mercurio (Line of Duty, Bodyguard) and marks the first commission for his production company, Hat Trick Mercurio Television (HTM). In addition to Mercurio, Bloodlands is executive produced by Jimmy Mulville and Mark Redhead for HTM and Tommy Bulfin for BBC. Pete Travis (Omagh, The Go-Between) is the director and Christopher Hall (The Durrells in Corfu) is producing. Filming will take place in and around Belfast and Strangford Lough.
Bloodlands, an Acorn TV Original series in North America, will make its US and Canadian premieres exclusively on Acorn TV this fall, soon after BBC One's UK Premiere.
Stay tuned for updates.
__________________

Share this post/page.

Outbound links on this page include non-affiliate links and affiliate links; the latter allows us to earn income from qualifying actions.
Bloodlands: Acorn TV Acquires Irish Crime Thriller Starring James Nesbitt