British comedy-drama Home is one of the most wonderful new series to arrive on this side of the pond this year.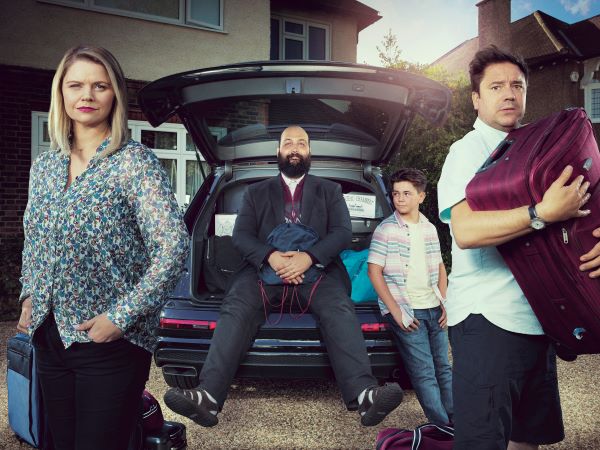 Created and written by Rufus Jones (Flack, W1A, Hunderby), Home is a warm, touching, and funny comedy-drama that centers on a suburban British family and a Syrian refugee whose lives become inextricably intertwined. It stars Rufus Jones, Rebekah Staton (Raised by Wolves, Spy, Pulling), Youssef Kerkour (Baghdad Central, Gavin & Stacey, Criminal: UK), and Oaklee Pendergast (Marcella, The Missing, Camping).
Upon arriving at their home in Dorking, Surrey, after a holiday in France, divorced schoolteacher Katy (Staton), her construction professional partner Peter (Jones), and her teen-aged son John (Pendergast), find a large man instead of their luggage in the boot of their car. The stowaway is Sami (Kerkou), a 30-something immigrant from Damascus who became separated from and lost contact with his wife and son while they were fleeing the war in Syria. Despite push-back from Peter, Katy is determined to help Sami, a teddy bear of a guy, and invites him to stay with them.
So begin the stop-and-start journeys of Sami, Peter, John, and Katy — his to asylum and to family, theirs to growth beyond their comfort zones in myriad ways… and to family.
Along the way they meet a helpful shopkeeper, a not-so-helpful German couple, and prejudiced locals, amongst others, and get entangled in government bureaucracy, malicious accusations, and the impact of Brexit — as all four of them discover new things about themselves, each other, and this train called life.
Home, which premiered in the US back in May, lifted my spirits, made me laugh and cry, and reaffirmed my belief that (most) people will step up and help a stranger in need. It was refreshing to see a male Middle Eastern character (one of the leads, at that) who isn't a terrorist or a soldier but a humble, educated man who aches to be reunited with his family, cries at the seeming futility of his efforts, and helps those around him to heal despite his own wounds. The same can be said for witnessing the main white male character, insecure and at times buffoonish, begin to outgrow his self-imposed limitations and to pull out all the stops when it really mattered.
Kerkour and Jones deliver fabulous performances as Sami and Peter, as do Pendergast and Staton, who shine as John and Katy. Singularly and collectively they are brilliant in their portrayals of people in their strongest and most vulnerable states as they navigate the ups and downs of their quotidian lives and the extraordinary circumstances within them.
Featuring in the series are Aaron Neil (Five Days) as shopkeeper Raj; Nathalie Armin (Marcella) as Yasmine, Sami's wife; and Douglas Henshall (Shetland) as Elliot, Katy's ex-husband and John's dad.
Both seasons of Home are currently available for streaming in the US exclusively on HBO Max. (Viewers in the UK can watch the series on All 4.)
__________________

Share this post/page.




Outbound links on this page include non-affiliate links and affiliate links; the latter allows us to earn income from qualifying actions.
Home: Binge-Watch This Brilliant, Feel-Good British Comedy-Drama Series