Based on actual events, the gripping true-crime drama A Confession is set to premiere in the US tomorrow.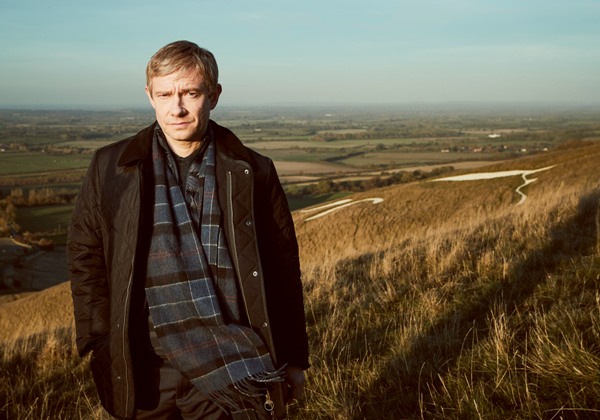 Written by Oscar® nominee and BAFTA winner Jeff Pope (Philomena, The Moorside) and "based on extensive research, interviews and published accounts," A Confession tells the true story of two mothers and a detective and the tragedies that link them.
In March 2011, 22-year-old Sian O'Callaghan, daughter of Elaine Pickford (Siobhan Finneran, Downton Abbey, Benidorm), disappears. At the same time, Karen Edwards (Imelda Staunton, Vera Drake, Harry Potter) hopes that, this year, her daughter Becky will return home for her birthday after being gone without a word for several years.
Detective Superintendent Steve Fulcher (Martin Freeman, Sherlock, The Hobbit) is the Senior Investigating Officer on Sian's missing person case. Believing she could still be alive and held somewhere against her will, he initiates an urgent full-scale search operation. The investigation leads Fulcher and his team to the prime suspect, taxi driver Christopher Halliwell (Joe Absolom, Doc Martin), whose confession leaves Fulcher in a position of having to choose between following police protocol and catching a killer.
His choice impacts the case against Halliwell, denies justice for a victim and her family, and ruins Fulcher's career. But the story doesn't end here…
A while back, I had the chance to have a quick chat with Paul Andrew Williams (Murdered for Being Different, Broadchurch), the BAFTA-winning director of A Confession, who shared that Jeff Pope's writing is the reason he initially said yes to the project. (Note that text has been edited for length.)
"I read the first ten pages, and I was like, 'Yeah, that's it. I'd love to do it.' And then I sat with my and she read it, and she was like, 'Wow, you've got to do this,' even though we'd discussed not doing any work for a break. She was like, 'No, you have to do it.'

"Basically, a lot of times in the TV world, the writing is incredibly expositional and very plot heavy, and the fact that this wasn't just was wow. And obviously knowing a little bit about the case and remembering the news, all that stuff, I was like, 'Yeah, this would be really great.'

"What's interesting is that you would definitely know the story of the police investigation, but what you never really get to see is the stories of the families who tragically lost their children. And I think that's one of the things that the show does really well. What Jeff's writing captures, it's not just about the investigation. It's actually much more focused on the people — the intimacy and how the families dealt with their grief. That's something that hopefully we can get people to pay attention to."
Regarding the camera work, which I felt made the story more intimate and my viewing experience more like being someone in the background of the action rather than simply a viewer, Paul remarked:
"That was definitely the intention throughout the whole thing, to sort of put us in that place… [The camera work] is hand-held. In fact, the whole film itself, it's all hand-held apart from two shots. That was always very important for me because, a lot of the time, hand-held focus pulls and all that stuff can really make you feel more involved in the room, in the actual scene."
And as for the real-life Steve Fulcher's involvement in the limited series and the families' reactions to it, Paul said:
"Originally it was [Fulcher's] book that brought [the story] to Jeff's attention. So Steve was involved the whole time. He was there to talk to Martin. He was there to talk to me. He was on set a few times. He's been all over it since day one.

"The families have been as positive as it's possible to be regarding the subject matter. They thought that the film — that we did what we said we were going to do in terms of being respectful and trying to be as truthful as possible for all the characters, and I think they appreciated that. Obviously we're telling a story that's incredibly dark and focusing on incredibly tragic events that took place in their life. What was pleasing was that they didn't feel like we messed anything up."
Costars in the six-part drama include Owain Arthur (35 Days), Kate Ashfield (Sanditon), Charlie Cooper (This Country), Christopher Fulford (The Brief), Ian Puleston-Davies (Pennyworth), Derek Riddell (Frankie), and Peter Wight (The Paradise).
A Confession, a BritBox Original series, premieres in North America tomorrow, May 12, with its first two episodes exclusively on BritBox and its digital channels, including BritBox on Prime Video Channels. New episodes will debut in pairs on subsequent Tuesdays.
__________________

Add your comments on our Facebook and Twitter pages.
Share this post/page.

Outbound links on this page include non-affiliate links and affiliate links; the latter allows us to earn income for qualifying actions.
A Confession: US Premiere of True-Crime Drama + Interview with Director Paul Andrew Williams